Two Heads Are Better Than One!
After a long day at work or a long night in bed, few things feel better than a steamy hot shower. The Sex in the Shower dual shower head by Sportsheets adds a whole new dimension to your shower experience, whether you're alone or sharing the water with someone else!
Published:
Pros:
Great for use alone or with a partner, feels luxurious, excellent for washing hair!
Cons:
You may use way more water than usual, middle setting is kinda "meh".
I've had this on my wishlist for a while, so when my old shower head got too old and started making funky noises, I finally gave in! The Sex in the Shower Dual Shower Head is made by Sportsheets, a company that actually makes a whole line of Sex in the Shower products including handles, footrests, straps and vibrating sponges.
Although this dual shower head is designed to be used for sex in the shower, its use is by no means limited to getting dirty while getting clean. The two shower heads mean that if you are showering with someone else, you no longer have to keep trading places to keep warm, there's plenty of water for everyone. If you're showering solo, you get the cool sensation of water coming at you from two different spots instead of one, kind of a ritzy spa shower experience at home!
The shower head comes packaged in an easy to open plastic clam shell style package with a cardboard insert. The insert shows a couple in the shower together and says "Sex in the Shower" in more than one spot, so it isn't exactly discreet. I didn't notice any smell upon opening it. Made of sturdy plastic, the dual shower head is pretty light weight. I didn't weigh it, but I'd say it can't be more than a pound.
Installing this is pretty simple, even if you aren't that handy. You rather obviously need to begin by removing your old shower head. If you're lucky, it will just twist off, but if it's been on there for a while and you have lime or hard water build-up, you may need to use a wrench to help get it moving, or even soak the spot that it screws on with some CLR or other lime remover. (If your old one is metal, you may want to put a wash cloth, duct tape or other barrier between the wrench and the shower head, or the wrench can scratch it up pretty well. I speak from experience!) Once the old shower head is gone, wipe any residue off of the pipe and just screw the new one on! Voila!
Once it's installed, you get to play with the settings! Each of the shower heads has three settings: a fine spray that uses only the outer ring of holes, a solid massage that uses the inner ring, and a middle setting that sprays from both sets. I attempted to take photos to give you an idea, but I'm not sure how helpful they actually turned out to be: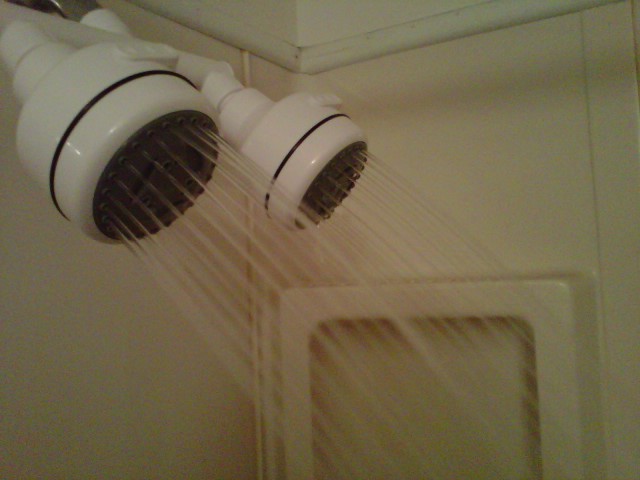 Fine spray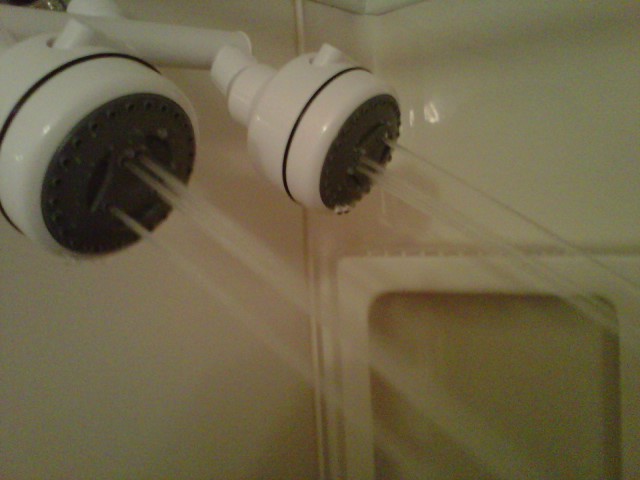 Massage setting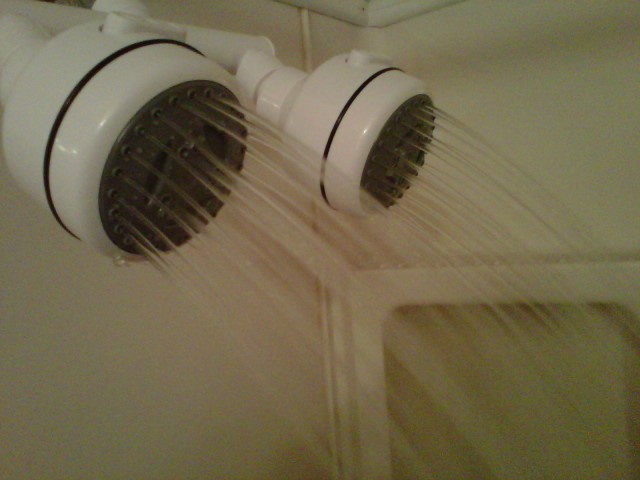 Middle setting
The middle setting was kind of a bust for me, since it somehow comes out with even less water pressure than the fine spray! You switch settings by pressing a sort of see-saw style switch on each shower head, so you can have each set to a different spray if you want. The button is really easy to press, even with soapy hands.
Here's where things get cool: What if you already have a seriously awesome shower head, but you want the cool two at once effect? The shower heads on this are removable, so you can actually replace one or both with any shower head you like! That means if you are a fan of handheld shower heads (and c'mon ladies, who isn't?) you can just replace one of the included heads with one of those and you're all set! The only thing I'm not sure would work in this is one of those giant rainfall shower heads that are like 8" in diameter, since it might block the other hole.
The only way I can imagine really improving this is if they found a way to make it so that you could set each of the dual heads to a different temperature to solve that age old "he likes the water to be hotter than I do!" problem.
Experience
I haven't had the chance to test this with someone else yet, but as a solo experience it was great! Setting both heads to massage your shoulders is heavenly! One thing this excelled at that I wasn't expecting is hair washing. Having the water hit my hair from two different directions at once made rinsing out shampoo super easy, and felt nice, too!

Given that this is pretty easy to remove, you can choose to break it out only when you have shower plans with a partner, or just leave it in place all the time. There is no option to shut off one head (seems like that would have been an easy feature to include) so if you want to go back to showering with just one, you'll have to do some quick screwing (heh) and unscrewing before your shower.

Although I can see easily getting spoiled by the dual head experience, there are a few things to keep in mind. First, if you have a tiny shower like the ones found in many apartments, you have to be careful with where you aim the heads or you will end up with water *everywhere*. Second, two heads means you're using way more water, so you may see a spike in your water bill if you're using this all the time! (Plus, water conservation is important!)

I think the price of this is totally reasonable. I pulled up the websites of some major stores to compare, and most single shower heads run $20-40 depending on how fancy they are, with other dual shower heads averaging $50-60. (The most expensive I found was $150, but it was admittedly pretty badass.)
This product was provided at a discounted price in exchange for an unbiased review. This review is in compliance with the FTC guidelines.

Thank you for viewing
Sex in the Shower dual shower head
– sensual bath review page!