This is great!
This is a great shower head, I have never liked the idea of having to share the warm water and now I don't have to!


This is a must buy for any couple who likes to shower together.
Published:
Pros:
Great product. Good price. High quality. Dual heads.
Cons:
No cons.
The dual showerhead by Sportsheets is something that I have been wanting to have for a LONG time.
I decided now was the perfect time to order it, since my wedding is nearing quickly and my Fiancé and I will FINALLY be showering together on a REGULAR basis. So I said "What the heck" and ordered it along with a couple of those lovely dual locking suction handles that Sportsheets made to match this lovely shower head duo.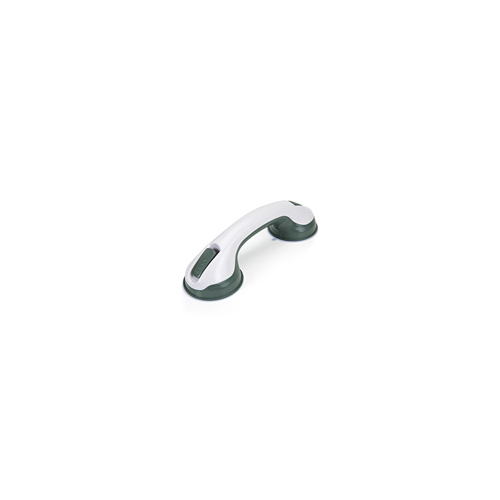 https://www.edenfantasys.com/sex-toys-for-couples/sex-slings-pillows/dual-locking-suction-handle
Yes I stole the last two *dodges rotten tomatoes*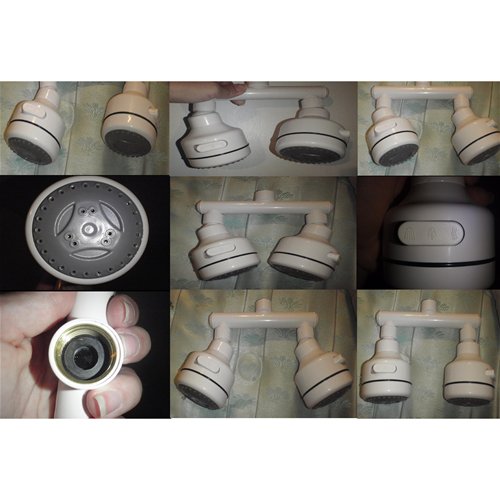 This shower head has multiple features that go above and beyond just having dual heads. When I first ordered this lovely shower head I wasn't aware of the fact that it has three different water flow settings, so as you can imagine when I first realized that it did, I was rather happy to come across that tid-bit of information. I was also very satisfied to see that it was so easy to switch from flow setting to flow setting (all you have to do is push down the button down to the flow rate you want) How easy is that?
Not to sound like a salesman
BUT WAIT, there is more!
Not only are there three different flow settings, but if you and your partner don't agree on which setting you want, it doesn't matter! Each shower head has its own button to adjust the flow rate. So he can have the hard stream that he wants while you enjoy the softer stream that you enjoy. It's a win-win.
This shower head is the ultimate shower accessory. No more tossing the man out and keeping the bath water all to yourself. Now it is easy to share without having to wait in the corner shivering cold. Ah, warm bliss. What did I do without you?
Dimensions.
The width of the shower heads are just shy of 3"inches x 3" inches a piece. This is a good size in my opinion, much larger then that and they would appear bulky, and overdone.
The length of the shower heads(top to bottom) is 4 ½" inches (this is including the bar that connects them)
The bar that connects the two shower heads is 6 ½ inches from side to side. This allows a little space in-between the two of you depending on how the showerheads are angled, but not to much. But then again, who needs space when showering together… that sort of defeats the point doesn't it.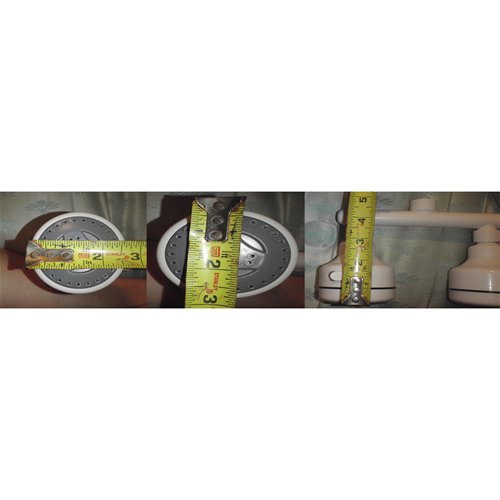 Packaging
I have to say that the packaging that this shower head comes in is not discreet at all
(this is an understatement).
Not only does it say the words SEX IN THE SHOWER right on the front of the box. But it also has two naked people right on the front cover!
(only the top half of their bodies, thank goodness)
*wipes off forehead* .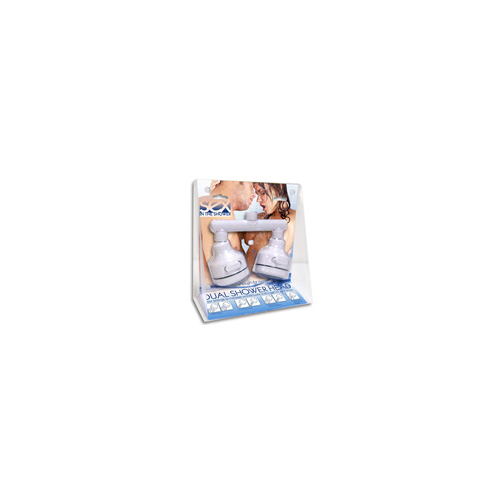 Thankfully, this picture was easily removable and I could toss it out in the nearest garbage can and still keep the plastic part of it to hold the shower head in for transport(I am moving soon, so was a plus for me)
the actual plastic part of the packaging is a rather thick plastic that conforms to the showerhead perfectly and is great for storage purposes if you don't intend to use this shower head on a regular basis.
Experience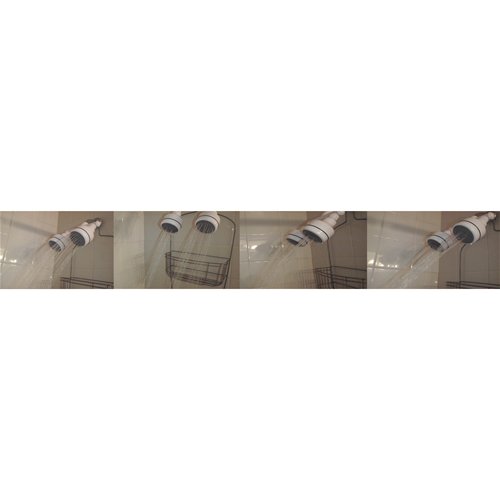 My experience with this shower head has been great so far. I will update you guys in a few months when it has been used a little more to let you know how it works after continued use.
I can say though, that my first impressions have been great so far . The flow rate is actually really good and both shower heads get plenty of water coming out of them (Of course I'm sure this can vary depending on your houses usual water power) But one thing I can say without a doubt is that the shower heads are nice and sturdy. I can't wait to put these to better use!
At first I was thinking that this shower head would be a little chinky. But I was definitely wrong in thinking that. Sportsheets has come out with yet, another amazing product and I have to say that I am 100% satisfied for sure.
For the $50.00 bucks you can't go wrong. This product definitely seems to be a great deal and I would definitely recommend it.
This product was provided at a discounted price in exchange for an unbiased review. This review is in compliance with the FTC guidelines.

Thank you for viewing
Sex in the Shower dual shower head
– sensual bath review page!