The Best 8$ You Will Ever Spend!
This is a product I would pay 20$ for and here you get it for 8. Soothes sore muscles, aches, and pains. It really is a heart of awesomesauce.
Published:
Pros:
Cheap, reusable, easy to use, awesome
Cons:
None.
No really. I had one of these a few years ago and I used it ALL the time. That is when tragedy struck. I was half corked on a cold night and had cramps. I had to renew my heart. I put in in a pot to boil and forgot about it until I heard a strange sizzle noise. The thing exploded, there was this weird almost foamy stuff everywhere and my heart was dead. I was a sad, sad girl.
Now I have not one, but 2. Yes really 2. Why 2 you ask? Well because I have a daughter that also gets cramps and, massage aspects aside, this thing is the bomb for cramps. With 2, there are no fights (of course I usually try to win with "who bought it? Yes. Mom did" until she comes back with "well you go to bed later so you can use it after")
Simply stated, this is a heart shaped, reusable warming pad. It is 5 inches across at the widest point and 5 inches long. There is a funky gel like substance inside a pliable, plastic heart, and a small, nickel sized metal disk floating around inside. You press on the disk a few times and you will hear a clicky noise and all of the sudden the gel starts to crystallize and transform into a harder, almost sand like substance. Do not ask me what kind of chemical reaction is happening here because I could not tell you. All I know is that the new sand like substance is warm and lovely.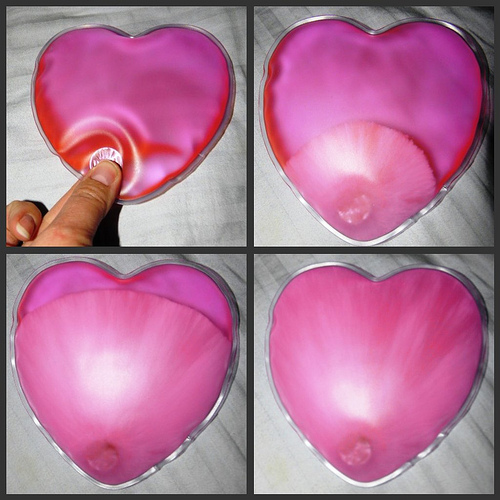 This harder heart form holds well in the hand and can be used on your partner for a warm massage along with your favorite massage oil or can just be placed on a small area that is sore and in need of some heat therapy (like a lady's abdomen at that time of the month). It can reach temperatures of 54°C or 128°F so do be careful and test it out first. If you have to, let it cool for a few minutes.
The heat lasts approximately an hour and then will start to get cold. But have no fear! You can do it all over again! You just need a small pot of boiling water and a small towel or facecloth. Put the facecloth in the bottom of the pot and place the cooled down heart on top of it. Let it boil for about 10 minutes (or until all the crystals inside are dissolved), take it out and let it cool. Store it and it is ready for the next go. Back to that lovely gel and floating disk.
The packaging is minimal. A small cardboard box with the product picture and information on it. Very discreet and in no way does it imply that this is something that should be used in the bedroom.

I really love these little things and I would recommend them to anyone. Now go! Add one to your cart! You won't be sorry, I promise.
Follow-up commentary
2 months after original review
LOVE! LOVE! LOVE! We cannot get enough of our heart warmers around here. In fact, I have had to buy an extra 4 just to replace mine when friends gets their hands on it and want one. This nice girl hands hers over and is stuck with nothing. I have learned to keep extras on hand now.
This content is the opinion of the submitting contributor and is not endorsed by EdenFantasys.com

Thank you for viewing
Heart warmer
– massager review page!