The Corvette Of The AC Current Vibrators
Hoping to switch from my need for intense pinpoint stimulation, I tried out the Miracle Massager and found that all over rumbly vibes are a whole different experience. This toy is a cost effective alternative to the Hitachi and certainly praiseworthy.
Published:
Pros:
Rumbly vibrations, long cord, 30 day warranty, cost effective, plugs into wall
Cons:
feels kind of cheaply made, thumb may slip and turn off toy, material safety level of 2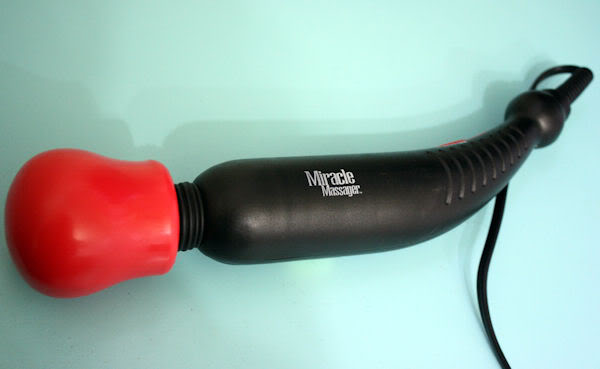 The miracle massager is my first ever plug in toy. Normally, looking at these toys 10 years ago I thought "man, how hard do you people need it?" But being a bit of a vroom-whore now, I know exactly why more power is needed.
Over the years of using vibrators, my taste has gone to direct, intense, pinpoint high power stimulation. But I wondered in my heart of hearts if a big roundy massager-vibe could ever work for me. I'd heard amazing things about the Hitachi, I mean who hasn't? But it was still just a tad out of my price range for something that may not work for me. The Miracle Massager by Cal Exotics was a great alternative choice for me due to its price and comparable design.
The box says that the toy features high intensity and ultra power with both a high and a low setting. It also boasts an "EZ Grip handle with Ergonomic Curve." The biggest possible selling point is that it has a wide, supple head that is actually flexible.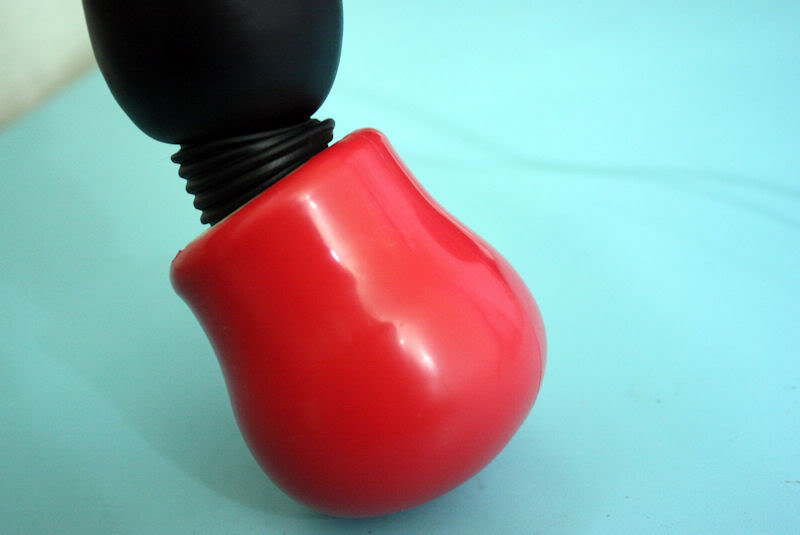 With just a bit of pressure, the neck actually bends in any direction.
Interestingly enough, it also says on the box the words "MAXIMUM TORQUE MOTOR." If you're like me and wondering what this means, Wikipedia says "Torque, moment or moment of force is the tendency of a force to rotate an object about an axis." So nearest I can deduce, the motor works just like any other motor put in a vibrator, where there is a slight offset of weight to throw the rotation ever so off balance to create the vibrations it gives off.
Yadda yadda yadda, "BIG STRONG VIBRATOR" is all this means.
So the reason I call this the "Corvette" is because it's a great product, very awesome to have, but it's no Ferrari, know what I mean? The feel of the plastic handle is kinda cheap, and it's fairly light--which is a great thing but also it kind of feels a little too light for its size, like maybe it's missing something. It isn't, but you know what I mean.
And the power? Oh you've got power. Fantastic amounts of power. Just be careful because if your thumb slips, you're likely to hit the switch and accidentally change the speed, or worse, turn it off completely.
The vibrations are hard and rumbly. They're certainly the biggest vibrations I've ever experienced, though I wouldn't classify them as "intense." Intense to me seems to be a word that goes hand in hand with "concentrated." This is more of an overwhelming vibration in that it rattles your insides, as applying this thing to your clit pretty much vibrates your entire pubic bone. It's a good kind of overwhelming, don't get me wrong, but its nothing I'd call "intense." Intense is a pinpoint, this is a big grumbly thing for ALL of your nether-parts. Enjoy.
PS, this is made from PVC. While not a super safe material if you're going to be sharing, you can clean it with antibacterial soap and pat dry. UNPLUG IT FIRST! I cannot stress that enough. Also, do not submerge this thing in water. The box tells you to use "rubber compatible lubricant," but the only safe lubes for this toy are water and silicone based as PVC is plastic, not rubber.
Experience
When I first put this thing on my clit, it almost seemed like it would be too much, but I settled in and let the massive rumbles sooth and pleasure me. It still took some concentration to try to guide it right to where I needed it, as it's hard to get the pinpoint action from such a huge head, but I am slowly learning to just take all of the feeling all over and not having to pinpoint the stimulation, which is actually something I wanted to start getting away from anyway.

When used in conjunction with my boyfriend's cock, usually from a side-laying L shaped position where I hook my legs up and over his ass, this thing is even better for him! He says all he feels is intense vibrations in his head when I have it pressed hard on my clit. Interesting that he feels almost nothing on his shaft, but all of it concentrated right on his head. He says the feeling is amazing.

I've also used it as a massager for non sexy parts, such as back and neck. The vibrations penetrate deep and sooth knotted muscles. If the vibrations end up being too much for you for pleasure, this still makes a good backup body massager.
This content is the opinion of the submitting contributor and is not endorsed by EdenFantasys.com

Thank you for viewing
Miracle massager
review page!