The Mighty Mini Wahl
Got a knot in your shoulder? Grab the Wahl. Headache? Grab the Wahl. Can't sleep and figure a quick O will knock you out? Grab the Wahl. This toy is just so versatile it is a must have for everyone.
Published:
Pros:
Rechargeable, flexible neck, deep vibrations, AMAZING
Cons:
1 speed
Ah the Mini Wahl. How I love thee. It is smaller than big, bulky wand massagers and yet, still packs enough punch to get me off in no time flat. It has a flexible neck and is cordless. It has one speed that is deep, rumbly and is just perfect. It is a bit on the loud side, but nothing you cannot blame on rubbing out your "sore shoulder".
The wand itself is just shy of 8 inches long and 2 inches wide. It does NOT look like a sex toy by any means. That would be because that is not its intended purpose. Wahl designed its line of massagers to work the kinks out. Fortunately, for us, someone said "wow! This really gets me off well" and a versatile sex toy is born.
It comes with a stand up base that can sit on your nightstand for easy access. The charging port is at the bottom of the toy and the port allows room for it so that the Wahl sits up without toppling. It takes about 2 hours for the Wahl to charge but it is suggested you charge it over night the first time. It is designed not to overcharge so you can leave it plugged in when not in use without worrying about damage to the battery. To extend battery life, Wahl suggests letting the battery drain out completely once a month and then recharge fully overnight.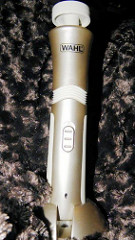 The wand is made of hard plastic and the attachments are listed as being made from PVC. PVC is porous so I would warn against sharing. It is, however, compatible with any type of lube (or massage oil) you so choose. The attachments have no odor what-so-ever and are very easy to change. Pull one off, attach another. That is it. There are 7 attachments in total that all serve a specific purpose.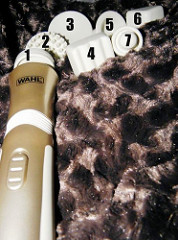 1 – Deep Muscle Stimulator: Designed to reach deep down and make aching muscles feel alive again.
2 – Scalp Stimulator: This is the one you want to grab if you have a headache or just are in the mood for a scalp rub. The vibrations travel through the little teeth and feel amazing all over the head.
3 – Facial Vitalizer: Apply a little cold cream to this attachment and give yourself a facial massage. It feels amazing. Just be careful to avoid the eye area.
4 – Muscle Kneading Attachment: They list this one as giving "ripple effect" action for large muscle areas. I don't really like this one much. I find the ripples too much.
5 – General Body Attachment: Used for general, all over massage.
6 – Knuckle Joint Attachment: Concentrates the vibrations for in between toes and fingers. Works great for the knees and elbows also.
7 – Spot Applicator: This is listed as the one for pinpoint massage to any part of the body. And I use it, but only for my clit. Right to the point. No fuss. Just spot on, rumbly vibrations that get me off in about 5 minutes. Heaven I tell ya.
Experience
..continued from above

The Mini Wahl is not a waterproof device so keep it away from water. If you need to clean the wand portion I would suggest only doing so with a washcloth or wipe. The attachment heads can be washed with warm water and soap when taken off the wand. The attachments come in a small ziploc bag that can be used to store them in. The wand can be left out or stored in a drawer. You could certainly travel with it without anyone really batting an eyelash because it is, after all, a therapeutic massager.

Wahl warns not to use this product on unexplained calf or abdominal pain, varicose veins or on the front of the neck. It also states that it uses an electro magnetic motor and should not be used within 6 inches of an implantable cardiac device, and also that it should not be used where aerosol (spray) products are being used or where oxygen is being administered.
Follow-up commentary
2 months after original review
Another regular in my arsenal, the Mini Wahl is awesome. I leave it out all the time. It gets used frequently whether it be to get me off or just to soothe sore muscles. The charge lasts quite a while as well. I have gone a 2 week period, using it every second day, and not really felt a decrease in power at all.
This content is the opinion of the submitting contributor and is not endorsed by EdenFantasys.com

Thank you for viewing
Wahl Mini Wand rechargeable massager kit
– sex toy review page!