Too Good To Be True?
As a massage oil this product is top notch! It does shine up a tattoo nicely but isn't the absolute best for sin softening and conditioning. It lasts for quite a long time and takes very little product to achieve a great massage surface. The scented products are clean, fresh and above all light enough to please even the most sensitive noses. While I don't know if it equals 10 ounces of other products I do recommend it as a great massage oil.
Published:
Pros:
Long lasting, great lubricity, amazing scents
Cons:
Doesn't condition the skin as well as other products
System Jo's All in One Massage Glide Personal Lubricant Skin/Tattoo Conditioner (what a mouthful!) is supposed to be roughly 10-15 times better or longer lasting than other massage oils. On the bottle it says that one ounce of Jo Glide is equal to 10 ounces of other oils. What I cannot ascertain is what properties they are basing their comparison on!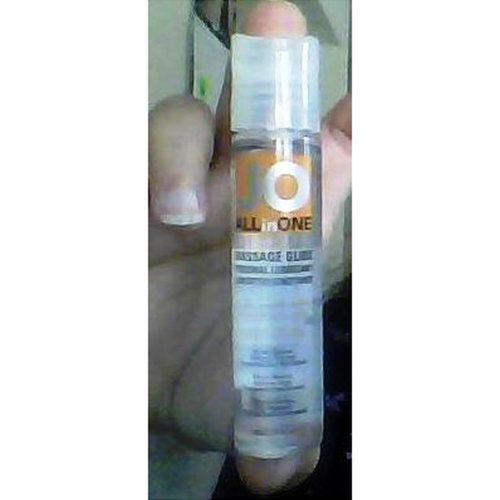 This is a silicone based product so it's going to have amazing lubricity but it isn't as light as Shunga's
Massage Oil Organica
, nor does the Jo product leave the skin feeling smooth and nourished like the Shunga product. This is also because of the silicone based which rests just a touch more heavily on the skin than the Shunga's natural oil based blend. I cannot fault the System Jo blend for much other than it is just a tad bit heavier.
I, personally, don't have an tattoos but I know several people who do. One amazingly brave volunteer, allowed me to use the Jo Glide on her and she had to admit that her skin did feel moisturized, soft and the tattoo was rejuvenated quite a lot for such a tiny amount used. We applied it with a cotton ball and it just took a couple of drops to achieve a pretty good result. Was it an amazing difference? Not really, it was much more subtle than we had imagined it would be, but it did make a difference.
I am not convinced about their skin conditioning claims as I have found Intimate Organics products to be much more effective at nourishing the skin. It did nothing for Sigel's really dry/cracking skin on his heels and elbows, though my less dry/damaged skin did see some benefit. It just wasn't enough benefit for me to agree that it does better than other products I own. Jo Glide does leave the skin feeling soft and smooth but the feeling tends to wash away in the shower as the product washes away. This is another problem we had, if you use too much of the product it sits heavily on the skin and you may feel that you need to shower it away. It takes soap and hot water to feel like the skin is totally clean but it doesn't leave a film in the shower/tub like some massage oils can.
As a massage oil this product really shines, especially if you are on a budget. It really does only take a few drops to lubricate a fairly large area. For instance, I used a dime sized portion to massage Sigel's entire leg. Yes, a dime sized amount to massage from heel to hip, top and bottom of leg! I do very deep tissue massage for him because of his health issues and I didn't feel the need to reapply the oil until I moved on to the other leg. On the more absorbent soft tissue areas like his back it took just a touch more product but not nearly as much as it normally takes with other massage oils. We did learn that you want to be sure you use it sparingly as it will create a slightly uncomfortably heavy sensation on the skin. It's hard to describe but if you slather this product on you'll understand!
As a personal lubricant I found the Jo Glide to be lacking, I am sorry to say, since I actually love most of System Jo's lubes! Sigel said it worked about as well as their other products for him but I felt like I was having to reapply the lube too often for it to live up to it's claim of being better than other lubes. It didn't live up to
System Jo H2O Anal Lubricant
in my opinion. It is very thin and runny and would have made a mess on my sheets if I hadn't thought to lay down my
Posh Throe
!
The oil didn't stain my cotton sheets permanently but I did notice spots before washing them. I would be careful with expensive silks or even high thread count cotton. A towel or throw will contain the mess as well as using a very small amount at a time!
Experience
System Jo Glide is currently offered in three scents. Since I know what unscented silicone smells like I decided to try the Citrus and Lavender scents instead. The scents are both extremely light and fresh smelling. The citrus has an orange base but is so very lightly scented that you really have to get close and inhale deeply. If you have ever smelled a sun warmed orange you know exactly what this oil smells like! It is lovely and Sigel's favorite.
The Lavender oils smells clean and fresh. It smells like my daughter's English Lavender flowers but with an oil base. It is my favorite scent. While it has a slightly stronger scent it is not overpowering and you still need to get fairly close to actually catch the scent.
For users with sensitive sinuses this is a major plus, finally a massage oil that doesn't leave them gasping for air or sneezing.
The little plastic bottle is great for swimming in a hot cup of water for a warm oil massage. Use it along with some warm stones and your partner will float away in bliss!
The 1 oz size comes in a clear plastic, recyclable bottle with a less opaque plastic, flip-top lid.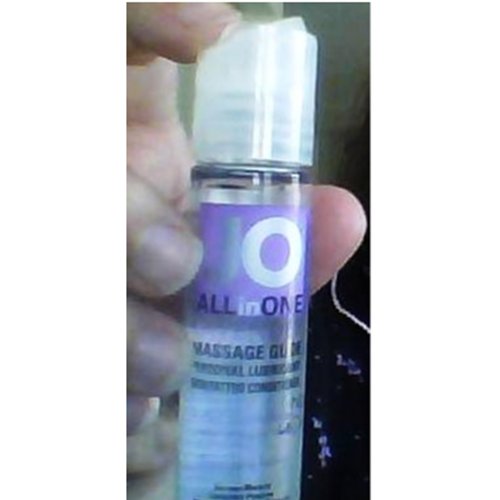 It is tiny and fits in the palm of the hand. The lid doesn't leak if the bottle is lying on it's side but I would recommend placing it in a plastic bag if you are talking it in your luggage. The lid is easy to open with oil slick fingers and you actually have to squeeze the bottle slightly to get it out. This isn't an oil that will run all over the place!
This oil has just a few ingredients: cyclopentasiloxane, cyclotetrasiloxane, dimethiconol, dimethicone, citrus officinalis, or Lavendula officinalis. Basically it's silicone and fragrance!
Follow-up commentary
10 months after original review
We are still working our way through the second bottle of this massage "oil". It is really just pure silicone and not an oil but it works well for longer lasting massages. I still recommend this oil to friends who want an oil they can use all over the body without incident.
This content is the opinion of the submitting contributor and is not endorsed by EdenFantasys.com

Thank you for viewing
System JO glide massage oil 1oz
review page!