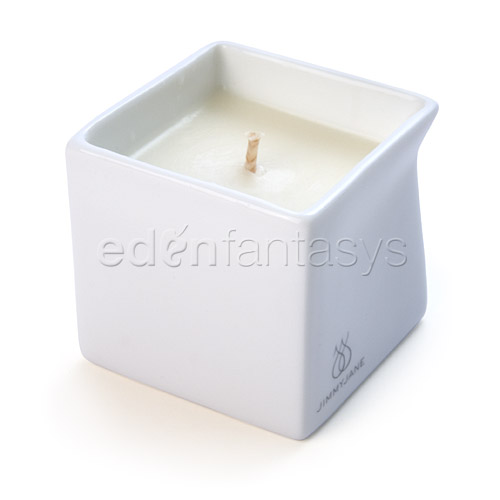 Afterglow
Massage candle
by Jimmyjane
Unisex and Delicious
The JimmyJane Afterglow in Bourbon is one of my favorite scents. The candle's sort of sweet, with just the right amount of spice. The oil is thick, and can get sticky if you use too much at once, or reapply too often, but is slick and slippery when you find the happy medium. The porcelain holder is adorable. Overall, it's a pretty amazing product.
Published:
Pros
unisex scent, not overpowering, feels nice on the skin, moisturizes nicely
Cons
a little thicker than Ember, occasionally gets a little sticky
If I'm to be honest, I must say that as many alcohols as I've tasted, I'm not sure I've smelled a good bourbon. I know I've never tasted a good bourbon. Matter of fact, I'm pretty sure the only bourbon I've ever smelled or tasted is Jim Beam. But Jim doesn't really count. Or so I'm told by those who consider themselves liquor connoisseurs.
I, personally, would count Jim on a good day, and definitely on a bad one. I'm a "cheap whiskey and some cola in a coffee mug on a cold day" kinda gal. Of all the various liquors that sit firmly on the line between cheap shite and "good liquor", Jim and I have a love affair. But the Afterglow in Bourbon doesn't smell like Jim. At least... not to me.
It does, however, bring to mind clinking tumblers of scotch and thick coils of cigar smoke curling up to the ceiling. Crisp white tailored shirts and power ties. Leather loafers, and briefcases, and reclining swivel chairs. Crisp pleated slacks and thick belts. "Secretaries" crawling across the floor in pencil skirts and stilettos.
It brings to mind images of my lover. Fresh from the shower, and smartly put together, running out the door to a meeting with a customer, or the CEO, with his laptop bag slung over a shoulder, his trusty iPhone clutched in his hand and the scent of success trailing behind him.
It brings to mind hot, sultry sex climaxing as the sun kisses the horizon. Two nights of fucking on 600 count Egyptian cotton sheets. Candles lit on the dresser, and cheap lingerie strewn on the floor. Raw, and real, and raunchy love making. Between two primal beasts barely restrained by the human masks they wear during the day. The sys/net admin and frumpy housewife by day, and wanton, insatiable kinkster sluts by night.
I light it sometimes just for the scent. The warm flicker of the flame dancing on our cream walls as we curl up on the couch together. The images that play across my mind. I can smell our bodies coming together in its fragrance. See us grasping at each other in need. Feel his mouth and teeth and nails tearing at my skin.
Doesn't that sound amazing? It gets better.
The Afterglow is made with Jojoba, Shea Butter, Vitamin E, Soy and Aloe. It's paraben, phthalates, sulfates, petrochemicals, animal products, paraffin and lead free. Completely body safe, unless you're allergic to one of the things it's made with. The wick is cotton. It's not tested on animals. It comes in an elegant porcelain holder with a perfectly formed pour spout. It melts at body temperature. It burns for up to 32 hours.
It washes off about as easily as any massage candle. It's slick and slippery. It's not thin and oily, like
Kama Sutra's Sensual Massage Oil
. While it is thick, it's not syrupy like
Kama Sutra's Oil of Love
. It's a touch waxy, but mostly only if you use too much, or allow it to cool. Generally speaking, rubbing it melts it again. It lasts a long time. Moisturizes your skin. Pairs up well with
JimmyJane's Massage Stones
, and works just as well alone.
The scent is as unisex as they come. It's amazingly light, not cloying like so many of JimmyJane's scents tend to be. It's heady and sweet with a touch of spicy goodness.
Just light it and let it burn long enough for the top layer to melt, or about fifteen to twenty minutes. Blow the flame out, and pour the wax onto your partner's body. Then rub away the day's stress.
We absolutely adore it. Matter of fact, I think I'll light it now.
This product was provided at a discounted price in exchange for an unbiased review. This review is in compliance with the FTC guidelines.
Thank you for viewing
Afterglow
– massage candle review page!