A Great Storage Product...Once You Figure Out the Lock
This is a great little box for keeping your toys, makeup, medication, and anything else you can think of. Just be sure you follow the directions when setting the lock, as there is no recovery. Provides basic protection for your toys and keeps them hidden from roommates, children, and other nosy people.
Published:
Pros:
* Travel-friendly.
* Discrete.
* Can be used for more than toys.
Cons:
* Small, will not hold larger toy collections.
* No password recovery.
I'm going to be honest with you, I have a slight obsession with storage, I don't know why. I love having everything organized in its own bag or box so this was right up my alley! I live in a dorm room and my roommate isn't very open about sex toys or sexuality in general, so I basically wanted something to keep toys in that I didn't want her accidentally finding. This works perfectly for that!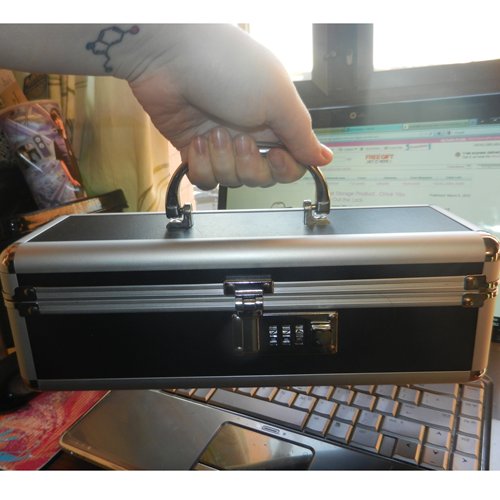 Now, when I got my new storage box I was really excited to just put everything inside and see how much I could fit. In doing so, I carelessly ignored a step in the locking directions and accidentally locked everything inside for a bit. I sat, annoyed and angry at myself and the box, trying for dear life to get it open. Finally, I did manage to get it open and, while reading the directions, reset the lock to my code and all was well with the world again. As a result, I urge you: if you bought this product, read the directions carefully before touching ANYTHING. There is no password recovery on this box so be sure to remember your code! The company has a place on the instructions to write your code so you can keep that somewhere safe if forgetting things is common for you to do.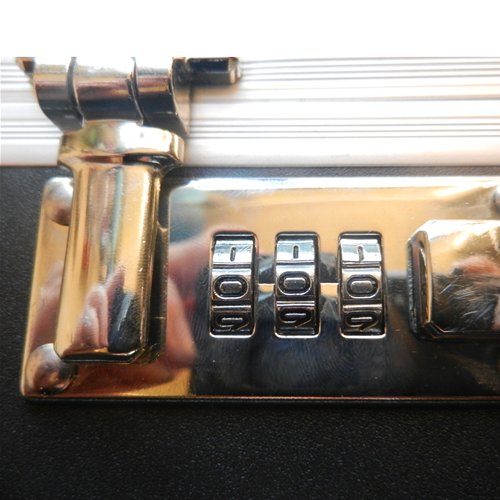 The box is adorable, I must say. It's smooth and sleek, which makes cleaning it very easy. A wet paper towel or cloth will do the trick when cleaning out dust, dirt, or anything else. The box is small, however, which makes it good for travel but not so much for keeping your collection of toys in while at home. Even my smallest paddle was about half an inch too long for this case, sadly. It does, however, fit all my vibrators and dildos and unless you have massive-length ones, it should do fine for you as well.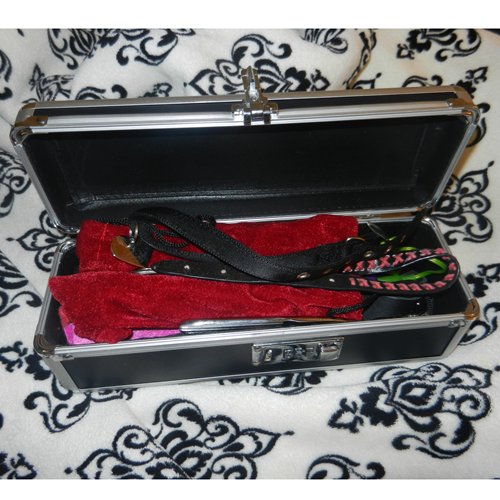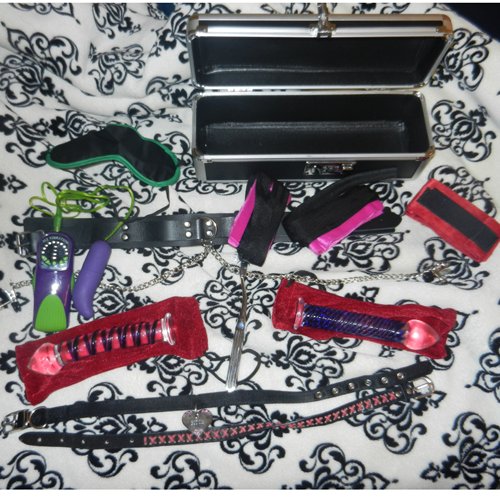 Here's an idea of what my case typically holds at once:
Two glass dildos, a bullet and remote control, a pair of soft-fabric cuffs, a pair of soft-cuffs with tethers, a blindfold, a large collar with nipple clamps, two smaller collars, a Wartenberg pinwheel, loose condoms, and a small tube of lubricant.
Like I said, I use it more to keep obvious items in so my roommate doesn't come across them. I also use it for traveling to another location for play. It can hold essential items for me to use, aside from crops, canes, and most whips.
I would recommend this for those of you with smaller collections or with several items you just want stored for safety. The case is beautiful, easy to use, and discreet. If anyone asks, it's a makeup case!
Follow-up commentary
7 days after original review
I've just noticed this is out of stock in black. I'm so glad I got it before they ran out! Product is still in perfect condition, holding only my most-used toys. There has been no damage done to it, and no problems with the product. I still love it.
This product was provided at a discounted price in exchange for an unbiased review. This review is in compliance with the FTC guidelines.

Thank you for viewing
Lockable sex toy case
– storage container review page!