Beautifully Designed and Decent space for storage
If you want to add some pizzazz to your room decor and stash all your wonderful treasures at the same time, this is definitely the toy box for you! It is deep and long, allowing you to fit more toys comfortably (or even lubes). The quality is great, but the price tag can be a bit steep for some!
Published:
Pros:
Storage Space,Color/Design/Quality,comes with lock/keys
Cons:
The strap that holds the lid up-doesn't hold the lid up (very aggravating!), price
The Devine Toy Box is definitely a must have item. This box is beautifully crafted with a leather like exterior. The lid is a textured, burgundy, crocodile pattern that comes down across the top and onto the front of the box. The front of the box has a thick, metal piece that comes through a hole in the flap to secure with a lock. There is a silver toned lock and 2 keys that are included. You can also use your own set if you so wish (and if it fits). The inside of this box is lined with a satin material for an extra luxurous feel.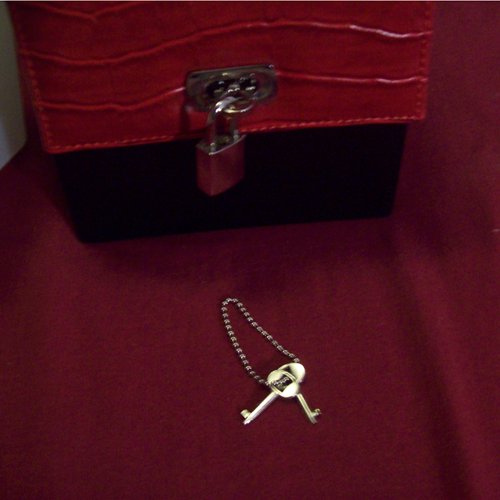 As you can see in this photo, the Devine Toy Box is lined up next to some familiar items for comparison. From left to right you have a Huggies Baby Wipe tub, the Lockable Sex Toy Case (also sold at EdenFantasys) and the Devine Toy box. Here you can compare the Lockable sex toy case with the Devine Toy Chest and decifer which one is truly right for you. Each box has their own pros and cons.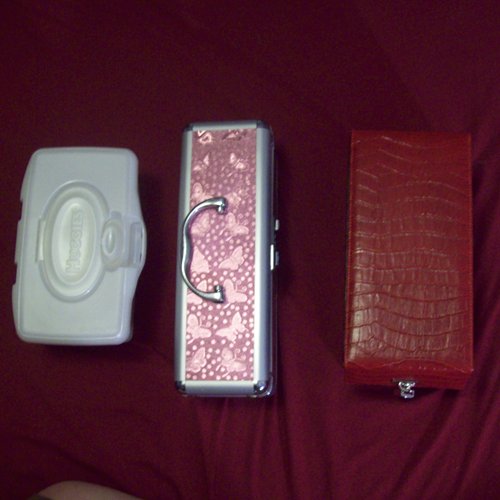 The Devine Toy Box measures in at 9 1/2 inches in length, 5 inches in width and 5 inches tall. This is a fairly light box, even though it appears to be made of a thicker, heavier material. The box itself is very sturdy. Mine has been tossed around the bedroom, on the bed, to the floor, the nightstand and crammed underneath my night stand with other toy boxes. I can honestly say that this box can definitely take a beating! You will notice some dents or nicks in the material if it is scratched or banged around too harshly though. So it is prone to damage if not cared for properly.
The texture of the sides and inside of the box are very smooth and silky feeling. The top (the crocodile pattern) is textured with grooves all across the top and front flap with a shiny, smooth texture.
The only thing that I noticed about this box that I really cannot stand is the small string/strap that is connected on one side to help keep the lid open. I found that this was NOT the case and in fact, because of the string, I kept having it shut on me and I could not get it to stay open. This was a real hassle especially when trying to look for an item that I had to somewhat dig for. I am half tempted to cut it, but I do not want the lid bending all the way backwards and possibly weakening the binding on the back of the lid.
Aside from having a pain for a strap on the box lid, the only other issue that I have with this product is that if you over "stuff" it, or the binding weakens on it, you will be able to see the items inside through the top sides. Because this box only locks at the front, and does not "seal" on the sides, if anything is poking through the top, its going to raise the lid up and allow for a small opening through the sides. This could possibly expose things that you have inside the box. Not to mention, this can weaken the material and lid.
As for the storage space, I can fit all sorts of things in here! This is my "misc" box. This is where I put all my odd shaped, smaller items that will not stack nicely into my night stand.
As you can see in the photos below, that's quite a bit of items. If you are looking to store longer toys, I would say that on average you could get away with about 5-7 toys depending on their length and girth. Plus you could probably squeeze in a bottle of cleaner or package of wipes!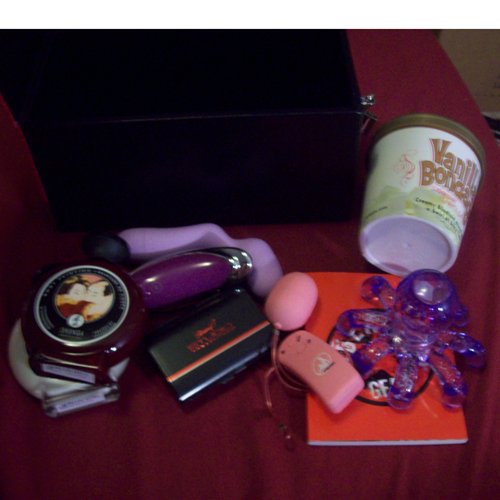 Don't want to use it for sex toys? Place your massage candles in here! It fits the JimmyJane candles beaituflly and tins would work just as well. Place some tissue paper inside and throw in some massage, romantic or other items for a wedding/bridal shower, birthday party or other special occasion! These usually aren't on folks gift registries (Unless of course they are members of our fine Eden community!) so you can bet that you'll have one heck of a unique gift that will be functional and gorgeous in any room for any purpose!
Personally, I love these boxes. I would order more if I could afford it. Another great idea (and something that I plan to do soon) is ordering the matching Condom Cube. It would look great as a gift set!
Follow-up commentary
23 days after original review
I still really like this box. It holds many of my smaller toys, clit toys, bullets and even a few of my blindfolds and sexy games. It works well for storage but the lock is really bothering me. I keep having the key get stuck inside of the lock. You have to make sure that you insert the key into the lock only a hair. If you put it in too far, it will jam up inside of there. If you take some time and patience to wiggle it out, you can get it out. However, this has happened to me a handful of times and its rather frustrating. Otherwise, its nice for my needs. I also got the matching condom cube that I keep my batteries in, which makes a cute set!
This content is the opinion of the submitting contributor and is not endorsed by EdenFantasys.com

Thank you for viewing
Devine toy box croco
– storage container review page!