Crikey mate look at the size of that...Croco?
The Devine toy box croco helped me organize and store my toys much more easily and discreetly. It may seem small, but it holds quite a lot more toys inside than you would expect. Keep your toys locked and hidden from room-mates, or open and ready for solo or partner play. Overall a great toy box for starters and the average toy user looking for better storage.
Published:
Pros:
Beautiful design, Discreet, Holds a lot more than you would think.
Cons:
Flimsy/Cheap padlock, Lid has to be held open in order to stay open.
Devine Toys / After Care has created a toy storage box that is easy and simple to use for a wide variety of people. There is nothing complicated about the Croco box, and it comes with an optional mini padlock with keys and a simple cover that easily opens up. I feel overall this box is more suited for basic and average toy storage. If you have a large collection of toys, or a lot of larger size toys, then this one will most likely not work out for you. From the outside, the Croco looks elegant and appealing; the red crocodile texture is a nice touch that gives it some personality. You can store this toy box almost anywhere: out in the open, in a closest, under the bed, or a bed side table as examples.
Upon receiving the toy box, it was wrapped in a clear plastic bag tied at the end. There are no stickers or any annoying things to remove or install in order to start storing. Inside 2 keys and 1 mini padlock were wrapped in some tissue paper, there was also one of those silica gel packs to prevent moisture from damaging the product. The keys are very small and somewhat flimsy to use in conjunction with the padlock. The padlock itself seems very cheaply made; I would recommend buying a better quality padlock if you need to have this toy box locked up reliably. Personally I do not use the padlock too often unless I have guests over, the latch on the front folds up or down so that cover can be kept in place without locking it.
The construction of the Croco seems fairly basic, I did not find any detailed information but it seems like the walls are a dense cardboard covered in the faux leather. Faux leather is for the most part "fake leather"; it is not 100% artificial as some real leather is added in to the material make up. The interior is lined with satin which I find to be a nice touch and provides a lint free box. As far as stitching goes I only noticed stitching along the red crocodile textured cover, everywhere else seems as if it was glued. If you are looking to replace something like a shoe box, the Croco will be a nice upgrade in quality. Moving onto its design, I find that it was nicely crafted for the average toy. On the product page you would think by looking at the picture that it would not hold a lot of toys, this is not the case. For how much depth there is in the design it allows you to store a lot of different toys, because of this you may need to use zip lock bags or toy covers for protection.
If you are like me and have a variety of sized toys, some that are longer than 9" or very thick and bulky then you will most likely not be able to store as much inside. I personally use the Croco to store my better quality silicone toys. Still, I find myself using a shoe box to store other toys that simply will not fit. One thing that I did not like about this toy box was the cover and here's why; there is satin ribbon attached on the cover and one of the walls, this prevents damage to the cover by not allowing it to open to far back; the problem is it doesn't open far enough to stay open by itself. It collapses down unless you hold the cover open. There are times I would like the cover to stay open so I can reach in for another toy at a later time during a session. This was the only disappointment in the product I personally had other than the flimsy padlock.
Overall I am happy that I purchased this storage box as it has made storing my toys much easier to organize and keep safe. Just below I have included some pictures to furthermore give perspective on this toy box. In one picture I threw in some random items I had originally stored elsewhere to show an example of storing toys. Dimensions are included below of interior measurements of the box I received specifically. I would personally love to see more colors in this particular design then I could buy another box to store other toys in. As a final note this toy box is made in China for those who are interested in knowing.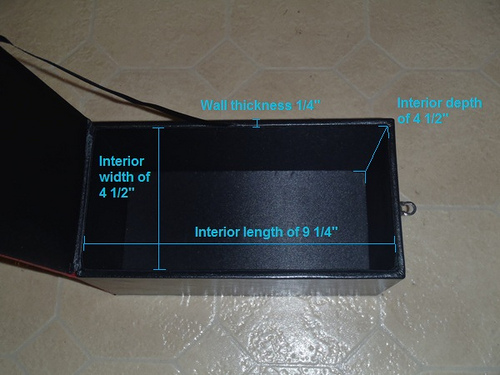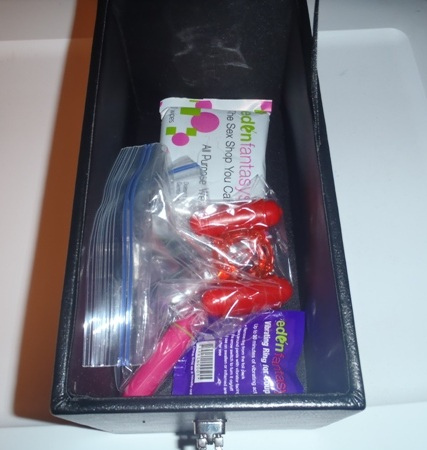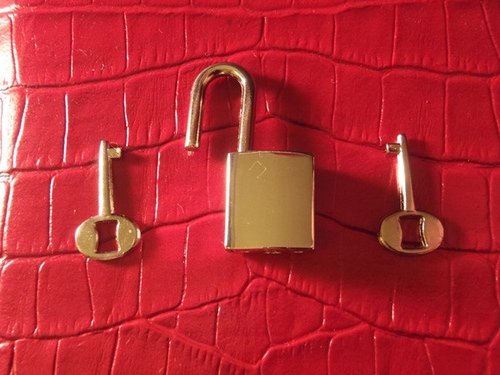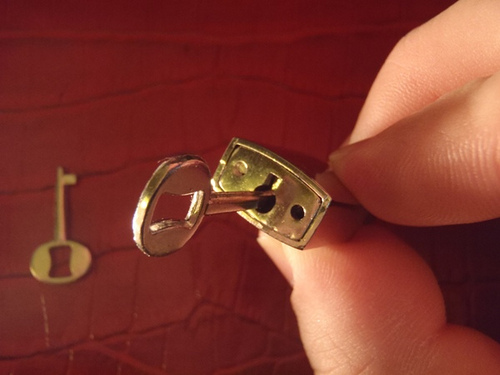 Follow-up commentary
23 days after original review
Ever since I received the Devine Croco Toy Box in the mail I have used it every single day at least once. The material, stitching and lock still work great and I have thankfully managed not to lose the keys. The keys are rather small and unless you keep them in a safe secure place you will most likely misplace them. The padlock seems to be holding up very well even though I stated in my review that it seemed cheap and flimsy.

I still wish it could be just a little big larger in size, my toy collection is quickly growing and I will require more storage. As another interesting and unexpected use for the toy box, it has become a nice pedestal for taking photos of other toys and products I am reviewing. Other than toys, I have no desire or purpose to use this toy box for anything else; I am very glad I ordered and can say it will last me quite some time.
This content is the opinion of the submitting contributor and is not endorsed by EdenFantasys.com

Thank you for viewing
Devine toy box croco
– storage container review page!