Cute, private storage!
The Devine toy box croco is a decent storage option for a good bit of small toys, a handful of average sized ones, or a small mixture of both. It is pricey, but for the items I bought it for, it is worth it. The fact that it can be locked makes it a plus. The only reason I gave it 4 stars is the ribbon.
Published:
Pros:
Sturdy, nice quality, looks good, holds a decent amount of small items.
Cons:
Ribbon that holds the lid to the rest of the box.
Use
The Devine toy box croco is a nice little storage box for small items or a handful of normal sized toys. Others have stored toys, wipes, lubricants and other miscellaneous items. You don't have to buy this and use it for adult toys, it can be used for storage of any items that are able to fit into it that you want to keep to yourself. The box comes with a lock and two keys. The lock is easy to lock and unlock.
Material
The Devine toy box croco is made of faux leather and satin. The lock is made of metal, of course. The lid feels like fake leather, it's bumpy feeling, you can feel the indentations of the crocodile-like design. The crocodile like texture also extends down the back side of the box, coming off the lid. The rest of the box is smooth to the touch. The satin part is the ribbon that attaches the lid to the bottom of the box. I would be very careful with this ribbon; I just feel like it's delicate and could break easily. The lid doesn't want to stay up on it's own, you have to hold it. I wouldn't force the lid back because it could break it. The lock does stay locked, but it just seems cheap, like if someone REALLY wanted to get in the box, they could easily break it or pick it. You can just as easily buy a different lock for it if needed. It is easy to keep clean, if it gets dirty, you can simply wipe it down with a baby wipe or damp cloth.
Dimensions/weight/storage
Length: 9 1/2"
Width: 5"
Height: 5"
Weight: 1.4 oz
Without toys, it's pretty light weight, even full, it isn't heavy at all. This isn't storage for a hoard of toys, but it's decent for a small collection (or part of a large one).
Inside mine, I have 2 standard sized toys and 10 small ones.
My stash in the box consists of: Mona 2, Platinum edition personal pleasurizer, Minivibe baby bug, Duet, Body & soul duplicity, 10x dual power bullets short n sweet, We-vibe Touch, We-Vibe Salsa, We-Vibe Tango, Mimi, Life, and Insignia Lyla 2. All of the toys besides the 10x bullets are in a satin or organza bag (though the bags don't really take up much space since I fold the access around the toy and place it in the box). All of these fit in the box with room for possibly one more small item.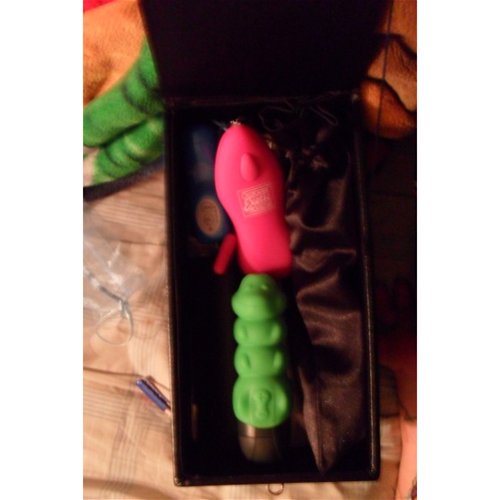 Comments
Overall, I'm impressed with the box. However, I wish a chain or something else was used instead of a ribbon to connect the box and the lid. I was surprised by how much I actually got to fit in the box! I was using the Python print divine carry-on zip up bag to store the clitoral vibes in, but I wanted something that locked. I have three of the zip up bags, two are used for chargers and the other is now empty, I may use it as a make-up bag now. The rest of my toys are stored in the Devine playchest. While the box and playchest have a flaw, I still am happy with my purchase. I gave it 4 stars instead of 5 because of the ribbon.
Follow-up commentary
2 months after original review
I still have this box, it's pretty much full now. It's tasteful and discreet, of course if someone really wanted in, they could break the lock but then it'd be obvious they were in your stuff. It's discreet enough to leave on a shelf, desk, or dresser. I would have liked the ribbon to be something more sturdy like a chain, but it's good for what it does.
This product was provided at a discounted price in exchange for an unbiased review. This review is in compliance with the FTC guidelines.

Thank you for viewing
Devine toy box croco
– storage container review page!