Let me take you to the VIP section.
A super sexy secret box of treasures is what we have here. If you own more than a few toys it's not going to be a total storage solution for you, but it can be a cozy home for your favorites. It keeps your sexy weapons out of sight and out of curious hands. Plus, there's so much more you can do with this! Why not grab yourself a couple? I know I'll be stocking up on them.
Published:
Pros:
Versatile, locking, sturdy, good quality for price, keeps items out of sight and hands
Cons:
Would be nice if it were larger.
Ooh! A box I can put my sexythings in!? Sure, I'll take it! I have to admit that I have a bit of a thing when it comes to boxes and storage. At the moment, I have a whole pile of empty containers to put all of my non-sexy things, but I like to store my toys and tricks in a fancy way. This box is awesome for storage of toys. It even locks, too! It'll keep all of your sexy pleasure devices away from prying eyes and out of curious hands. It keeps all of your secret weapons under wraps while still being discreet, and it's perfect for travel, too.
The box is quite sturdy, but it's not as sturdy as those locking safes, obviously. The lock won't stop the most determined of toy thieves, but it will keep out the average trespasser, or those overly curious kid hands. The lock on it can be set to any numerical code you'd like it, so there's a little safety in that. Set your own personal pleasure PIN. The only issue I saw with the lock is that it can be a little fiddly, but it's nothing too difficult. The numbers like to stick a little bit, but this gets better over time. The outside of the box is made (in my case) of a matte black material, so the box resembles something you'd keep important documents in. The metal is nice and shiny and is pretty medium quality. It's not flimsy and doesn't seem like it's going anywhere, but it's certainly no titanium. Inside, the box is lined quite nicely with a vinyl material that makes for easy cleaning if it needs it. This I was impressed with, actually. It's a bit nicer than the locking makeup travel cases.
So here we have this box: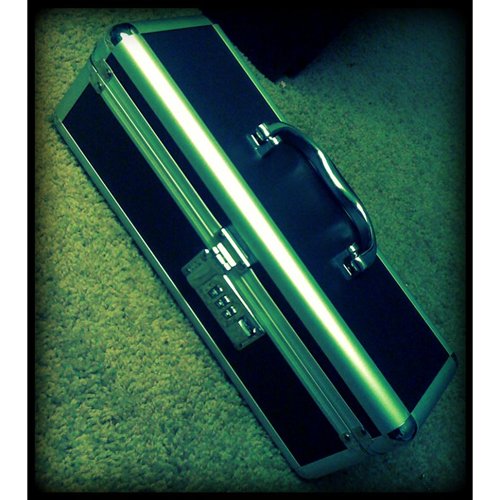 It's pretty cute, huh? Looks like it could be slightly devilish and fun. Who knows what could be in there? I can't wait to put so many cool things inside! But wait . . . it's actually quite small and I have so many things I'd want to put in here. For comparison, here's how it stacks up to my storage for BDSM gear:
Yikes! It's only 4" tall, 4" wide, and 12" long so it can't fit too many things. I'd need about 10 of these just for this stuff. Will it fit my impressive collection of Aslan cuffs? Nope. I could probably throw my handcuffs and clamps in there, but this seems a little too fancy for that. Those fit in the top of my toolbox just fine and are all snuggly-like. Dildos? I have way too many (poor me, right?) and this holds maybe two of them. Condoms? That's not something I really want in a box that's all locked up. It would kill the mood to have to sit there and fumble with the lock. Hmm. What am I going to do?
Wait! I got it! You know how we all have our top favorites? If you're like me you could have a huge stockpile of sexy toys, but there are those few you always come back to. Your "old faithful", your "trusted bedside companions", or whatever you prefer to call them. They're the ones closest to your heart, and usually the closest to your naughty parts. It's nice to have them within arm's reach for whenever the mood strikes, but you don't want them just hanging out in plain sight, do you? This box! It's perfect! See?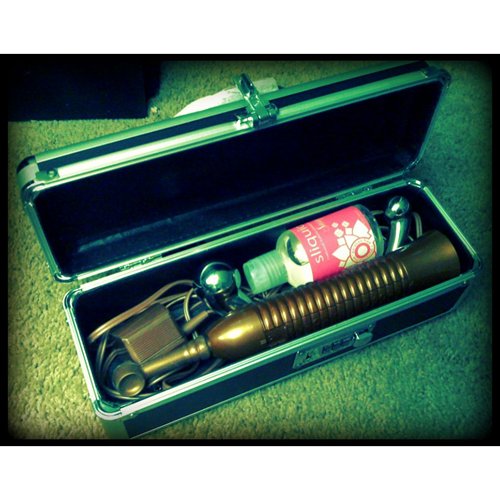 These are my three favorite bedfellows I could never live without. This box is just the perfect size for my Pure Wand, Eroscillator, and favorite slippery love potion to get cozy and be safe in. They all deserve their own special home. Not to mention, it's easily relocatable so they can all join me on special trips! How perfect!?
Experience
At the moment, the storage selection here is quite slim, and there are tons of us out there with boxes (and even closets) bursting full of toys. This box may not be a storage solution for everything, but there's still always a use for it. For those of us who are toy hoarders, it's a perfect place to keep your most precious items. Those modest toy collectors out there may find that this box is perfect for all of their needs. Either way, it's something that you can keep just about anything in. Money, valuables, secrets, important things, so why not go ahead and grab yourself a couple? These boxes are quite sturdy and handy. There's no reason in the world not to.
Follow-up commentary
7 months after original review
No complaints on this box at all. It's held up well to use all around and is still my favorite little stash box. I actually keep my video and digital camera in it since it's a little on the small side for my personal storage needs when it comes to toys.
This product was provided at a discounted price in exchange for an unbiased review. This review is in compliance with the FTC guidelines.

Thank you for viewing
Lockable sex toy case
– storage container review page!