My devine toy box
I just love my corset toy box; I'm glad that I ordered it. I almost did not because I was worried about it being too small. The toy box is perfect for any girl, weather your collect is large, or small. You can keep your most beloved toys in this box and keep it bedside, perfect for any toy collector. I can not wait to order her big sister.
Published:
Pros:
Large size, Portable, Lockable,
Cons:
None.
My toy collection has grown to the point that it has created its own life. I have too many toys it is no joke. They currently take up two blue plastic bins that are in my bedroom. Do not get me wrong, I love them, and I feel I do not have enough, but it is a little intimidating. I think they are soon going to need a bedroom of their own. I was hoping to get the divine toy chest, but they were sold-out. I ended up ordering the second best, the divine corset toy box.
When you revive the toy box it comes in this semi thick plastic bag. It in the plastic bag, to keep unwanted elements out of it, once you remove the toy box from the plastic you can just toss the bag. There is no real reason to keep it around. Epically if, you have little ones, bags are a serious choking hazard. Once you have gotten the plastic all put away you can now take a minute to admire your new, beautiful toy chest.

The divine toy chest is just one beautiful creation. The toy chest is not too small, but it is compact enough for you to slide aside, to keep it out of full view. The Length: 9 1/2" & Width: 5" The corset design is a truly beautiful and extremely girly. The divine toy box comes in four different designs, but to me the corset stood out the most. Unlike the other two, the corset box does not have any lace on it and is not one solid color like the other. The divine toy chest has a beautiful gloss finish. It is completely smooth with the exception on the top. The box also looks like a corset, which is quite impressive. The strings do come down further then I would have liked it, but it is still beautiful. I was worried about the size of the toy box. You can look at all the videos, and reviews but, you can not get a clear idea on how large it is until it is in your hands.
It is quite large I was able to fit a lot and still had enough room.
What's in my toy box…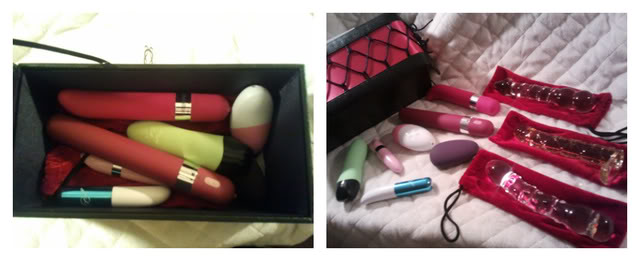 1. Freestyle
2. Freestyle G
3. Pink swirl
4. Nubby G wand
5. Gold laced G
6. Mia
7. Siri
8. Extase La Metropole
9. MiMi
10.Minivibe Spring
Even with all those items I still have a lot of room for other items. The outside of the box is like a fo-leather. It is perfectly smooth without rough edges, or corners you have to worry about. The inside is made up of a satin. Both inside and the outside are both smooth, If you happen to get any of it dirty you can wipe down with a damp cloth. When you look at the box, you will notice that it is lockable. It does come with a key and lock. When taking a closer look you will notice that the lock is cheap. It is convenient if you live with adults, and do not have to worry about your items being messed with.

If, you have little ones or teens that like to go into your room and barrow stuff you should properly get to target and get a better lock. When you open the box, You notice this string that is connecting the box to the top. DON'T CUT IT! My boyfriend almost did when he was looking at it. He was like why is this placed here? I had to explain to him that is how the box stays open when you are getting your toys in and out. When you close the box make sure to tuck that in the box, if you do not it will be hanging out of the box.
Follow-up commentary
11 months after original review
I still love my devine toy box. It' something that I use every day, I wish I could order more, but EF stopped carrying most of them. It's sturdy and gets the job done. I don't have any complaints about this toy box.
This product was provided at a discounted price in exchange for an unbiased review. This review is in compliance with the FTC guidelines.

Thank you for viewing
Devine toy box pink corset
– storage container review page!