Gotta have storage
I am very glad to finally have some sort of lockable storage that I can use to hide away my toys. This box is cute and convenient, and can be hidden away in a draw with ease. However, this pink is a bit to flashy for me; I don't really want my toy storage to get peoples attention. Also, this was only able to fit a fraction of my gear: not all of my BDSM stuff, or vibrators, or all of any one sort of thing that I have.
Published:
Pros:
LOCKABLE, cute, compact, able to fit many items, great for beginners in need of storage
Cons:
Pricey, lock can be picked, could be too bright/flashy, too small for those with a huge collection
The black sections feel like faux-leather, the pink and the lacing feel and look satiny. When I first opened the box it had a slight smell, but nothing bad. I thought it smelled new. I asked one of my friends what she thought the smell was, she said it smelled maybe like some kind of glue. It's not harsh or overwhelming, barely noticeable and will likely not affect your toys in any way. There is a ribbon, when it opens, to keep the lid from falling back. It is attached to the box and the lid. When the box is closed it peaks out a bit from the side, which bugs me a little.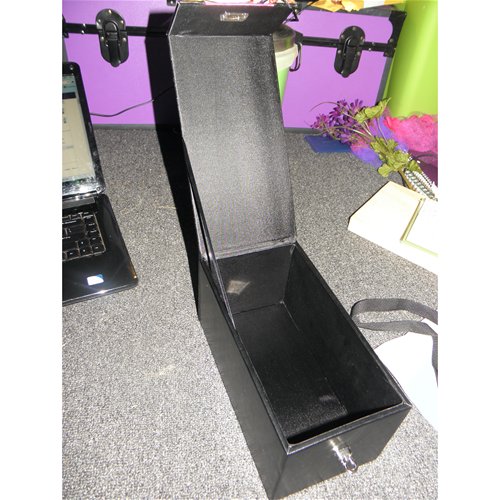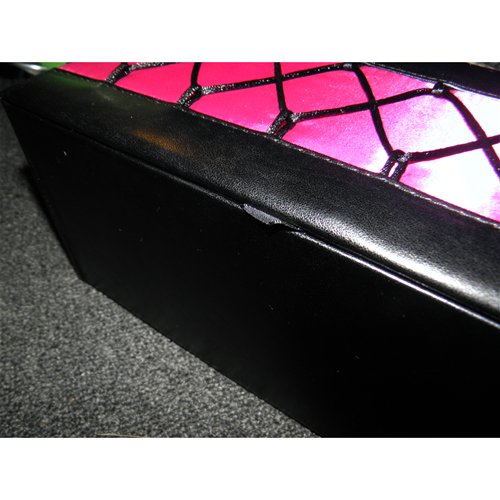 This would be PERFECT for campus/roommate living. If you have roommates, parents, friends, pets, or children that you want to keep your toys hidden from, this is perfect for you. This comes with a lock and two tiny keys, but no key ring. The lock works well, and looks sturdier than other small locks that I've had before (think cheap diaries). However, I tested it out and the lock can be picked very easily if you try. So, if you are trying to really keep your stuff locked up from someone who might try to sneak around and pry through your things, I would highly suggest getting a different small lock for this. If you are in need of such a lock, I would check your local hardware store; you should be able to find one cheap enough there.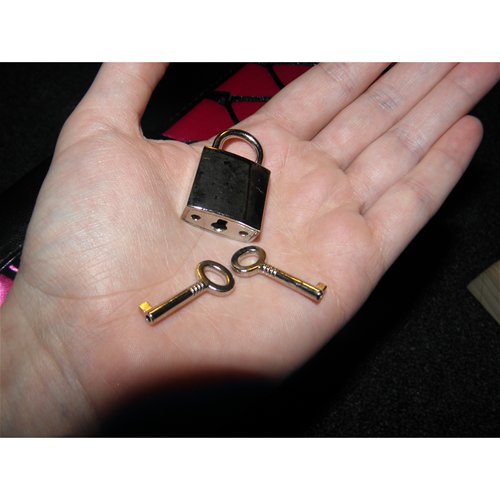 On the right side of the box, on the far right bottom corner there is the company logo imprinted into the material, but I don't think it makes it any less discreet really. Though, it does say Devine Toys.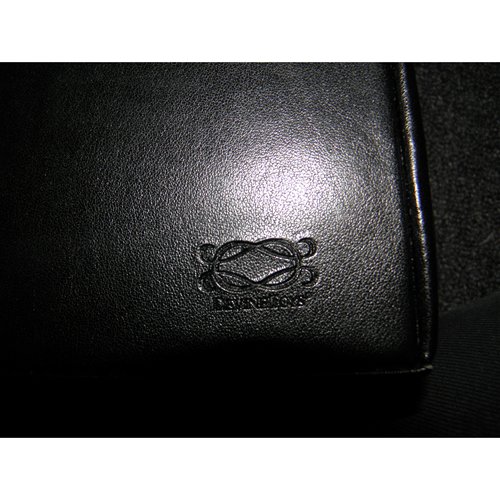 Still, it is compact, and can easily fit under a bed or in a drawer or closet. It is lightweight; just under two pounds when it is empty. It is 5" tall, 5" wide, and 9 1/2" long: that can fit a surprising number of things.
One downside of this box is the price. It took me a while to finally save up and splurge on one of these boxes, but that is only because all of my Eden items were all over the place; I wasn't up for having a bottle of lube or a vibrator laying out when guests comes over.If you are a beginner looking for a place to keep a small collection of things, this is great. If you have a huge collection, you might not be satisfied with this box, as it will not fit EVERYTHING. However, there is the larger, but more expensive
Devine playchest
. I just ordered one of those in black, and intend to keep the majority of my things in it.
Here is mine, fully stuffed: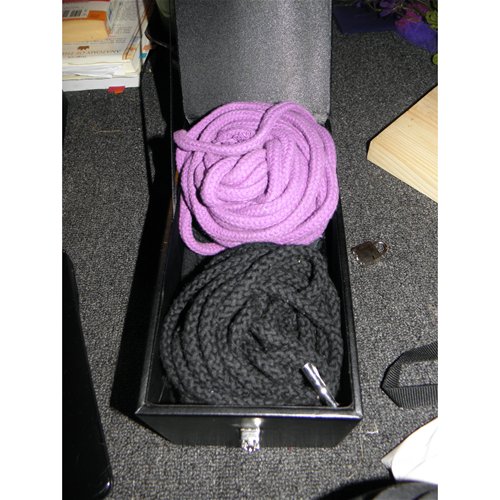 In it, I have:
- my
purple Japanese bondage rope
(32 ft.)
- my black
Fetish Fantasy Series Japanese silk rope
(35 ft.)
- my
Sportcuffs
- my
Sportsheets Hog Tie Set
- and my
vibrating champlette
, which was inside of my
Eden pouch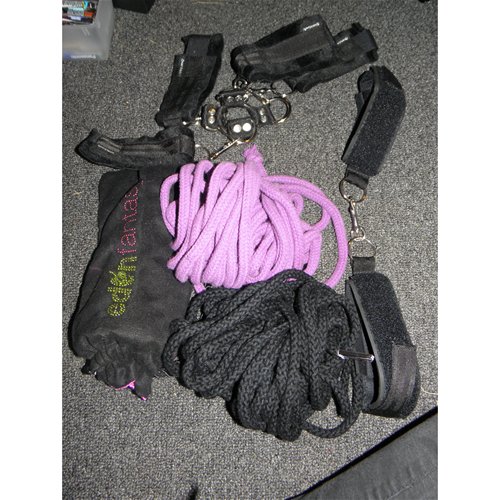 This may seem like a lot, and does fit quite a bit, but this is actually a bit of a predicament for me. You see, this is just a fraction of my stuff. I could not fit all of my BDSM gear in here - just these things. I had to leave out a paddle and some other items. I may use this for storing just some vibrators, or just batteries/cleaners/lube. I am considering using it to keep all of my electro gear together, since I can use my Playchest for everything else when it gets here. Still, with just my electroshock replacement pads, the gel, and the shock therapy kit itself, there would be room for more things...maybe batteries?
Experience
Personally, I would have preferred one of the lace boxes that Eden used to carry; now only the corset and crocodile print boxes are still available. I find the
Devine lace boxes
to look much more elegant and subtle. They could contain anything really, and would look nice and pretty just sitting out in the open. They have been discontinued from Eden for some reason, sadly. They were available in purple and red, both looked gorgeous and I'd been lusting after them for awhile but never ended up getting one of them. The corset box is very bright and the pink and black with the lacing could look a bit to "teen" for some peoples taste. Also, the pink is very bright on the corset box and could draw attention a lot more easily, I think. I like black and pink together and think this looks cute, but the pink is a bit bright and attention-getting for my tastes! Also, some people may not want to keep their toys in a corseted pink box. The lacing goes from the front, over the top, and down the back of the box. It is not on the sides or the bottom, those are all faux-leather. The inside is a shiny black fabric, that feels less plushy and satiny compared to the pink on the exterior.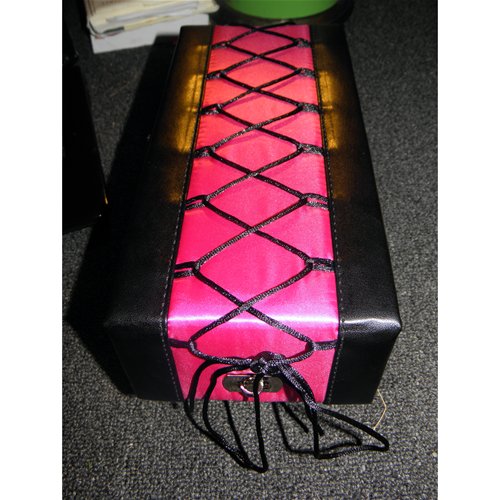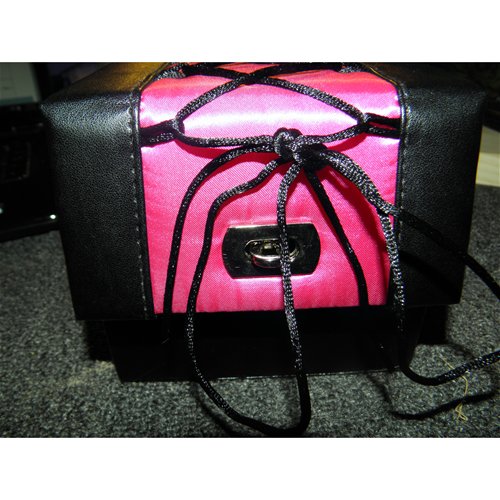 Follow-up commentary
2 months after original review
I like this about as much as I did before, my feelings on it haven;t really changed. I have since put other things in it, not toys, since it is a bit small to fit any one type of thing in it. I've moved a lot of what I have into my Devine Playchest, and even that doesn't fit all of it. This box is pricey for what it is, and the lock really isn't that impressive. If I buy lockable storage, I would expect that I can't pop the lock off by just putting a bobby pin in it. Yes, it's that easy to open.
This content is the opinion of the submitting contributor and is not endorsed by EdenFantasys.com

Thank you for viewing
Devine toy box pink corset
– storage container review page!