Not quite "Divine", but getting there.
Overall, the Devine Toy Box does what it's supposed to do, and does it decently well. The exterior is attractive and the interior is deceptively roomy considering how small the box it appears to be on the outside. While it could be larger and is fairly expensive if you consider the fact that you'd be able to fit only a small collection (or excess spillage from your primary toy box) in it, it's a decent buy for any toy enthusiast who needs a discreet place to store his/her toys.
Published:
Pros:
Attractive design, roomier than one would expect, good for a small collection.
Cons:
Pricey for size of box, lock is mediocre, would not hold larger collection.
The Devine Toy Box is not quite "divine", but it's getting there. With a couple of extra good deeds, it could probably earn its wings.
I chose the Devine Toy Box for reasons one would expect: my collection has grown, my primary toy box is overflowing, and jamming my dresser drawers full of sex toys isn't an option. My collection isn't enormous, but I tend to store my more expensive toys (namely the VixSkin and O2 ones) in their original boxes, which takes up a lot of space. So…here I am with a need for more space. Also, I like having a design-specific toy box, rather than just throwing them someplace for the sake of hiding them. I'm pretty sure that the majority of people looking at this page probably feel something similar, since they're…well, looking this page.
When I first received the Toy Box, my initial impression was "meh, I can probably just throw my rabbit in there, or maybe a few of my toys that don't fit into my toy chest anymore". I measured the box at about 10" long by 5.25" wide by 5" deep. While this doesn't sound particularly spacious - and it isn't if you do have a large toy collection - I was pleasantly surprised by how much I actually could fit inside…but more on that later.
The overall design of this box is attractive; I chose the purple and black one. It could probably pass as a larger jewelry box or even a case for storing shoes. The lid is a medium purple, and does not really look like the bluish color in Eden's photo. The purple is covered by a lacy floral overlay, and the bottom portion is hard with a leather-like finish. The side is embossed with the Devine Toys logo, which probably could have been excluded for discretion. The lid is secured to the box with a small ribbon that props it up and keeps it from opening to a 180 degree angle, and there is a flap that folds down and snaps into place where you insert the lock.
Since I already own a couple of FYN boxes and the Devine Toy Chest, I had a good idea of what to expect from the lock, and it met my expectations. It's decent: better than the lock that comes with a child's diary, but not much. If you're looking to deter young children or someone who isn't going to try particularly hard, then I wouldn't be too concerned about finding another lock. However, if someone REALLY had to see what you had inside the box, then they could make very short work of this one (airport security comes to mind). Here's a close-up of the lock and keys: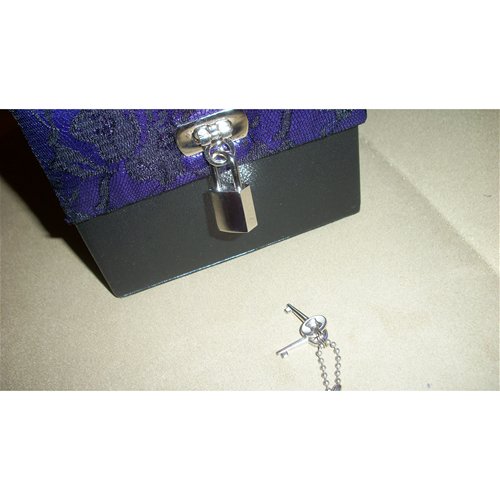 As I mentioned earlier, I was pleasantly surprised by how much I could actually fit into this box. To get a better feel for what I would be able to store with my toys in their bags/cases, I tried a couple of different combinations, pictured below. Each filled the box to relative capacity, to where I could probably stuff another small thing or two inside, but might or might not damage the lid in the process. For the third combination, I took the toys out of their storage boxes and crammed them in haphazardly to see what would fit, which isn't how I would normally store them, but this would definitely maximize storage space. Pictures follow each respective description.
Combination #1:
- Tantus Beginner Beads
- Vibratex Rabbit Habit (in bag)
- Fun Factory Astrovibes Virgo (in bag)
- Impuls-O G-spot stimulator
- Tantus Flame (small dildo)
- Tantus Rascal (in bag with bullet and batteries)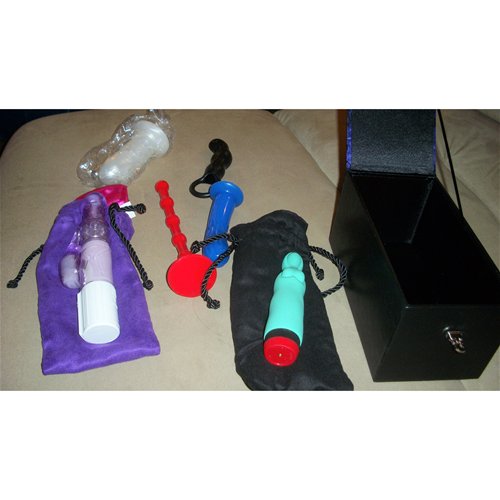 Combination #2:
- Vixen Creations VixSkin Raquel (in original tube that takes up a lot of space)
- Tantus Beginner Beads
- LELO Ina (in pouch, minus charger)
- Tantus Flame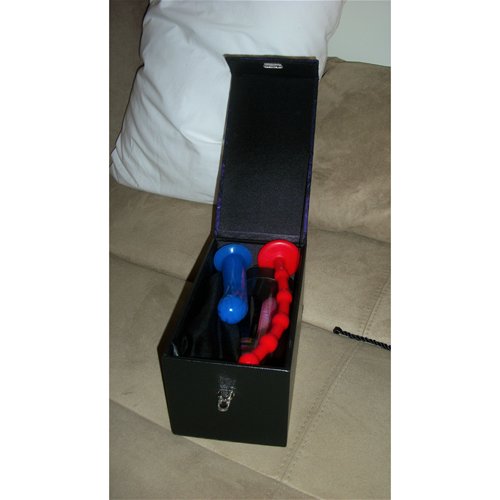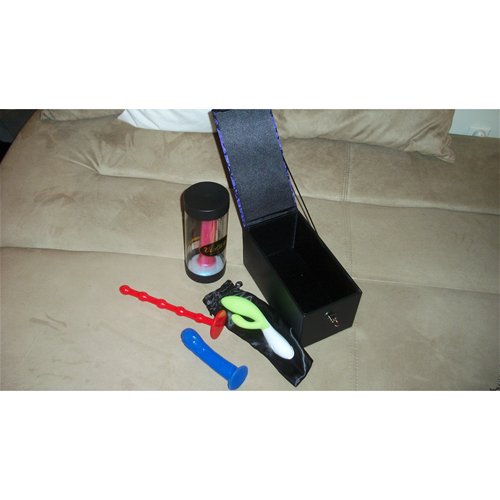 Combination #3
- Tantus Flame
- Tantus Ryder
- VixSkin Raquel
- Tantus O2 Revolution
- LELO Ina
- Tantus O2 Niagara
- Tantus Beginner Beads
- Tantus Echo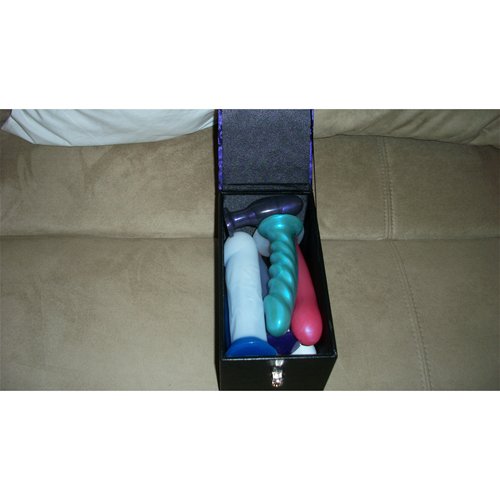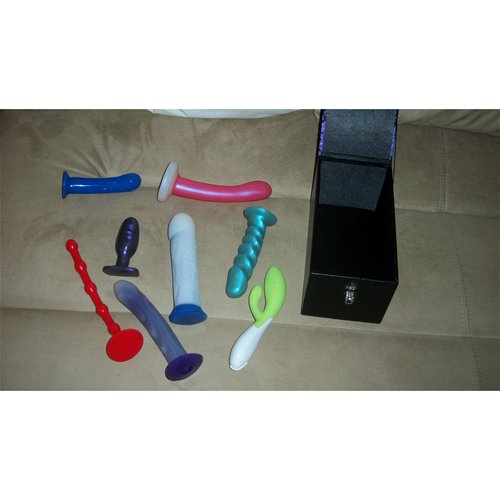 As I said earlier, this makes a good supplementary case that should hold up in the long run, since I can't imagine it will get terribly abused or dirty. Although I haven't tried cleaning it yet, I would guess that simply a wet wipe or a wet washcloth to wipe down the inside (with its satiny material) would suffice. Overall, I was satisfied with how much this box held considering its size; I got it on sale and probably would not have paid full price for it, but it was a decent value for the price I paid and I would recommend it if you're in the market for an attractive new toy box.
This product was provided at a discounted price in exchange for an unbiased review. This review is in compliance with the FTC guidelines.

Thank you for viewing
Devine toy lace box
– storage container review page!