Goth Box
I really love these boxes and plan on getting every one that is offered to store my favorite toys in style. There is a great variety of styles and colors to choose from allowing you to store things in a nice way that doesn't look tacky lining your shelves.
Published:
Pros:
Beautiful, lockable
Cons:
May be too pricey for some
The Toy Lace Box by DevineToys is a pretty box to store and lock your toys in, keeping prying eyes from your private items. This is the second kind that I have gotten in this line. They look nice, store your treasures, and lock keeping private things private.
The box stands 5" high and is 5" wide. It is 10" long and gives you room to store a number of vibrators, rings, dildos and other toys. I have found that you can store about 6 normal sized vibrators or an array of smaller items in these boxes. In my other one I have my
Titanmen David Anthony
nestled snuggly inside with a couple of vibrating cockrings and a small lube, and he is huge!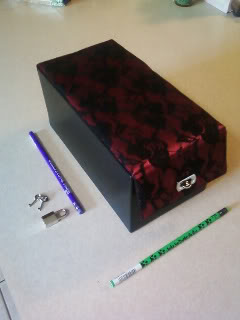 It is made of what feels like a thick cardboard covered by faux-leather for the base and the top is the cardboard with a padding and then red satin covered by black lace. The contrast of the red satin and the black lace is beautiful.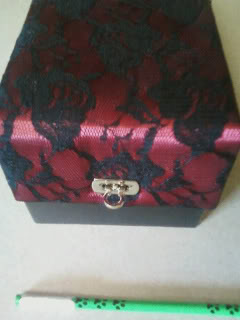 It opens by lifting the front of the box and has a ribbon that hinges it together. Opening the entire top of the box allows you to store your larger dildos, vibrators or just about anything else that you want to keep locked up. Inside it is lined with a black satin that can be hard to clean should you get lube or other liquids inside, so take care to clean toys thoroughly before storing them.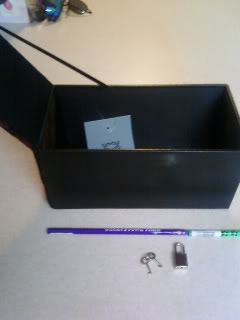 It has a pop-up hinge on the front of the case that allows you to slide the lock thru it. It comes with a small lock and two keys. While this won't keep someone out that is truly on a mission to discover what is in it, it will deter most people and keep an honest man honest.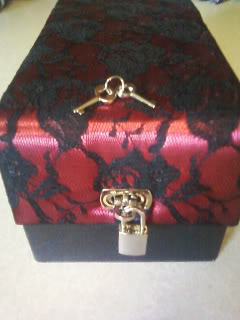 My goal is to get one of every style and color and figure out a filing system of sorts for my amassing number of adult toys. This is a beautiful way to do it, as they offer a large variety of styles and colors for you to choose from.
This content is the opinion of the submitting contributor and is not endorsed by EdenFantasys.com

Thank you for viewing
Devine toy lace box
– storage container review page!