So Divinely Sexy!
What a gorgeous little box! I wonder what's inside. Sexy lace lingerie perhaps? Or maybe some sensual massage oil? Or maybe even some steamy love notes and a rose from your lover? Honestly, with how gorgeous this box looks, I definitely want to keep it out for show. And for that reason, I'm glad it locks because I'm keeping much naughtier secrets inside!
Published:
Pros:
Lockable, gorgeous color & lace, perfect moderate size for just the basic things
Cons:
Lock is easy to break, wish it had just 1 more inch in width for my favorite items
I can not describe to you how much I needed another container for my growing collection of adult toys and accessories. So it didn't take any convincing to select the Devine Toy Lace Box. Besides being much prettier than the USPS shipping boxes my toys arrive in, this one locks!
Inner Divinity
The capacity measurements (internal measurements as opposed to the exterior surface area measurements which are listed on the product page) for the box are 9.25" long, 4.5" wide, and 4.5" deep. As you can see, the space in the box isn't too exceptionally large. I definitely can't even house half of my collection in this box. But for traveling or keeping my favorites/new items available bedside in a pretty (and unassuming) box is what is really great about the Devine Lace Toy Box.
The inside is lined in some kind of black, faux-satin material that is super smooth to the touch. (Yes, the inner lining is black and isn't the red of the top of the lid as seen in the pictures on the product page. Strange, huh?) And there's a thin black ribbon attached to the lid and side to keep the top from flopping backwards when opened. I was pleased that once the Silica Gel was removed (please do not eat this, people), there was no unpleasant smell left inside that I would need to be concerned about contaminating my toys.
And though I'd love for there to be just another inch or so in width to fit absolutely all of my newest toys and addictions, this little beauty can still hold quite a bit. Here's the obligatory image of some random fun stuff inside the box to help give you an idea of space.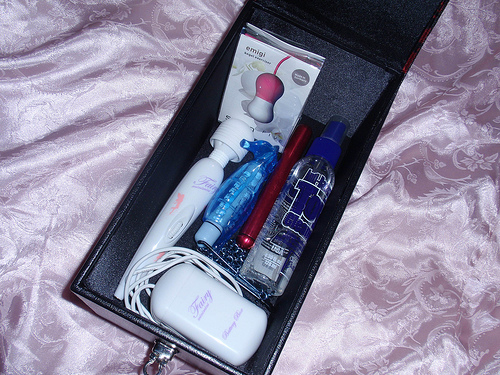 External Beauty
The backside and lid of the box is plush to the touch with some kind of cottony layer underneath. It adds an even greater sense of lush sensuality and extravagance. On top of that is a red satin with black lace sitting atop of it in a delicate rose pattern. Gorgeous right? The design and cover to the lid and front closure also extends to the small back panel of the box as well.
Around the rest of the box is another smooth, black material that I haven't really been able to identity. I've researched it and found disagreeing claims that it was a vinyl material, faux-leather, or even a satin blend. But what does matter is that it's relatively easy to clean but does seem susceptible to staining from oil-based lubricants (which I have not tested for this very reason).
And, of course, on the front is the small stainless steel clasp that goes through the opening in the front panel of the lid to close it. There's a small opening for the adorable little lock (complete with two little keys) to go through to provide some minimal security.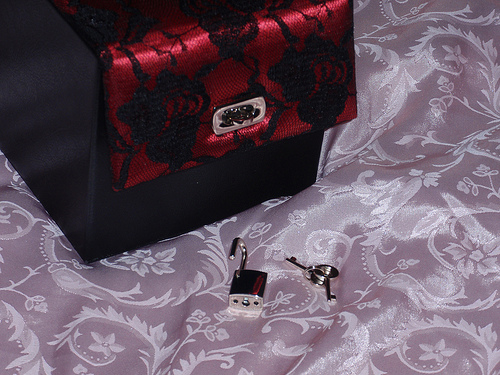 I do feel it necessary to inform you that this lock is the equivalent to the cheap ones that come with children's diaries or music boxes and is equally as easy to break into. So the security really is minimal. If you desire a little more hardcore locking, it could be difficult to find a lock with a thin enough rod to fit in the ring. But then, you may need to upgrade your whole system to a harder, more durable container too. So as long as you don't have terribly rude/nosey roommates or siblings, this should be fine.
Claim to Fame
All in all, this enchanted little box is a beauty on my dresser and allows me to keep my newest assignments and favorite toys handy in plain sight while still serving as a sensual piece of decor. And though the lock is easy to break into, it's very presence is enough to deter all in my household from taking a quick gander into what I have stashed inside, which honestly is for their own good.
Follow-up commentary
3 months after original review
I've gotten quite used to having this beautiful box out in the open in my room. It's gorgeous and unassuming. I don't even use the lock on it but I do flip the locking ring downward when I close it to keep the lid flush because that little flap likes to poke out. It thankfully has not developed any odor whatsoever from the different materials of toys inside, the toy cleaner, and my favorite arousal gels. There has been no fraying of the lace for me and it's still just as pinkish red as it was when it arrived. It was an all around great product to receive!
This product was provided free of charge to the reviewer. This review is in compliance with the FTC guidelines.

Thank you for viewing
Devine toy lace box
– storage container review page!