Not Spa Quality, But Nice towel
Overall, I would have to say that I am not too impressed with the towels. I was hoping for something much more than what I received. They are too thin, non absorbent and not very soft (even after washing). They would make nice decor, or maybe even a beach towel, but I wouldn't use it for a spa type setting.
Published:
Pros:
large size, nice logo, would make good decor, nice gift for newly weds or anniversary
Cons:
pricey for the quality, not very absorbent
I purchased the towels because it was a buy one get one free deal. I really wanted these towels because some of the reviews on this item were pretty positive. They looked like they were a spa quality towel. Sadly, this was not the case. I figured that these would be some nice bath towels to hang in the bathroom (more so for the decor purpose).
So when I received these towels, they were wrapped in a plastic bag and folded nicely. I pulled the towels out and was somewhat disappointed with the texture of these towels. Granted, I wanted to give them a chance at fluffing up a bit in the washer/dryer, so I kept an open mind about it.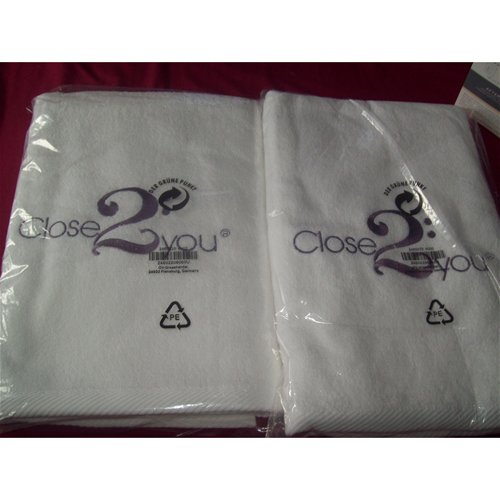 I took out the towels, from their plastic bags, and found that they were rather large! These towels come up to my chin (Im 5'8" mind you) from touching the floor. I am a rather "thick girl" and the smaller towels often do not fit around me very well. These towels wrapped around me almost two times over. SO, I was pretty pleased with the fact that they were larger than most. However, I was rather disappointed with how thin these towels were. They are not the "spa quality" one might find in Target or a spa store.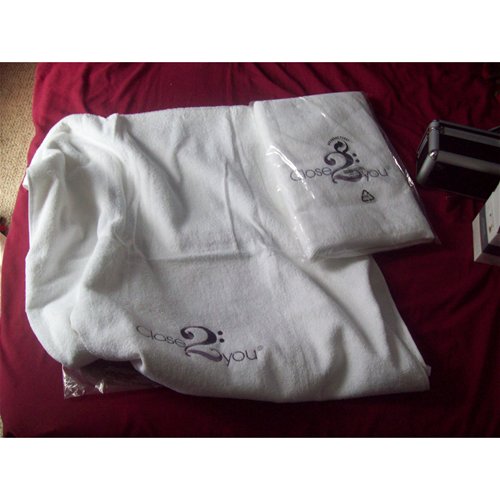 I washed the towels and dried them to fluff out the fabric and found that they didn't really fluff anymore than they already were. The material did soften up a bit though. But they are still quite flat and thin.
Color: Purple / White
Length: 52"
Width: 29 1/2"
There is a dark purple logo "Close2You" on the bottom section of the towel. Its a pretty decent sized logo but nothing huge or too small (fine print). The rest of the towel is a very white white.
These are cotton towels (though it feels more like a terry cloth fabric.) I didn't find that these were very absorbant at all either. It took quite a bit for it to dry me off.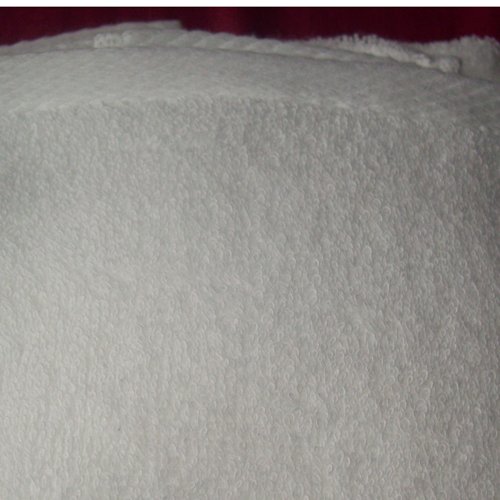 These would be nice for decoration. I would not use them for anything more than decor or a shower/bath. Using these towels for any kind of sexual act may stain the towels a yellowish color, or if you are using this towel for anal play clean up, may leave other stains as well.
This would make a nice wedding gift for the newly weds or an anniversary gift. You could pair this with some massage products too to create a nice gift basket.
Follow-up commentary
3 days after original review
I wanted to say that, since washing/drying this towel, it has fluffed up a bit. The material still isn't as absorbent as I would have hoped/liked. I wouldn't say that its anywhere near spa quality, but the price that I got them for (buy one get one free) I would have to say that they were worth the deal. I've washed, dried and used these towels a few times now and it seems that they aren't too bad. (I will say though that they are pretty large, so I like that about them).
This content is the opinion of the submitting contributor and is not endorsed by EdenFantasys.com

Thank you for viewing
Sensual bath towel
review page!