Protection for your protection!
I think this is great for college kids, or people living at home with the parents or roommates. You can easily store small valuable objects, and keep them away from parents, friends, etc. The lock and keys made great extras, and the glow-in-the-dark zipper pulls make it so easy to open in the dark. The material was high quality, and barely bends in my hands. Perfect for safe condom storage. So why not get some protection for your protection?
Published:
Pros:
Sturdy, Comes with lock & keys, Multiple uses, Cute design, Glow-in-the-dark zipper pulls
Cons:
May be too small for some, Cannot hold larger sex toys, Intended for condom storage only
I recently purchased the "Size Does Matter" case by For Your Nymphomation. The color/design I chose was the Leopard Print, and has a faux leather texture. This purse/case/storage container was designed to hold condoms, but I have found a few other uses for this little guy.
Upon removing this case from its thin plastic shipping bag, I could already feel the quality of the material used to make it. The material is thick, sturdy, and hardly even bendable. Some people may not like that, but for me, this was a plus. Having your condoms "used and abused" while in your purse is a bad thing. This can lead to damage, and worst of all, it can lead to your condoms breaking during intercourse. This is also a plus since I have personally decided to store 4 of my bullet vibes in this case. Now I know that they will not become damaged in any way as I store them.
This case easily stores about 6-10 condoms. I was able to fit 6 XL Magnums in my case with no problem. If I really try and stuff this case to the max, I can fit 9 of them. I suppose you could fit even more of the smaller condoms, but I don't have any on hand. Another cool thing is that I could even fit my birth control, a small medication bottle, or a few cock rings. So if your significant other wants to hide his erection medication, this might be a great case to help you do that.
Here are the measurements to give you a better idea of what you might be able to fit inside this case.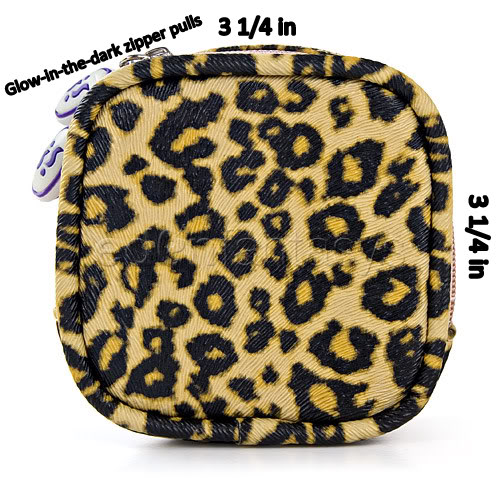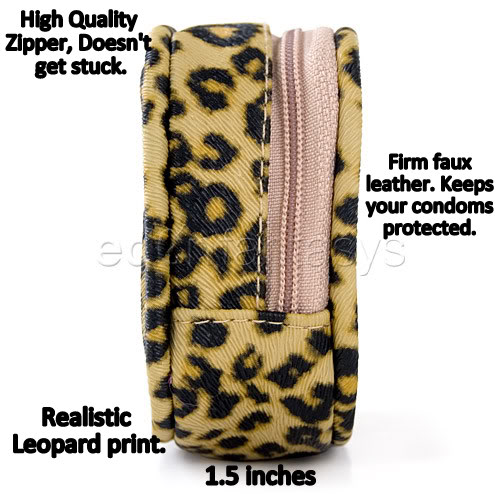 So basically, this gives you a good 10.5 square inches to fit anything you want. As long as you don't exceed 1.5 inches in width, and 3.5 inches in length, your object will fit just fine. I also noted that there are glow-in-the-dark zipper pulls. This will make it really easy when you are searching for your condoms in a dark place. This actually came in handy for me last night when I was trying to find my bullets.
Right away I could tell that this is a great little case for traveling. The easiest way to damage condoms is by throwing them in your purse or pocket. They can easily get bent, squished, broken, etc. This little case weighs almost nothing, is only about 10.5 square inches, and can fit perfectly in any suitcase or purse. A great little tag-along to any vacation.
If you are in college like me, or live with a roommate, nosy parents, etc. You know that condoms easily get found and stolen. For Your Nymphomation has eliminated this issue for us, thank God! They have included two small skeleton-like keys, with a snap chain for safekeeping, and a lock to protect your protection! The keys easily fit on any key ring, so you can keep them with your car keys, house key, or anywhere you want.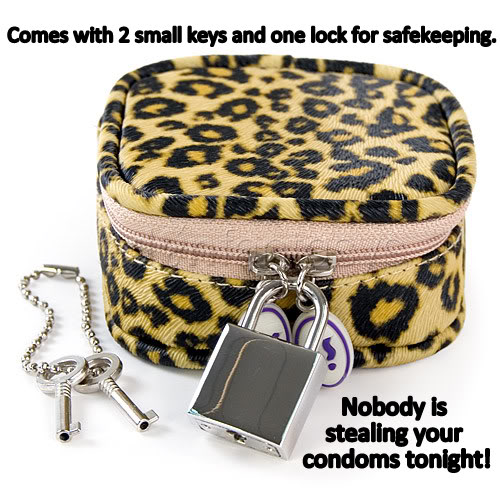 Experience
Overall, I had a wonderful experience so far with this case from For Your Nymphomation. You can store tons of different small valuables in these cases, and lock them away for safekeeping. No one can find out what's inside unless they have one of the two small keys, which are also easy to hide. I have many different things I wish to store in this case, but for now, it has become a home for a few of my most expensive bullet vibes. However, a list of things I was able to fit can be found below. I hope you like this product!

- Condoms (4-6)

- Bullet vibes (4 small, 3 medium, or 1 large)

- Birth control pills (a round pack fits great, but rectangular packs fit well as long as they are within 3.5x3.5 dimensions)

- Cock rings (3-4, possibly more)

- Mini vibes (1-2 extra small)

- Medication (once again, as long as they fit the dimensions)

- Jewelry (has nothing to do with sex, but it works great)

- Pasties (2-4 pasties, medium or small sized)

- Lubricant (1 small or extra small bottle/tube/packet)

- Breath mints

- Gum

- Lipstick (1-3 small/medium)

- Money (as much as you can fit)
Follow-up commentary
5 days after original review
It may be a little quick to be doing a follow up, but I've noticed some things that I don't necessarily like and I think you all should be informed. Nothing too big, and I still love this little case as much as I did when I made my purchase. However, it may be a deal breaker for you..

1. The lock and keys are really crappy. Not sure what they are made of, but they haven't even gotten wet and they are starting to become discolored. The lock itself literally fell apart the other day when I GENTLY unlocked it to get my fiance's cock ring. The center park of the lock just fell out of the outer "shell". I was able to put it back together using a little glue, but it's just not the same now and jams a little. Without the glue, the lock wouldn't work.

2. The zipper jams a tad bit. We're not talking so much that I want to throw this case out, but it does jam - even with nothing inside of the case. I haven't even opened and closed this case often at all. Maybe 10 times total, and I do it very slowly. I recommend taking your time when unzipping/zipping. I think it is mostly due to having the two zipper pulls locked together.

As far as the material of the case itself, this product is great. I still love it, and it's fine for me. This case keeps your condoms as safe as they will ever be. As long as you use this little guy gently, you shouldn't have any issues. You might want to make the purchase of a cheap little lock from wal-mart if you plan on locking up your goods. I still like this product, so I'm going to say that I still like it. It's great for college kids, or kinky kids still living at home. Highly recommend it if your mother/family/friends keep finding or stealing your condoms or small accessories.
This product was provided at a discounted price in exchange for an unbiased review. This review is in compliance with the FTC guidelines.

Thank you for viewing
Size does matter
– sex toy storage review page!