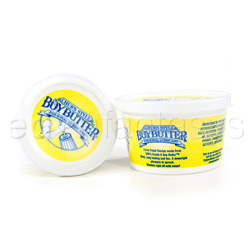 Boy butter
Lubricant
by Churn Style
Butter in a Boy's Hand
This is a great lube for hand masturbation as well as for anal play. It doesn't require much reapplication. It's very smooth and cleans off with just water.
Published:
Pros:
easy cleaning, lasts a long time, funny packaging
Cons:
poor cover design, gets stickier after several months
Use

This lubricant is great for males wanting to add some spice to their hand. The way you take the lube out of the container gets you messy right away, and makes it all the more valuable if you plan on getting your hands messy in the first place.

This lube is excellent for hand masturbation and provides long lasting and smooth lubrication. Boy Butter is also useful as an anal toy lubricant as it does not dry up. It is an oil based lube which means that it will not work with latex toys and should NOT be used with latex condoms. There is also some concern about oil based lubes for vaginal use in some people which should be carefully considered. The consistency is a lot like whipped or homemade butter and feels like soft butter during use. On my first use, I came almost immediately when I turned on the anal vibrator however, this experience was not repeated. Since the tub does not screw on, a plastic bag is necessary to travel with this lube in case it falls off from being squished or turned upside down.

Material / Texture

Boy Butter is an oil based lube which, in accordance with its name, has a very similar texture and smell to whipped or homemade butter. When I first opened the product, the lube was fully homogenized, however, after a while it started to separate so I now need to stir it before use otherwise it is too runny. As mentioned, this lube should not be used with latex condoms or anything else latex as it will degrade the material thus polyurethane condoms are recommended. The packaging states all of the ingredients as follows: partially hydrogenated vegitable oils, glycerin, polysorbate 60, glyceryl stearate, phenyl trimethicone, and glyceryl distearate. The tub also has an expiration date which is in about 4 and a half years.

Packaging/Design

I have mixed feelings about the design of the container of this product (I used the 4 oz version so others may or may not be slightly different). On one hand, a tub resembling a tub of butter with an image of a hand churning butter as a euphemism for masturbating is hilarious and novel. However on the other hand, the lid of the tub falls off easily and has done so when I just squeezed the sides of the container. I really like the creativity of the packaging but the number of times I have dropped it and had it spill makes me wish I had Boy Butter's Squeeze or EZ-Pump containers.

Functions / Performance

This product seems to be primarily intended for men to hand jerk with and serves this purpose quite well. One finger scoop is all that is needed for one hand masturbation and two fingers for two hands; this lasts for about 5 minutes with rapid stroking and 10-15 minutes with slower stroking. I found second applications to be difficult because I needed to close the container after getting lube so it wouldn't spill but the lid was difficult to open again without it falling off and something touching the inside of the lid. Although I have frequently mentioned this problem, the ability to stroke rapidly without hurting myself or immediate reapplication as compared to lotion and water based lubes, makes this product a keeper for me. This lube also greatly increased my pleasure with anal play.

Care and Maintenance

The only care needed for this tub of lube is to occasionally clean off the inside of the cover which can allow lube to seep out when you put it back on.

Personal Comments

The first time I used Boy Butter was in conjunction with my Pro Touch Plug and I must say it was very effective. I unfortunately put the lube on my bed next to me which cause the tub to tip over and some lube to spill, but it was easily scooped back into the container. It felt natural on my bum and only required about a nickel sized amount on both my anus and on the toy which lasted the entire session. I found that clean up was a cinch with Boy Butter since it truly does come off with water and a little rubbing. I was actually shocked when I felt it rubbing off because it felt so much like butter, I thought it would behave like butter and require lots of soap.

This review was written in the perspective of my partner
This product was provided at a discounted price in exchange for an unbiased review. This review is in compliance with the FTC guidelines.
Thank you for viewing
Boy butter
– jack off lube review page!