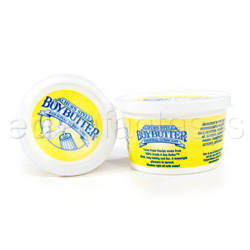 Boy butter
Lubricant
by Churn Style
Know Which Side Your Bread Is Buttered On
Boy Butter is a cheeky, light-hearted jack-off and anal lubricant that is a breath of fresh air in a market populated by the sensuous and sexy. Coming in plastic tubs and squeeze bottles, this oil based lubricant resembles its namesake food not only in appearance but in its packaging. But it's not just a gimmick; Boy Butter really works. Slick, long lasting and economic, this is a sadly unsung lubricant that I took too long to find!
Published:
Pros:
Long lasting, works well for anal sex and with many 100% silicone toys, little goes a long way
Cons:
Can be a bit runny when not mixed well, bottle is a little silly
My partner began to explore pegging right off the bat when we began dating years ago; it was a longtime fantasy of his that I quickly came to enjoy just as much. But slowly the amount of anal play we had declined. As the initial excitement of it all gradually wore off, the nitty gritty details of things like lubricants started to become issues. No matter what we tried, we weren't able to find the right stuff - and for a little while we even considered the possibility that maybe my guy just wasn't built for longer, more involved anal sex sessions.
Until we struck upon the solution, which all along had been just a few kitchen cupboards away, we missed out on one of the richest, most fulfilling aspects of our sex life. For my partner's body, oil has been the only thing that has sufficiently decreased friction, been long lasting and compatible with the large majority of our (100% silicone) toys. Of course, body safe pure natural oils can be
a bit pricey
if you're using them frequently and in large quantity - like we do for anal. This is why Boy Butter has been such a miracle.
Boy Butter is essentially just your average vegetable oil based lube, though these oils are partially hydrogenated. Long story short, a partially hydrogenated oil is slightly more stable/solid than an unhydrogenated oil, and it also has a longer shelf life. In the case of Boy Butter, this stuff can last up to three years! You've probably heard bad buzz about partially hydrogenated anything, but the only reason this hydrogenation process gets a bad rep is because it turns unsaturated fats into saturated ones. In other words? Bad for your arteries and bad for your heart! But since you likely won't be slathering this stuff on your toast? The hydrogenation process won't affect you in the least, other than making this oil withstand warm room temperatures better without melting into a runny liquid.
Another chemical component that makes Boy Butter a bit of an anomaly is that contains phenyl trimethicone, which is a silicone. So far in my spot tests Boy Butter has not reacted poorly to any Happy Valley or Tantus toys, but I am anxious to test it on others as Happy Valley and Tantus have been the only two companies that consistently have stood up to spot testing for me. To the best of my knowledge, no other Edenfantasys users
have reported bonding with their silicone toys
. Bonding occurs when the silicone lubricant quite literally bonds to the silicone toy and melds to it, becoming one and the same. This leaves a gummy silicone film on your toy that is very difficult if not impossible to remove. For this reason you should exercise caution and test Boy Butter on a patch of your 100% silicone toys, as well as other soft materials that could be compromised by either the oil or silicone components. Please also remember that
oil based lubricants like Boy Butter can weaken latex and therefore decreasing the effectiveness of latex condoms or dental dams
. DO NOT use with latex barriers!
One finally point to make before finishing up Boy Butter's ingredient roll call is that it does contain glycerin. Glycerin is
not
great for the vaginal environment as yeast feeds off of sugars and hence, using a lube containing glycerin may often lead to a yeast infection. Glycerin can also cause an unpleasant burning or itching reaction in those with a sensitivity. The reaction is local to the area the glycerin is applied to, so if you experience irritation or yeast overgrowth as a result of using Boy Butter then discontinue use indefinitely.
Boy Butter does not have much of a scent and not much of a taste either, although I wouldn't recommend going down on your partner after they've used this. It's not an awful taste but it's not a great one either. So far we haven't had the occasion to test the stain capabilities of this lubricant as it hasn't gotten on any fabric, but because it is oil based I would assume it is possible that it stains. Take care not to use this on or near delicate fabrics or dearly prized ones!
Experience
As oil based lubes go, Boy Butter was top notch in some ways and fell a little bit short in others. To start with the bad, this lubricant does have a tendency to separate and become loose and thin. My Butter came in a squeeze bottle - like what you'd find mustard in - so I just make sure the flip cap is tightly sealed and then shake the stuff up before squirting any out. The other thing I don't love about Boy Butter is that it doesn't live up to its claim of being so neat that no clean up is required after use. This lube stays rather opaque during use and does not rub into the skin the way most oils do, but rather sits on top. This makes it amazing for reducing friction, but not great for cleaning up. Soap and warm water easily do the trick, however. My final issue is that like some others have mentioned, Boy Butter does get a little....eh ...bubbly? Soapy in appearance? I don't know how to explain it, but rigorous thrusting produces a kind of foam with this one that is a little icky looking. It doesn't affect use at all, but I have to say it's a little bit less than sexy to look at. Overall, this is a small thing to me and wouldn't deter me from buying Boy Butter again.

As for the good, that's pretty much everything else! My partner grumbled about the bottle, saying it was kitschy and made him feel like a kid. But once he got past that he was very impressed. He is not sensitive to glycerin so this has worked wonderfully for anal play and we're finally getting back into the swing of things with pegging without dropping a ton of cash on organic oils. Not to mention a relatively small quantity of this stuff goes a long way and doesn't absorb like oil or dry up like water. Really, it's the next best thing to silicone based lubricants. We love silicone lubes because they stay put for a long time and do not need to be reapplied as much, but of course we can't play with my fancy silicone cocks with them. Boy Butter finally lets us play with the toys we want, for as long as we want, as often as we want and WITHOUT pain. Overall we're extremely happy with this stuff and will probably be buying more when it runs out - though it probably won't any time soon. Guess that's why they hydrogenated this stuff so it would last three years on the shelf!
Follow-up commentary
4 months after original review
Edenfantasy-land, want to know something kind of silly? This lube has gotten about as much use in my relationship as a skin moisturizer as it has a lube. Fact! Between the oils in it and the silicone that helps it glide along so nicely...mmmm...it's been pretty great to my sensitive and frequently dry skin. Hence, I say I like it even more now that I've started to put it to work in that capacity. It's pretty darn fabulous in that regard. But, besides that? It's wonderful. My only problem is that after a patch test on one of my Vixskin toys, I did notice what appeared to be some bonding. I should probably do another test on another Vixskin toy just to be double certain, but I think I can safely say it's not compatible with Vixskin. I've also had trouble with using it on regular ol' hard Vixen silicone. No issue to report, happily, for our LELO Bob though! Seems rather random what it does and does not bond to. I'm no chemist or anything, but I'd be sure to patch test this on anything silicone before you slather it on.
This product was provided free of charge to the reviewer. This review is in compliance with the FTC guidelines.
Thank you for viewing
Boy butter
– jack off lube review page!