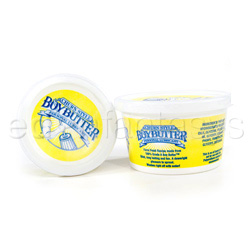 Boy butter
Lubricant
by Churn Style
Whipped Crisco!
BB is a good product that lives up to it's claims. If you're a water-based only person this will not be for you. But if you enjoy oil-based products, BB is a viable solution. I have plenty left over to work with before deciding if BB will be a regular - but right now I'm leaning toward staying with the Shea/Cocoa butter product.
Published:
Pros:
Effective lube for all materials
Washes off w/soap & warm water
Works well for vaginal & anal play
Cons:
I love the silky feeling you get from Shea/Cocoa butter formulations - BB lacks that texture
If you are a follower of EF's Forum you are well aware of the strong preference for water-based lube among active contributors. In fact if you go to this thread [https://www.edenfantasys.com/sex-forum/sex-toys/lubricants/water-based-or-oil-based/] I was out voted 56 to 1 in favor of water-based vs. oil based lubes. So this review may have a very small audience! Butt if your curious read on!

I'm on a bit of an oil-based lube crusade! When some think of oil-based, I think they think of petroleum oils like Vaseline. However the oil-based lubes that we like are vegetable-oil based - mostly nut oils like Almond, Shea and Cocoa. Our favorite lube is called Yes and comes from England. And BTW - Yes also has a water-based formula for those of you prefer it [http://www.yesyesyes.org/product_water.htm].

The ingredients for the oil-based are (all organic):
Sweet almond oil
Shea nut butter
Sunflower seed oil
Cocoa butter
Bees wax
Natural Vitamin E

So as you can see - it's some pretty healthy stuff - we love it - so why change to Boy Butter (BB)? Two reasons I'm an EF geek and try to give them my business whenever I can - and to eliminate the hassles of importing Yes lube from England.

OK - now you know what the bench mark is. The question is how does BB measure up? First lets look at BB's ingredients which they also claim are organic;
Partially hydrogenated vegetable oils
Glycerin, Polysorbate 60
Glyceryl Stearate
Phenyl Trimethicone
Glyceryl Distearate

By comparison BB seems more like a chemical soup than an organic lubricant. For the ingredient list I have to give Yes the nod as the superior product.

The packaging is an interesting kitschy oleo margarine tub. I like both the fun aspect of this and the practical aspect which is that you can use every last drop which is not possible with your typical squeeze tube - so score one for BB.

Opening the package you see a soft fluffy white cream that for all the world looks like whipped Crisco - for all I know it is!

One last plug for oil-based lubes is that we can use them with any kind of toy. We've added a lot of premium silicone toys which has put a damper on our other favorite - silicone lube.
Experience
So how does it work? Actually pretty well. I should say that we always use lube for toys and anal play - and both get into the mix for most of our encounters together. As you all know, when using larger dildos, lube is critical and the BB performed admirably in easing entry and preventing undue friction. Another plus for BB is that it did not over-lubricate - like can happen especially with silicone lubes.

We also wanted to try BB because it's thicker consistency should help it stay in place for anal play. I'm pleased to report that BB performed well for our anal play which consists of fingers and small toys. I can't comment on how well it would work for more aggressive toys or anal sex - but there's no reason it shouldn't work.

Another good thing about BB is that it cleans up rather easily with warm soap and water. However it doesn't leave your skin with the same silky smoothness that Yes does.

Using BB there is only one real turn-off for me. During use the lube stays white creating what appears to be a foaming effect - unsightly but not a performance issue. I'm use to the transparent glistening of silicone or Yes lubes.
Follow-up commentary
2 months after original review
We still use the Boy Butter occasionally and it's definitely a good product, but It's not our favorite. We'll probably keep looking for alternatives - because that's what reviewers generally do!
This product was provided at a discounted price in exchange for an unbiased review. This review is in compliance with the FTC guidelines.
Thank you for viewing
Boy butter
– lubricant review page!