Convenient Pump and Doesn't Get Sticky
This is my favorite water-based lube. It is similar to my other two, but a bit runnier and it retains a greasy slickness when it dries (it doesn't get sticky). I enjoy using it with any of my toys or for sex, as it is condom-safe. It has a mild, neutral smell, and the pump is great. It dispenses a small, uniform amount and you don't have to turn the container over and squeeze it. I really don't have any complaints about it, and intend to buy it again.
Published:
Pros:
Convenient pump, doesn't get sticky, can be rinsed off with water
Cons:
Only comes in small containers (but I'll buy more)
I've tried a few other water-based lubes, and this one is my favorite! It definitely gets the most use.
The ingredients are as follows: Glycerin, Purified Water (Aqua), Sodium Carboxymethyl Cellulose, Propyl Paraben, Methyl Paraben. I don't know if some people would have a reaction to the Glycerin, but I haven't had any problems with it.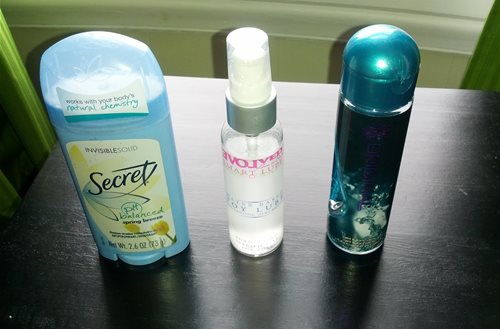 I got the 2 oz. container, but I think it will last me a while and I will buy another one when I run out of it.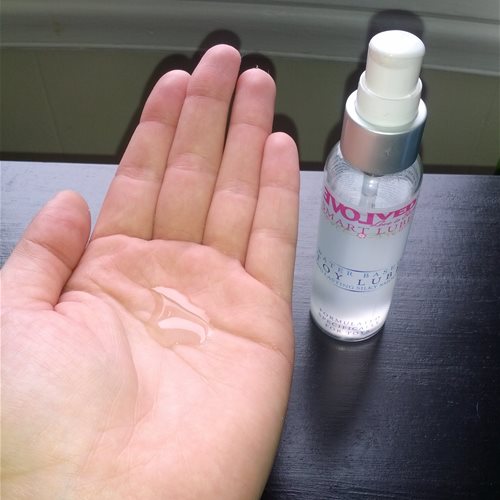 It comes in a siple white container with a pump bottle, which is one of my favorite things about it. Other lubes I've tried come in tubes, or containers that you have to turn on their side or upside down and squeeze. But Evolved Toy Lube dispenses small, uniform amounts. It is very convenient and I find myself wasting less of it from accidentally puring too much than other lubes. It also allows me to get less lube on my hands (like when the top of my other lubes get sticky).
For comparison, the first lube I ever used was KY Jelly (the cheapest option I've tried). It was very thick and stayed in one place, but it dried out and became a thick mess very quickly, which was very annoying to clean later. So I threw it out and upgraded to my two lubes- ID Glide Natural Feel (which was pretty cheap. I got a big bottle of it) and Wet original (about the same price as the Evolved Toy Lube). Both feel pretty similar to each other- feeling greasy and slick and a bit runny when they are applied, but sticky when they dry, and lasting much better with friction and much easier to wash off with soap and water.
I like Evolved Toy Lube much better than the KY (I like all three of them better, really), and I also like it better than the other two. It has the same slick feeling as the other two but it doesn't get sticky when it dries. It also seems to be easier to spread and and last longer. And it is equally easy to rinse off, I'd say. So really the pump and the fact that it retains its greasy slickness are my favorite features.
I've tried silicone lube before, and I think Evolved Toy Lube feels more similar to that than to the other two water-based lubes when it dries a bit. So I think anyone who likes silicone lubes (and especially anyone who likes silicone lubes and toys but can't use them together) would be thrilled with it. I would happily buy it again for this reason, since I use several silicone toys that I wouldn't want to get damaged.
I didn't taste the lube (it isn't flavored), and the smell of it is similar to the other two-a mild chemical smell that you don't really notice during use. The Evolved Toy lube is actually even a bit more neutral-smelling than the other two.
I mostly use it vaginally, but it is also great to use with toys anally as well. I apply two or three pumps of lube to a toy and never have to reapply it, and then I can easily wash it off with soap and water in the shower after.
I've also used it with toys in the shower and (with indirect streams from the shower) the lube stayed intact and didn't get sticky as I said. So I think it would be good to use for sex in the shower.
I assume from the name that it is primarily intended for use with Evolved toys, but my partner and I have also enjoyed using it for sex; it is safe to use with condoms.
I wouldn't leave it sitting out, but think it is pretty travel-safe for putting in luggage because it is just a small simple bottle that looks generic unless you look at it up-close and read the label (like it could just be a product for your face). The simple packaging is another thing I like about it.
The one thing to be aware of is that it doesn't stay in one place very well, so it drips down or can run down through your fingers as soon as soon you dispense it. But I see this as a minor issue that the slick feeling of the lube and lack of stickiness more than makes up for. And overall I would highly suggest it.
This content is the opinion of the submitting contributor and is not endorsed by EdenFantasys.com

Thank you for viewing
Toy lube
– lubricant review page!