What a Lovely Liquid Indeed!
If you're looking for a thick lube that can be used for anal, stop reading now, as Love Liquid is relatively thin. But if you're looking for a good quality lube to be used casually for toys and vaginal sex, this lube could very well be it. It absorbs into the skin without leaving a sticky residue behind, has virtually no smell or taste, and comes in a beautifully discreet container to top it all off.
Published:
Pros:
Beautiful container
Virtually no taste or smell
Absorbs into the skin well
Cons:
May be too thin/runny for some
I've been looking for a lube that both works the way I want it to and has a beautiful container, and Love Liquid by Kama Sutra fits the bill perfectly. I have always preferred water-based to silicone or oil-based, because water-based lubes don't get sticky and gunky as often as their silicone counterparts, and you don't feel like you absolutely have to jump in the shower to get rid of it, as I do with silicone. I use lube to get things going, and once I've gotten nice and wet, I don't want to keep feeling the lube. Love Liquid works in such a way that it slicks me up enough to start me off, whether I'm having a solo session or an intimate night with my boyfriend, and once things get going, it fades slightly, so I don't feel slimy. Some people may prefer their lubes to stay as slick as it did when first applied, and to those people, this lube might not be for you.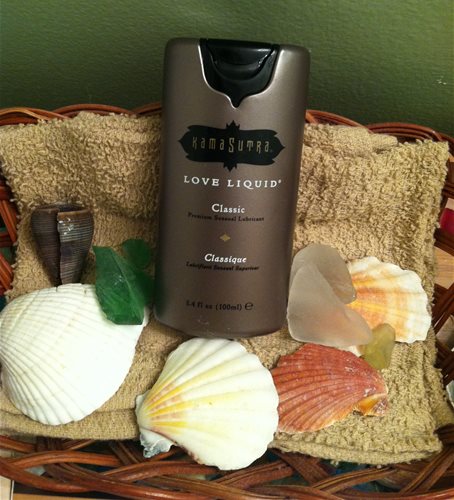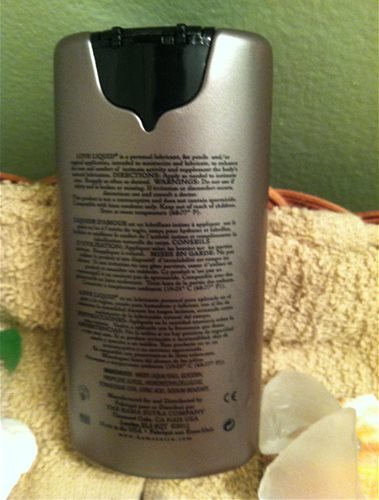 Love Liquid is rather runny, as you can tell in the pictures below, and while I prefer it that way, I recognize others might wish for a thicker lube, so consider this your warning! Due to it being on the thinner side of things, I would not recommend Love Liquid as an anal lube. You would be better off choosing something thicker for that purpose. This lube does contain glycerin, and I've seen in other reviews that some people have a bad reaction to that ingredient, so that may be worth noting. I did fine with it, but you never know.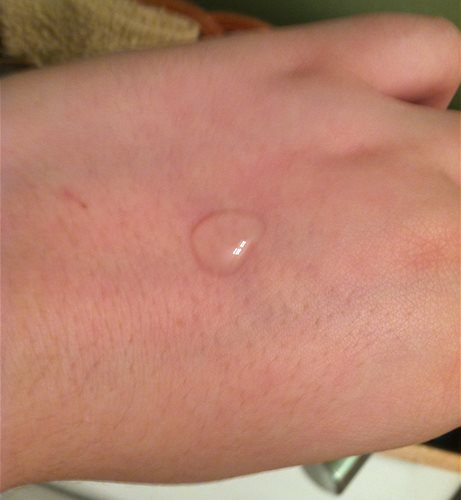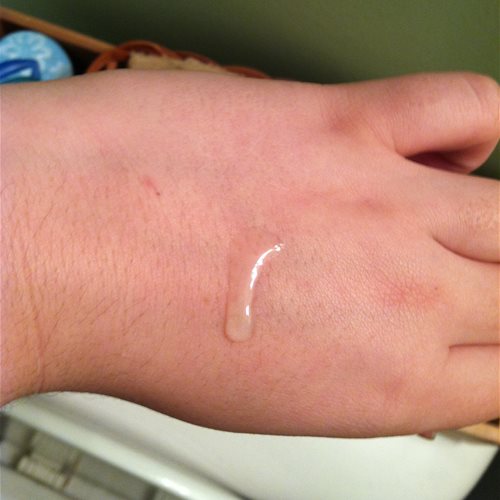 After 4 seconds.
One of the best things about Love Liquid is that it has virtually no smell, and the taste is very faint and non-offensive, making it absolutely perfect for using for oral sex. I've tried it on my boyfriend, and we could not be happier with the results. This lube is perfect for PIV sex as well, as it doesn't take very much at all. Love Liquid washes off easily with water, so while this means it won't perform well during shower sex, cleaning up is a breeze. Because of the fact this lube is water-based, you can use it with any toy without worry of degrading the material.
The bottle itself is very sturdy. I wouldn't recommend this lube for travel however, because of the way it opens, as seen in the pictures below. The cap flips up and down, and it would be too easy for it to get knocked open and spill out over everything. The lube pours very easily from its container with only the slightest bit of pressure applied. The bottle does say Love Liquid, which could be construed as sexual, but other than that, it is very subtle and discreet. I honestly don't have a problem leaving this out on my bedside table. No one has look at it and asked, "Is that lube?", so I'm not to worried.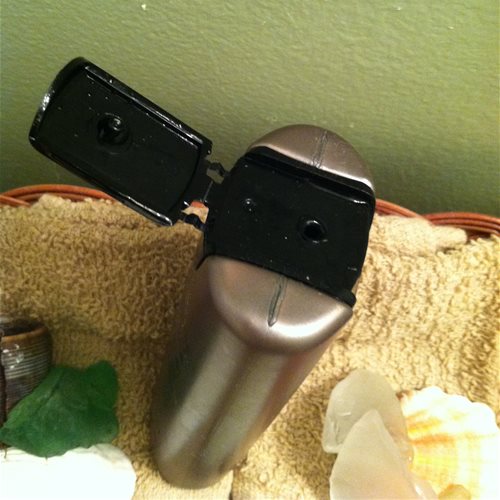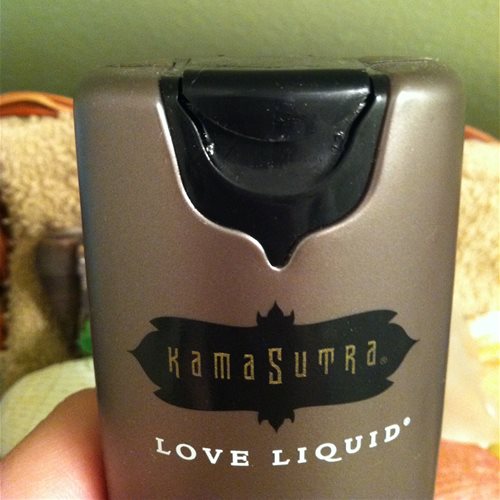 Because this lube won't be for everyone due to its thinness, I can't give it a perfect rating, but it suits me perfectly, so its 4 stars are well earned.
Experience
On the Silverwinds scale of quality and general effectiveness of product, the scores are:
6-Ridiculously good
5-Good
4-Average
3-Mediocre
2-Bad
1-Hideously bad

Love Liquid by Kama Sutra excels at making one slick but not sticky, absorbing well into the skin, and having an awesome container. The only downside is that it's slightly thin and runny. Overall, Love Liquid scores a 5, being Good, but not perfect.
This content is the opinion of the submitting contributor and is not endorsed by EdenFantasys.com

Thank you for viewing
Love liquid
– lubricant review page!