A coquette hit!
Besides a couple of small flaws, this dress is beautiful, bold and sexy. While it will show off curves, the comfortable material makes it a simple and sexy look. The bold pink satin ribbon and bones give the plain black dress a sexy and classy look. Pair it with heels, tights, straps or no straps. It's versatile! I hope to get a lot of wear out of this.
Published:
Pros:
Beautiful color, design.
Comfortable fit.
Looks great on!
Cons:
Bow wasn't stitched on well.
Ribbon was only stitched at the top.
Bone stuck out.
The Lycra Tube Dress is adorable. The bold pink satin boning, ribbon and bow is beautiful. There are a couple of small flaws, but nothing that isn't fixable. The dress is black and is made of 80% Nylon and 20% Spandex. The bright pink boning and satin ribbon under the bust is what first caught my attention. I had to have it!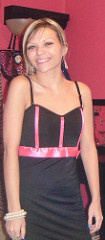 The dress is very light weight. It feels similar to a slip. I always wear a small or XS, even with my first and only other Coquette item (lace layered babydoll) I ordered in small and it fit well. This dress, however, looked very tight and clingy in the product page so I wasn't taking any chances. I went for a medium. It fits well and I think my decision was correct because it does highlight my middle and the small probably would have done so uncomfortably. The medium is a nice fit, with plenty of room for me. Thankfully, it doesn't glue to my body, but you can see my figure in it. I think it does draw attention to my waist, but not so much that I feel ugly in it. One person told me it "flows over my hips and looks cute!" That's not something I'm used to hearing as I have very narrow hips.
The dress comes with a nice set of adjustable, detachable straps, just like bra straps.
Now, I'm a size 0 in jeans and am a 34 B (on my left side! Right side's only an A) The bust wasn't tight and without using the detachable straps, the top slides down with a lot of movement. It looks lovely on and can be worn out or privately for bedroom moments only. It makes a great piece for either occasion. Since I love it so much and it is appropriate enough, I wear it out!
The dress was the perfect length for my 5 2" length. It hits right around the knees making this an actual dress. I think the medium would be long enough for someone a little taller too. It has a little bit of a stretch to it, but if it's tight, it will be slightly see through in bright light. I can't see through mine and it isn't transparent, but the thin material will become transparent if stretched too far.
Detail:
The dress has a satin ribbon under the bust with a satin bow on the left side. It has three flimsy bones. One 6 1/2 inch bone on each breast and a shorter one right between them which measures 5" long. The bones are covered in the same material as the dress, but pink. The flexible plastic bones are a bit shorter than the pink fabirc that covers them and the middle bone would stick straight out until I fixed it.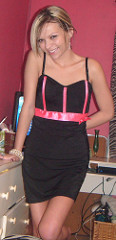 The ribbon doesn't travel all the way around the back. It only covers the front, under the bust. It is 14 inches long and is only sewed on the top. The bottom of the ribbon trim isn't sewed which gave it an unfinished look, but I plan to sew it down flat.
This has a dip in the neck, not a plunging neckline, but a slight v-neck.
Measurements (taken with dress laid flat on bed):
25 inches long from bust to hem.
14" under bust
Bust: 13"
Waist 14 1/2"
Hip: 16"
Hem: 17"
If you're like me and don't want extra emphasis on your middle section, then I do suggest going up a size when buying this. The bust should accomadate up to a small-middle C cup. I doubt a D or bigger would stay put in this. The bones offer no support and for me, a strapless bra was necessary. A strapless bra will go unnoticed under this dress, but the plain back will show your panty line. A silk or lace thong isn't noticeable under this unless it's tight on.
The straps that come with it are just like bra straps. They're barely an inch wide, are stretchy, sturdy and will adjust from 13" to 7".
This should be handwashed and hung to dry. It dries quickly and takes little time to clean. The thin material folds up easily and will store in a packed drawer. Or you could store it on the hanger it comes with by using the loops inside the dress to wrap around the little metal notches on the hanger. It holds it well.
Mine hasn't wrinkled just yet, but after washing, hang to dry so it won't wrinkle. When dry it doesn't wrinkle easily.
The dress does come with a gorgeous hanger!
Experience
The first time I saw this dress I let out a little gasp! I really loved it and hoped that it would end up looking great. However, I was incredibly nervous with Coquette's reputation with sizing and poorly made items. I had just got the lace layered babydoll a week before and got it in a small. It fit well and I love that babydoll. I actually wore it again today with jeans and heels! Back to the dress though. I spent a few weeks debating on what size I should get in this dress. I wear a small and while the layered lace babydoll was a small and fit well, I wasn't sure this would. In the product photo it looks extremely tight and kind of uncomfortable. I decided a bit loose was better than too tight so I went with the medium. It has room in it, but it fits very well and I'm sure that the small would've been to tight for comfort.

The medium on me is very comfortable. I could sleep in it without problems. The length is great, I can bend without giving anybody a cheek show. Since it's cold here, I paired this with leggings and my lacy black heels with a bow. I think it looked pretty nice.

When it arrived, the bow at the side was barely hanging on by a thread. I went ahead and pinned it down until I have time to sew it. The ribbon under the bust is only sewed on from the top and it looks unfinished. For the price, I kind of expect a little bit better. The material isn't high quality, but it looks nice. Still considering the entire dress and it's materials aren't $33 material, I do expect the sewing to be completed and well. The inside stitching is OK, there aren't loose threads, but it doesn't seem extremely sturdy. When it first arrived the middle bone was sticking straigt out. I couldn't even wear it at first. I done some bending and placed it under a heavy book for a few hours and thankfully, it began to lay flat.

I'm still very happy with the look of the dress. I love it, but those couple of flaws are worth noting and I have to knock off a star for that.

For those that want to know a male's opinion, my partner does like it. He said "it really looks beautiful on you!" Several times. When it arrived, I held it up to look at and he wasn't all that impressed. He said the colors were "me", but he didn't think it was as stunning as my other dresses. Later when I wore it he admitted that it looked great on. He even mentioned today how he thought it looked nice last night. So I'm pretty positive the men will like it, if that's what you are going for.
This content is the opinion of the submitting contributor and is not endorsed by EdenFantasys.com

Thank you for viewing
Lycra tube dress
– mini dress review page!