Little Black (and Hot Pink) Dress
I love the way this dress looks. The hot pink and black colors are stunning and attention grabbing. The breast boning adds something extra that you don't see in every "little black dress." The quality isn't perfect, but it's still high. It's a great dress. Expect the part where it doesn't look all that great on me. The clingy material hugs my curves in the wrong way and my boobs barely fit the cups. If I stand still, it looks nice. I don't know what situation that would be though.
Published:
Pros:
Beautiful color combo, Boning in cups, Comfortable to wear
Cons:
Clingy material and fit probably not great for curvy girls
Kendra wrote a lovely
review
of Coquette's Lycra Tube Dress the other day. It happened to come back in stock in my size not an hour later so I grabbed it up to wear to a wedding I have coming up soon. It's a black dress with hot pink accents.
PACKAGING
This dress comes folded in half in a plastic bag with a padded hanger. The hanger can then be used in the future. The Coquette hangers are really nice quality.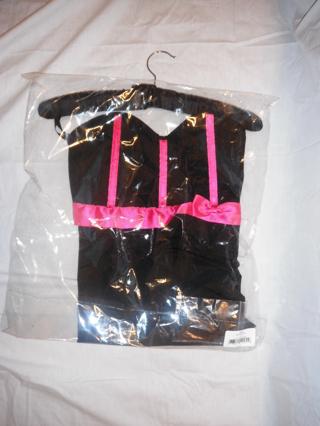 SIZING
I ordered this in a medium. For a medium, I should be between a size 8-10. My bust should measure between 36"-38" and be a B cup. My waist should be between 26"-30" and my hips should be between 38"-40". My actual size is a 6 with a few size 4 and 8 pieces. My waist is 28" and my hips are 39". My cup size is 34DD/36D.
The medium is 26.5" long. Under the breasts is 13". The waist is 14". The hip is 16.5". There is boning on the cups of the bust that are 6.5" long. There is no underwire. There are removable adjustable straps.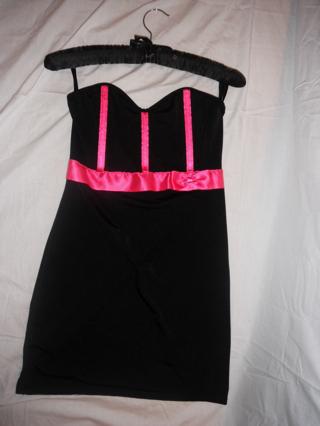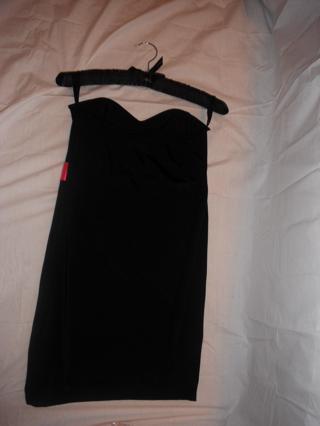 I ordered the medium because that's what I always order from Coquette and that's where I fit in their size chart. I fit in this, but barely. It is pretty tight on me. To get the boning around my bust, I have to push my breasts down first, pull this over, and then put my bra on afterward. It clings to my hips and waist in a slightly unflattering sort of way. My advice on this is to order up, especially if you are large in the hips or bust. It is pretty short on me (I'm 5'6"), coming just a few inches below my butt.
MATERIAL
This dress is 80% nylon and 20% spandex. That means this is one stretchy dress. Luckily, if you don't order the size up it will stretch to fit you. It will, however, cling to every lump and bump you have (even if you do order that size up). If you are self concious about your shape and don't want something that will cling, this dress is probably a pass.
The material is shiny and almost has an iridescent quality to it. When the light hits it, it sort of sparkles from the shine. It's a pretty effect. The material feels like a thick spandex - similar to a very soft bathing suit. It's comfortable to wear and not at all itchy. It moves with your body but does want to ride up some when you walk. The pink accents are done in a silky ribbon material.
DESIGN
The design of the dress is simple but eye catching. It's the little black dress redone with hot pink accents. The back of the dress is all black. The front is black from the bust down. The bust area has three vertical pink stripes and one thicker horizontal stripe across it that is then finished with a hot pink bow. The thicker stripe is 1.5" thick while the thinner stripes are .5" thick.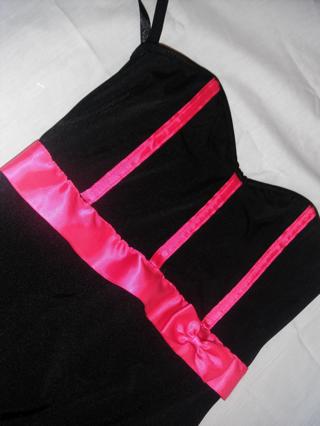 The inside of the dress has boning in the bust area. This adds a nice dimensional effect to the piece.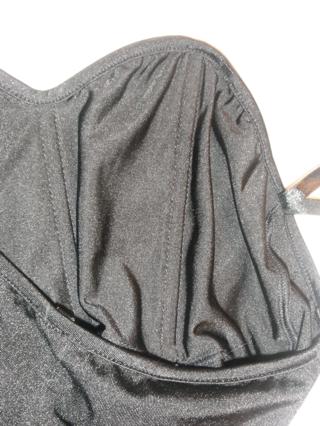 As mentioned, it comes with removable adjustable straps. This can be a strapless dress or a spaghetti strap dress.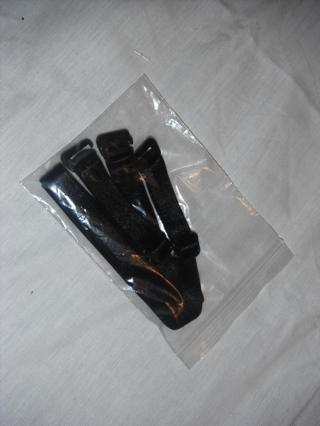 QUALITY
Coquette rarely disappoints me with quality. There were a few small areas where the seams didn't match up exactly right, but they were still better than most dresses and certainly better than a lot of lingerie I've gotten. There was one small fray near one of the seams. Other than that, the quality is great. The material is pretty thick and seems like it would hold up to a good amount of use. The boning seems solid and even though I have struggled getting in and out of the bust area I didn't pop it.
There are two loops for hanging this. They are 3.5" long. That's a bit long! They get in the way. They tuck in easily, but I'm not sure why they need to be so long.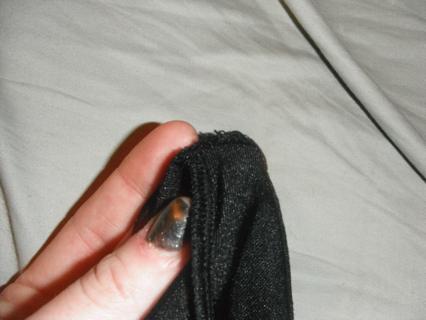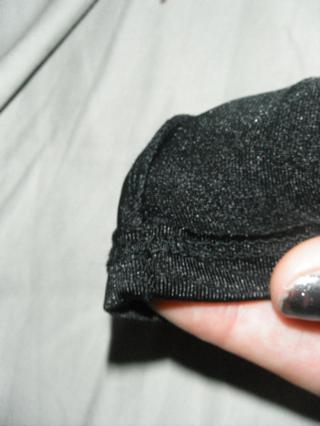 CARE
This should be hand washed in cold water. It should be line dried. It should not be placed in the drier or ironed. It should not be bleached.
Experience
I've been looking for a dress for my friend's upcoming wedding and I was really hoping to get something from Eden. When I ran across Kendra's review and saw this dress, I was ecstatic. Hot pink and black are my two favorite colors and this just seemed like it would suit me so well. The fact that it came back in stock not an hour after I set an alert on it made me think it was meant to be!
Alas, this is a little tight. It is near impossible to get on my breasts. I feel like I have to hold my breath or that the very fabric might burst trying to get this on my boobs. I guess it's not so much that the size chart is wrong since they list a B cup, but other Coquette pieces have worked well for me so I guess I thought I would keep getting lucky. Such is life.
Once it's on, my boobs don't explode so much that it looks terrible. In fact, they display in a sort of sexy way. However, my hips become a problem. They are what I would deem my "trouble area" and the spandex material clings to them in all sorts of unsexy ways. The black material slims it down some, but when I walk every little bump is visible.
As an added fun thing, this is so tight I cannot wear underwear with it. If I put anything underneath, I get visible panty lines like you would not believe. Not even "no show" underwear work with it. So to wear this out, I have to go panty-less. That's a bit much for me, considering the length of the dress and the ability to flash people with it. I don't mind if you see my underwear, but I don't want everyone seeing my lady parts!
I haven't decided yet if I will wear this to the wedding. I love the way the dress looks, at least on the hanger and to a lesser extent on me. If I stand perfectly still it looks nice. When I move and you can see the bumps in my hips, I like it a lot less. I'm also very concerned about leaving the house with no panties.
I can't help but give this a four though. The quality is good with only one small fray. The size chart is a bit off, but it does fit in a form fitting sort of way. It's a beautiful dress, it really is. It's just probably not the best for those with lots of curves.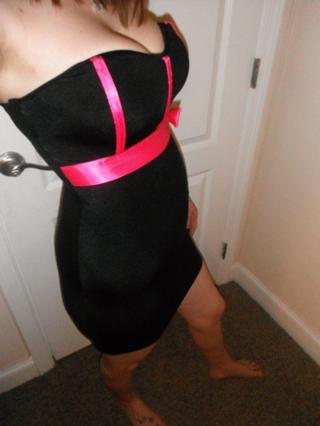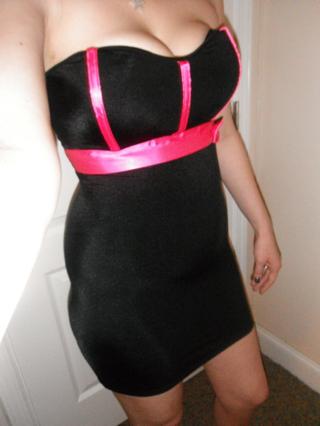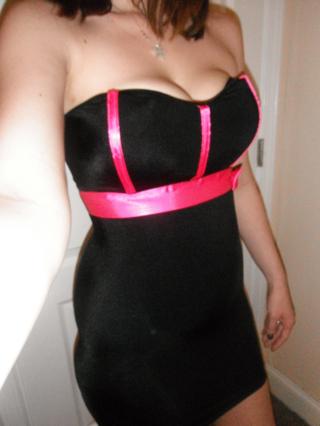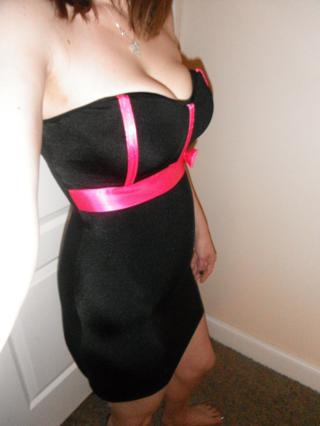 This content is the opinion of the submitting contributor and is not endorsed by EdenFantasys.com

Thank you for viewing
Lycra tube dress
– mini dress review page!