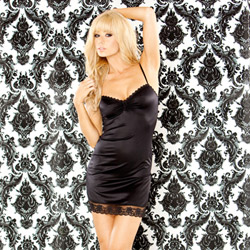 Barely there slip
Chemise
by Fantasy Lingerie
A slip thats just a slip
This black slip is pretty and simple, I wanted it to be the perfect slip but it's not. With itchy armpits, and a trim that won't stay in place I can't rate this slip at a 5. I do like the way it looks on me, think it is timeless, and I do think it is perfectly functional. But when it comes down to it, it's just a slip.
Published:
Pros
Pretty, lacy, fits well.
Cons
Itchy in places, straps too thin for "real" support
I don't dress up much, but when I do I call everyone on phone asking if they have a slip, without fail, every time. You would think I would have learned my lesson and bought one by now, but it's taken me literally years to get to this point. The Barely There Slip by Fantasy Lingerie is simple and classic---I liked the idea that even without a dress to go over it would make a nice lingerie piece.
This down the basics black slip is perfect for those who can go without the glitz. Its elegant and delicate due to the lace trim at the bottom and top. It actually came with a g-string which wasn't advertised as part with it but it didn't really fit me so it wasn't too much of a loss, Ill explain more later. Luckily this slip comes in many sizes so I knew I stood a chance in finding one that fit, those one size fits all pieces slay me. The sizing is from small to 3x on this one, in case you were wondering.
The slip itself is made of 88% polyester and 12 % spandex, so it does fit close to the body which is great if you are wearing something over it. From top to bottom this slip is 27 inches long. I was really worried about how it would fit over my chest but it holds up alright, my biggest qualm being the lace trim at the time turns over on itself. This is kind of annoying but not the biggest deal in the world if you are wearing something over it---if you are wearing it as a lingerie piece I don't think your SO will notice but it might bug you a bit. The straps are 17" so you can adjust them to any length you might need, at a quarter of an inch in width they are really dainty. The super thin spaghetti straps I don't think carry too much support to be honest, I wish I could wear a bra under it but it looks pretty funky, I think this is because the bust is rouched in the bust so you see a lot of the bra under. I like that it is rouched because it looks nice when you are just wearing it as lingerie, and I have a feeling without it, it might give a pregnant type look where the whole slip drapes from the bust because its the farthest point on the body. But again it probably isn't going to matter if you are wearing this as just a slip.
It is recommended that you machine wash with warm water, and to tumble dry it on low---which is as per usually with most delicates. Also if you wring this out the wrinkles will stay in, so don't do that or you will have to steam it later to get the crinkles out.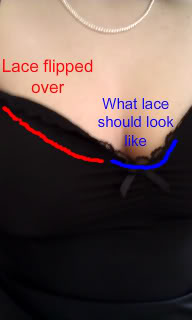 (A picture to show the flippage I am talking about)
It is a tad on the see-through side but only if you are standing with light from behind you. There is an inch of lace at the bottom like I've mentioned before which is what drew me into this particular piece in the first place. The lace isn't itchy which is a plus but if you snag it on something it probably will tear, but that holds true with most lace. Speaking of itchy though the armpit area is a tad bothersome---not omg-get-this-off-me-right-now itchy but itchy nonetheless. I'm hoping after I give it a wash it will stop but I think it might have to do with the back part having elastic band at the top, and the seam in which the two parts meet. The slit which is found only on the left side is 9 inches, I thought this was a really nice length for this, not too high or short. The slit makes the bottom of this slip comfortable, I feel like I can get a wide range of motions with it and not feel like a mermaid.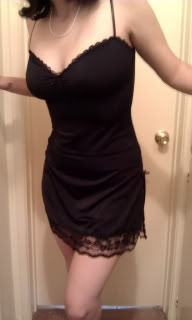 Experience
I choose a large when ordering this, which fit me quite well. My hip size is 36", my waist is 28", and my bust 36 to 38 c or d; depending on the make. Fantasy Lingerie list there Large at size 14 – 16, 39 - 41 bust, 30½ - 32½ waist, 42½ - 44½ hips. So it is a tad bigger than me supposedly, measurements wise I think it's accurate but if you go by the size 14-16 it is way off. I am far far far from a 14-16 so Im glad I didn't get a small or medium because they wouldn't have fit me by a long shot. So when ordering this, order a size up or go by just the measurement part and not the sizing, I usually always order up and haven't seem to have a problem with this theory yet. This slip is also available in red but because of my olive/yellow complexion I really avoid reds, they look weird on my skin tone. I think on a different skin tone the red would look lovely.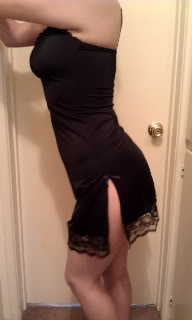 The G-string that came with it is black and has an itchy tag in the front. This was way too big on me---it might fit if I tied knots on the side or pulled them all the way up to my waist but in practical terms this was a complete miss. I must admit I haven't worn a thong or G-string since my teenage years and really don't feel the urge to, so this wasn't too bothersome especially since I didn't know it came with it in the first place.
Overall, I am pleased with this but not perfectly content. If the top didn't flip over, and the sides were less itchy I'd give this a perfect 5 but it's not so I can't. Will I wear this under my dresses or even as lingerie, probably. Will it be a regular occurrence, probably not. I do think the price is fairly accurate of what you would pay to get a slip anywhere so there is also that. I'll probably update once I give it a few washes and wears and see where it stands then.
I asked my boyfriend what he thought of the slip and he gave me a thumbs up with a stupid grin and said "Very arousing, are you putting it back on later?"
This product was provided free of charge to the reviewer. This review is in compliance with the FTC guidelines.
Thank you for viewing
Barely there slip
– chemise review page!