(insert speechless expression of happiness here) (S)
I had to have it as soon as I laid eyes on it. Even though I fell a considerable amount below the measurements of the small on their size chart it fit like a dream. It has quickly become my all time favorite piece of lingerie. It's sexy, versatile, functional, and comfortable! You can't go wrong with something like that. I'm considering buying a couple more so I can have one to wear at any moment.
Published:
Pros:
Form-fitting, invisible under dresses, comfortable but sexy, slinky, easy care
Cons:
Straps are slightly delicate.
Summary
Lace and frills and bows can be exciting, but sometimes simplicity is the most alluring of them all. It's something that lets your own inner sexiness shine through without all the bells and whistles. This lovely slip does just that. It's classy, timeless, versatile, and just plain gorgeous. What more can you ask for here? This slip can be worn in the traditional slip manner under dresses, but it also works incredibly well as a sexy piece of lingerie, or something comfy to sleep in.
When I saw this slip I immediately knew I had to have it. I've spent ages looking for something like this because I'm not always in the mood to feel over the top with intricate and skimpy lingerie, but I want to feel sexier than flannel pants and a tank top. This piece here is the delicate balance between those two things. Can you sleep comfortably in itchy lace and underwires? Do you feel seductive and irresistible lounging around in frumpy pajamas? Probably not. With this you get the best of both worlds. It has totally taken the title of my absolute favorite piece of lingerie.
Design/Material
This slip is incredibly simple in its design. It features a sleek, very slightly curves cut, adjustable spaghetti straps, a tiny bit of scallop lace around the top edge, and a floral lace band around the bottom. The left side has a slit that hits right in the middle of my hip bone and is and adorned with a tiny bow at the top. The bust is gathered slightly in the front with a stretchy stitchin for a bit of definition for the breasts and is topped off with a another tiny bow. Now let's go piece by piece:
The straps are not the usual elastic type here. They are simply ribbons with an added adjustment slider. They're sewn into the inside edge of the slip with a single line of reinforced stitching. The free edge isn't doubled over or hidden, but it is sealed at the bottom which should reduce the likelihood of fraying. The scallop lace around the top only runs along the front of the piece, but is tapered so it doesn't look strange. It only measures at about 1/8" tall and sewn behind the slightly thick elastic in the top of the slip so it doesn't leave bumps in materials of a slightly thin or average thickness. The gather in the bust (in the small) is about 1 1/2" long and is a small piece of thin elastic sewn on with a very small zigzag stitch that doesn't show through in the front. The sweetheart neckline offers a great shape when worn under dresses because it is remains out of sight in most dresses, but it still offers a good amount of coverage when worn alone. The lace band at the bottom is about 2 1/2" tall, is very smooth, and hits me right around mid thigh.
What I was most impressed with was the material. (88% Polyester, 12% Spandex) From the picture it looks like that papery thin satiny material and it looks sligtly "grainy" in the photo. I was surprised that it was actually pretty thick and very stretchy. It has a nice weight to it which adds the perfect amount of slink to it. The stretchiness means it will conform to curves and gives you a more customized fit than traditional silk or satin slips. It's very sleek and only mildly shiny. (The picture is totally exaggerated.) Nothing here is itchy, uncomfortable, constricting, or cheap looking. It's the coziest kind of sexy I've ever found.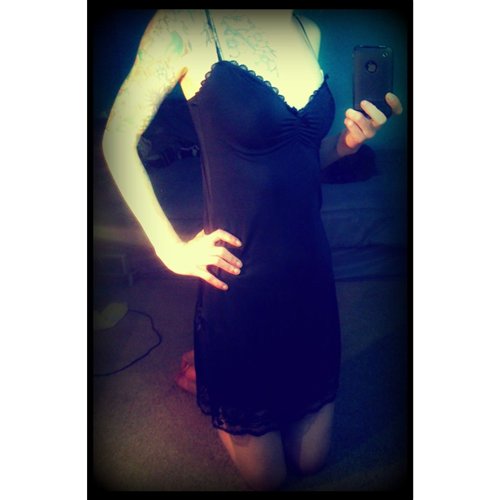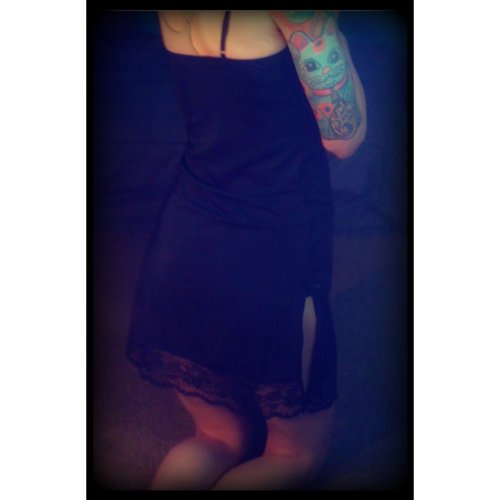 Experience
Sizing

I got so excited about this that I didn't think to check the size chart until after I had ordered it. Being as slim as I am means that I don't fit into the smallest size that some companies make. I always have to check and recheck which ones I can buy from and which may be a little risky. I got incredibly sad when I saw the size chart because I thought I'd be drowning in it. My measurements are in parentheses.

Size: Small
Dress: 6 - 8 (0-2)
Bust: 35 - 37 (31)
Waist: 26½ - 28½ (24)
Hip: 37½ - 39½ (31)
(And I'm 5'5)

(This size chart also makes no sense. You'd have to be Barbie to have a bust and hips that are almost 10" wider than your waist.)

Surprisingly it fits like a dream. It was form-fitting but not too clingy or loose. The bust of the slip and mine (32B) got along great, so this should work for smaller chested women who tend to get a little gappy in things. On the other hand, it did have a good amount of stretch to it so it would be able to accommodate larger breasts without issue. It hits just where I wanted it to in the thigh. Perfect! Absolutely perfect!


Care

It's incredibly rare to find a sexy piece of lingerie that you can throw in the washer. The care instructions on the tag say that the slip can be machine washed on the gentle cycle along with other darks. If using the dryer use the low heat setting and remove promptly. They also say not to twist or wring the piece. I had to wash my slip right after I got it due to an unfortunate event where it was accidentally dropped into a cup of marinara sauce (I'm quite graceful, I tell ya.) I chose the sink method (as I don't have a washer and dryer in my apartment). I added a little laundry detergent to some warm water, swished it, rinsed it, and gently squeezed the water out. I threw it on a hanger and in almost no time at all it was dry and still looked totally perfect. It might be best to go this route or wash it in a lingerie bag so you don't mangle the lace and straps and skip the dryer. Dryers can damage the polyester/spandex material and make it not so stretchy. Overall, simple, easy, and convenient.

Comment

The design of this is so simple and sexy that I'm probably going to make these in a few different colors and maybe just a bit longer. It wouldn't really take much and would probably be just as adorable as this one.
This product was provided at a discounted price in exchange for an unbiased review. This review is in compliance with the FTC guidelines.

Thank you for viewing
Barely there slip
– chemise review page!