Great for lounging, sex, sleeping, or getting the mail (S)
This slip is just that--a slip. However, it is comfortable and can be used for so many things, even going outside or being seen by people other than a partner. This is worth the money. Just be warned that your every flaw will show.
Published:
Pros:
can easily be made strapless, stretchy, pretty, simple, opaque, can be used for many purposes
Cons:
is not satin like stock photo implies, comes with g-string I'll never wear
The Barely There Slip by Fantasy Lingerie is a great addition to any woman's collection. It is practical if you occasionally need a slip, affordable, and can be used for many other purposes. I bought this because I've been recently trying to gather items comfortable enough to sleep in for more "bang for my buck" as the expression goes. I started a comparative discussion asking for ideas for comfortable things I could wear around the house cleaning, for sex, and for sleeping. Someone suggested this, so I bought it. I've already worn it to sleep in, and it was very comfortable though it did move around a lot, but that's to be expected of any nightgown, sexy or not.
As a size 2, I'm pretty much always a solid size small. I wear a 32C and have a 26" waist. I am around 5'2". I ordered a size small in this and expected it to be form fitting as the other reviews indicated. It is. My only complaint is that the stock photo makes it seem like this is satin, which I would have preferred, but you can never have everything in life I suppose. I knew it wouldn't be because of the reviews, so it's not like I was surprised when I opened the package, and I plan to buy the red as well.
This slip is opaque with lace trim along the bust and the bottom. There is a decorative bow at the bust and at the top of the slit on one side of the slip (its left side when it is on you). The lace detail at the bottom is really pretty. It also comes with a g-string which has a tag in the front of it, but I am just throwing this away because I don't wear thongs or g-strings.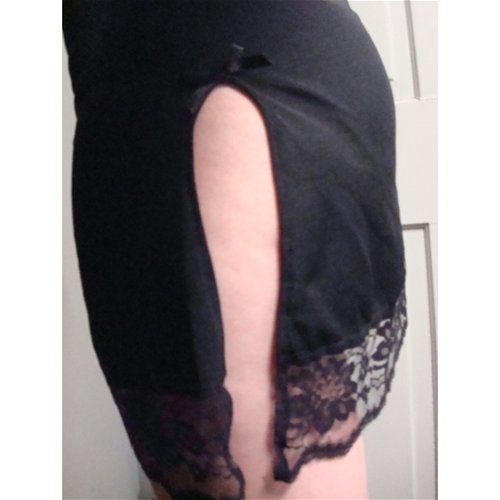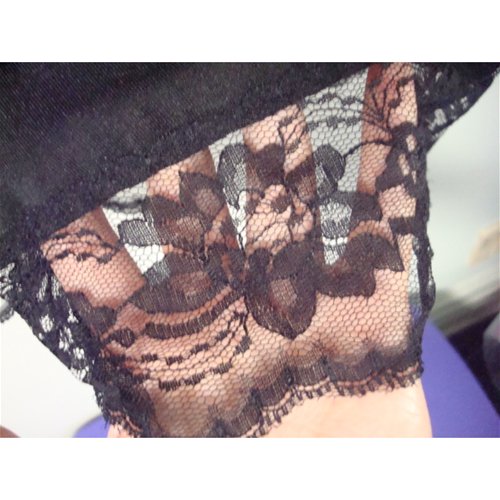 It is very form fitting, so if this bothers you, order up a size. It is very stretchy. It has adjustable ribbon straps. Others have complained, but I really like them. They are easily tucked inside of the slip, so it can easily become strapless, and stays up on its own due to the form fit.
It came to me in a plastic protective packaging with a white hanger, which is standard of all items I've received from Fantasy Lingerie. I likely will never hang it. It doesn't seem to wrinkle. I had it stuffed in a bookbag for 24 hours and it wasn't wrinkled at all when it was taken out.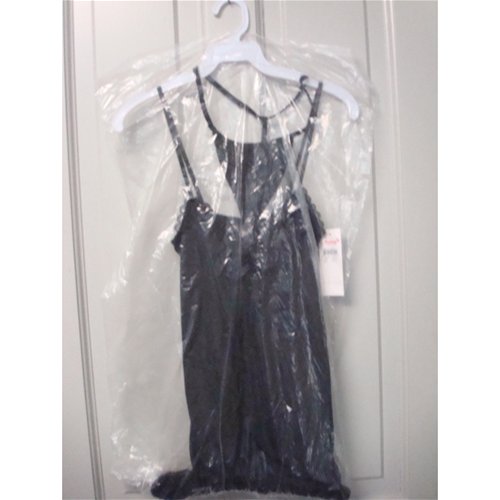 Measurements of the slip:
Length - 24" including 2.75" lace trim
Width at bust - 12.5" unstretched, 20" stretched
Width at bottom - 20" unstretched, 24" stretched
Length of slit - 9"
Measurements of the g-string:
Waist - 12.75" unstretched, 20" stretched
Liner length - 2.25"
Triangle top width - 5.5"
Triangle length - 6.75"
If you want more measurements just ask.
The slip is made of 88% polyester and 12% spandex, explaining its stretchiness. It can be machine washed with other darks in warm water. Personally, I only wash in cold, and I have never had issues with that so I will do that with this as well. This is really easy to care for, so anyone, however lazy about lingerie, can own it.
Experience
I really like this slip. It is good for the purpose that I bought it for. I didn't expect it to be some super sexy thing, but just something simple and comfortable that I can use around the house cleaning without exposing myself to anyone. I also really wanted lingerie that I could sleep in, an alternative to the t-shirt and shorts I usually sleep in. It really is a great slip for all of these purposes. I would even be comfortable wearing it out of the house to grab some mail as long as I made sure that the slit wasn't exposing too much. If I wear it with underwear underneath, even something like a bikini, the high cut still shows if I don't adjust it. I don't wear thongs, but I'm sure the g-string that came with it would not show as much unless the slip rode up a bit. This won't be for days that my self-confidence is lacking though, because it does show every little bump. Overall I am really happy with this piece especially for the price. I am going to knock a star though for false advertising. It looks satin in the photo, and I knew I wasn't getting satin, but if there were no reviews on this, I would have been pissed had I received it and realized it was this material.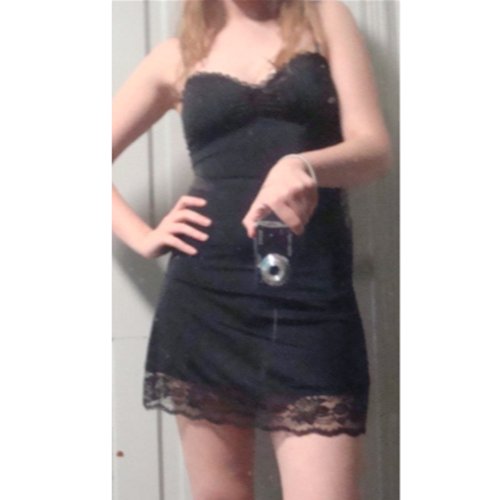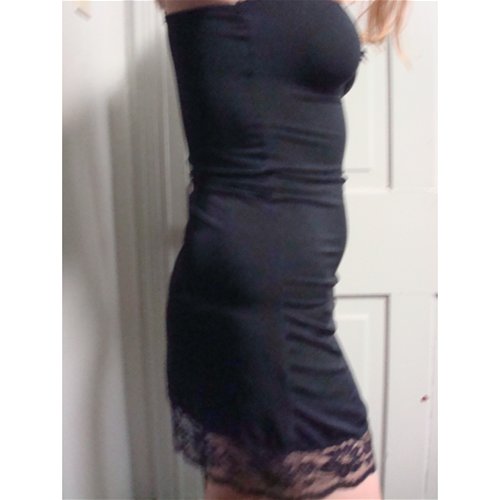 Follow-up commentary
5 months after original review
I still really like this piece and primarily use it for sleeping. It is comfortable, but I do wish that the material was a bit less clingy. If it was more free-flowing, I would be way more excited to wear this all the time. I also still really wish that it had been satin like the picture looks, which would have also provided a more free-flowing look. This shows everything, so it's something I can only wear on days when I feel best about myself.
This product was provided at a discounted price in exchange for an unbiased review. This review is in compliance with the FTC guidelines.

Thank you for viewing
Barely there slip
– chemise review page!