Beautiful baby doll, every girl should have one!
The Red baby doll top and g-string by Coquette is a great choice for girls of any size. This design really will flatter any figure as it hides imperfections and allowing you to still feel pretty and comfortable! I would recommend it to anyone and after the experience with this baby doll I am ready to buy another from Coquette.
Published:
Pros:
Pretty
Elegant
Comfortable
Adjustable/removable straps.
Cons:
Hand wash

Overall though just personal issues due to my measurements not being exact
I just want to start by saying that due to the flash of my camera, you can see part of my torso in the photos. You cannot see through it if you are standing next to me. I must have a VERY bright flash because no one else seemed to have this issue in their photos. I have worn it out of the house and am comfortable enough in it and sure no one is seeing anything. Even if they could, the top is dark enough that they aren't seeing any 'boob-age'.


This baby doll is super cute! It was my first lingerie purchase ever and what drew me to it was how flowy and pretty it is. It looks dressy and doesn't necessarily look like bedroom clothing; I have seen similar tops in clothing stores that sell "club" and dressy clothing. Though it is meant as lingerie, I bought it with the purpose of wearing it out and about. Summer is here and it's SO hot where I live. I have a closet full of t-shirts and hardly any sleeveless tops. I don't want to swelter at the outdoor activities I have planned this summer so despite my crappy body image, I made the purchase. I'm hoping this will help build my confidence as well. It looks cute with a pair of jeans or dressy pants. I wore it with jeans in the photos but I have a pair of black dress pants that I plan to wear most with it.

This piece comes with straps that attach to the loops inside the top to turn it into a spaghetti strap like top. This is VERY useful for me because apparently I don't have enough boobs for my clothing size. Included is a plain black g-string which I won't be wearing because I hate that style of panties.

Packaging
The baby doll came in a clear plastic bag hanging on a pretty, satin like, padded hanger along with the black g-string panty. The hanger is very useful for storing the top.



Material/ Care instructions
The tag says that the baby doll is made of 18% spandex and 82% nylon. All around this piece is soft and silky to the touch except for the lace part of course. The lace is covered by nylon inside so it isn't rubbing and itching your skin. There is a small bit of padding in the chest but not enough to boost your cup size but just enough to hide nipples when you get cold.
The chest and waist of this top has some stretch to it so you have room to move around; you aren't 'stuck' in it. It slips over your head and shoulders easily with or without the shoulder straps.
This piece is great for those of us that have some problem areas we want to hide (stomach/back). The flowy bottom of the top hides imperfections well and still looks elegant and pretty.
There are two plastic rhinestone accents below the bust in the middle.
There are two layers of mesh that cover the stomach. As I mentioned before, a strong flash will show some skin but out in normal every day light it won't be noticeable.

The tag says it's best to hand wash this top and hang it out to dry. Others have said they have used cool water and a gentle cycle; I haven't tried this yet.

Size/Fit
According to their sizing chart, for the XL, my measurements should be:
14 - 16 dress size, D cup, 42 - 44" bust and 34 - 36" in waist.
This is NOT the case with me. I am currently a size 15 (which is too big but a 13 is slightly too small). I wear a B cup and my bust is 40" and my waist is 42".
I feel the top fits me fine. I don't feel like an over stuffed sausage casing.
It may be a bit longer on me than on others because I'm short statured and I have a short torso.
I actually feel comfortable in this top and feel pretty!

From the top of the breast to the bottom of the second ruffle it measures 24" long
Across is 17" wide (measured at bust)

Below are my photos. It took ALOT of courage for me to do this even though I don't show my face.
Experience
The front (remember what I said about my bright flash. Check out other reviews to see that you don't actually see skin through it)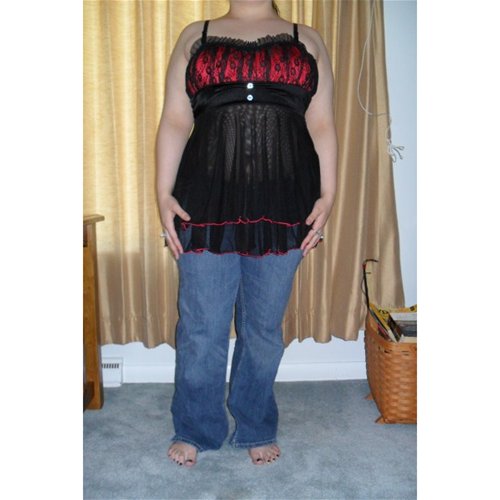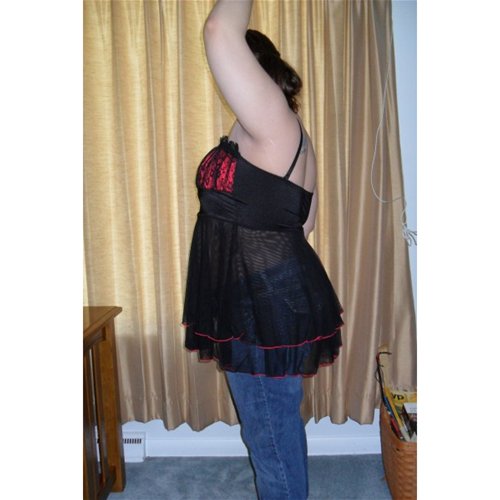 The back doesn't lay like this on me, it wasn't pulled down all the way and my fiance, being a guy, didn't notice or think it was necessary to straighten out the top.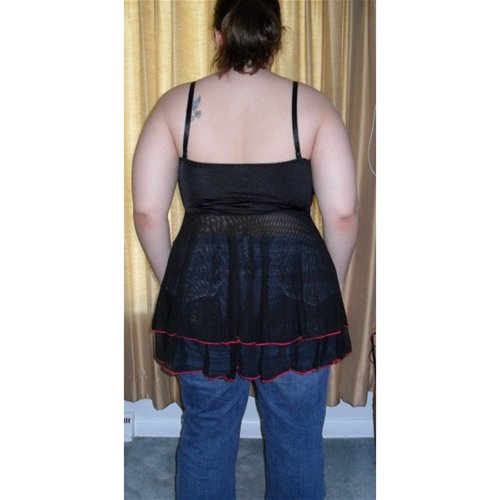 I am very happy with my purchase. I love the look of this baby doll and I feel pretty in it. As someone with low body image, I was surprised when I tried this on the first time and my fiance commented on how beautiful I am and he is a lucky guy. Of course I also don't take compliments well but it made me tear up a little.
I like how I am able to feel comfortable in the top and it isn't too tight or the material is uncomfortable.
I mentioned earlier that I obviously don't have enough boobs for my clothing size. I say this because I cannot wear this top without the shoulder straps, if I do and bend over, everyone is getting a shot at the girls! When I put the straps on they helps pull the top to my chest and I am able to bend over and move around without fear of it gaping or slipping down a bit.
Follow-up commentary
3 months after original review
I still love this babydoll! I really wanted it to wear out as something pretty and dressy. I found a solution to the see through issue by putting on a black camisole underneath and taking my arms out of the straps and tucking the straps inside the the cami so it can't be seen. Problem solved! I get compliments every time I wear I this baby doll with my black dress pants. I really like how the red compliments my complexion and looks good with the red Kissable lipgloss that I got here as well. My fiance really likes how it looks on me.
Here are some updated pictures to show how much better it looks with the cami under it if you want to wear it out in public.
Excuse the fact that you can see my striped undies through it at the bottom, I wasn't thinking!
This product was provided at a discounted price in exchange for an unbiased review. This review is in compliance with the FTC guidelines.

Thank you for viewing
Victorian dreams babydoll and g-string
– babydoll and panty set review page!