Too tiny cups, but still pretty.
BUSTY GIRLS BEWARE! If you're over a D or DD, I'd be very careful if you decide on this. I'm a Frank busted girl, and it doesn't fit right at all. Also, I have to wear a bra under and a little belt due to the empire waist part is on my boobs, so it doesn't look weird. I still like it and it gives me some confidence with my lady at least!
Published:
Pros:
soft, well made, good sizes
Cons:
My boobies don't fit this thing at all
I have been lusting over this baby doll for the longest time. I dearly wished that they had the blue still available because I loved it more. Guess I'll have to miss out on it because this one had far too tiny of cups on me. Sadly, I couldn't wear it without a bra; it looks really weird due to absolutely no support. I did get it in a 3X/4X on account of my large breasts(38F/G) hoping the cups would be able to work a little bit. Sometimes I have to squeeze into my old DDD bras because I don't have 60 bucks on hand to get more than the 2 good bras that fit me right. Seriously, bras are expensive as hell if you have anything over a damn C or D.
I have included a picture of how it looks on me (wearing the lace top thigh highs and the ruffle garter belt I own as well.) You can see where the breast part isn't even completely covering my boobs at all. A belt was put on and one of my "good" bras so have it look alright. Without it, the thing looks weird. I can live with it, but it's too big since I really needed just the other size down. I have it pinned in the back, and I need to figure out how to fix it more in the chest area.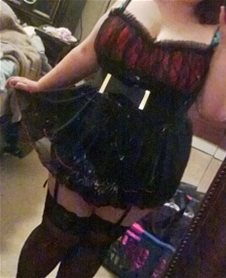 The material is really nice; I do have to say that. Very soft chiffon, I believe, is the skirt part's material. It is very nice with no loose fraying threads. The lace is also soft which is a must; I've had some that had really scratchy lace, and it bothered me. I did almost think the straps were missing, but I found them attached with a baby pin to it. The straps were a bit annoying to try to get on because they didn't want to slip in the right way or all the way in. Not a huge issue, just an annoying one worth mentioning.
Size wise I am an 18 and would of done just fine in the 1X/2X since I don't think the cup varies very much just it gets wider? Just be ready to have it turn out like this and wear other things under if you are really busty like myself. Coquette has a nice size range, but I just wish they considered having bigger cup sizes in the plus size lingerie. The sizing for the Victorian Dream I got is: 3X/4X 24 - 28 clothing size, 52 - 56 Bust(inches), 44 - 48 Waist(inches), and 54 - 58 Hip(inches) It is easier for a smaller busted girl to have it taken in and modded than a bustier girl trying to mod or fix it. Bras are a nightmare enough to hunt for.
Maybe I should mention the G-string... it was plain black and too big. Not that it is a huge problem for me since I don't even wear thongs/g-strings. I mean it's just a plain black panty nothing too fancy, I don't even know where it is. I think my friend kept it to be silly when we opened the package. Oh well, I just partnered a full backed panty in red or black with it. Prettier and more comfy panty than the silly g-string I got with it.
3 stars for bust, just because there are bigger girls out there who have big boobies. Since bust is such a huge issue with me, it is why it knocks 2 stars off rather than just one star.
This content is the opinion of the submitting contributor and is not endorsed by EdenFantasys.com

Thank you for viewing
Victorian dreams babydoll and g-string
– babydoll and panty set review page!