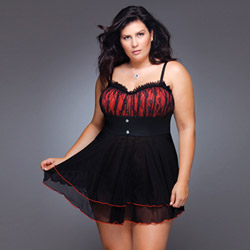 Victorian dreams babydoll and g-string
Babydoll and panty set
by Coquette
I'll Be Victorian Dreaming Tonight
This piece comes about as close to perfect as any lingerie I've owned to date. It's feminine, flowing and delicate, and the design helps to hide problem areas such as your tummy. It's so comfortable and sexy that I'd wear it out, which says a lot! Of course, you can simply enjoy it in the bedroom, and I know I will, too.
Published:
Pros:
Detailed, comfy, flattering on a variety of bodies, could be worn out, removable straps
Cons:
Crappy thong, lacks bust support/accentuating, best for certain cup sizes
This babydoll as on my wishlist for, literally, years before I broke down and bought it. I was nervous that I would be the one person who didn't like it while everyone else raved over this piece, which was also previously available in a blue and black version. Fortunately, I love it just as much as everyone else, and it seems like this piece would be a good fit for a variety of body sizes, which is something I struggled with as someone who's curvy and tends to fall between the one size and XL ranges. Coquette's "real" sizes makes it easier for you to find the size that will fit your body, and that's one reason why I'd encourage you to buy this one if you're curious.
With that said, I opted for the XL. While this piece is stretchy and I can sometimes wear an XL, I wanted to be safe. I'm glad I did. This fits perfectly around my 38-inch bust without stretching or pinching at all. However you could definitely get a couple more inches to the XL. The empire waist measures about 17 inches unstretched. You can stretch it to about 22", for a total of 44" at the waist.
The waistband is a thick strip of nylon material that's stretchy and soft. It's rather flattering, and in the center of the waistband are two plastic "gems" that mimic diamonds. One sits about an inch higher than the other. They're quite large and, to be honest, a little cheap looking. You could easily remove them and replace them with other details that you'd like better or keep the waistband simple; however, I like the idea even if the implementation is less than ideal. Still, this is probably my biggest issue with this babydoll, which is just fine by me.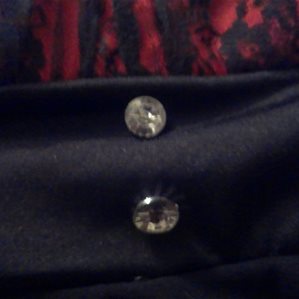 Above the waist is a lined bust area. The bottom layer is a bright red, and black lace over the top. The lace is slightly pleated, so this area has a lot of texture and detail. The bust does not have underwire or defined cups, but there it a thin layer of foam. It's not great for pushing up or defining each breast, but I still like the overall appearance. This provides enough support and coverage for my C cups. In fact, I'd suggest that C is the perfect size. D cups will fit, but the nylon waistband doesn't offer too much support, and the lined design may swamp smaller breasts.
There is an inch or so of ruffled mesh above the bust area, but this stops at the sides. In the back is a nylon panel above the empire waist. It's elasticized at the top for a more comfortable fit. I prefer having a back piece above the waist because it's more flattering, it also makes it feel more secure.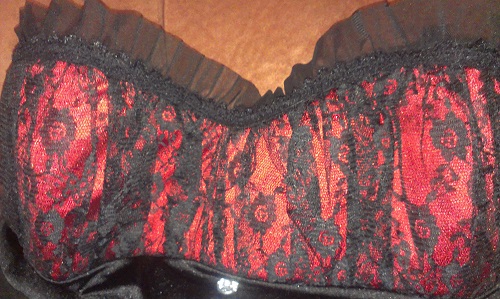 By default, the babydoll is shipped without the straps attached, and I found that it stayed up just fine. Others might not have the same experience, especially if your breasts don't fill this out. There are fabric loops in the front and back to attach straps, like you would find with a strapless bra. Although I don't need the straps, I would likely use them if I wore this out for a little more support and to keep my breasts in place. The straps are a heavy elastic with an adjuster. They range from 9" to 17" unstretched. No matter where you adjust the straps, you'll still have a few extra inches when you stretch them. One thing I did notice was that the loops aren't all the same size. It's just an issue of mass production, I think. Some of them were pretty tight, which made it hard to slip the bra hardware into them. However, this also means the straps won't pop free any time soon.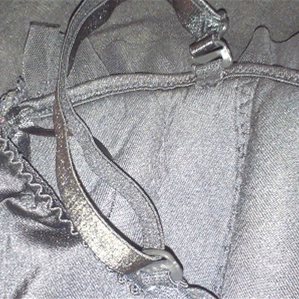 Below the waistband are two layers of sheer, black mesh. The lower layer is about 15" long while the one on top is about 2-3 inches shorter. At this length, it falls to my upper to mid thigh, which is a good length for both in and out of the bedroom. The layers makes this slightly less sheer. If you're concerned about your lingerie being too transparent, this might be a middle ground. Each layer falls loosely around your body, and is trimmed in red that matches the bust of the babydoll. The red trim really gives the babydoll a finished feeling, and will likely help keep ends from fraying.
Continued below
Experience
The mesh is not the softest I've ever felt, but it still feels cool and silky against my skin. Part of the reason that I enjoy this babydoll so much is because of how it feels. In fact, I feel comfortable enough in it that I might wear it out with a tube top or similar slip underneath -- it's just sheer enough that I wouldn't be comfortable without anything underneath. I would pair this with a pair of fitted jeans and leggings, plus boots. A bolera/cap-sleeve shrug would work well with it.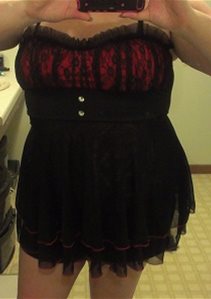 The tag says hand wash and hang to dry. I will give my chances in a lingerie bag. I can't imagine that this would take very long to dry hanging because the majority of it is mesh. There were no flaws or frays that I could find, but be careful not to snag the lace or mesh with your nails.
This babydoll does come with a G-string. It was a useless black nylon one -- the type that's neither comfortable no flattering. It would've been nicer if it had some of the red and black lace overlay. I actually threw the G-string in the trash because I have no use for it. That's okay, I still love the babydoll.
This product was provided at a discounted price in exchange for an unbiased review. This review is in compliance with the FTC guidelines.
Thank you for viewing
Victorian dreams babydoll and g-string
– babydoll and panty set review page!