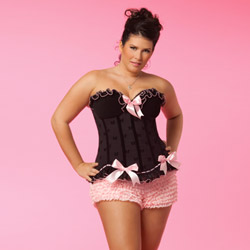 Bow bustier
Bustier by Coquette
Black Velvet If You Please
Coquette's Bow Bustier is a great choice if you want to treat yourself or your parter to a beautiful piece of lingerie that can be worn in or out of the bedroom. The removable bows, garters and straps give you lots of options for how to wear it!
Published:
Pros:
Beautiful, comes with snazzy hanger, bows and straps are removeable, actually fits big boobs!
Cons:
Hard to put on by yourself, doesn't really enhance your (my) figure
Coquette's Bow Bustier is a flirty little number in pink and black that offers a little more coverage and quality than some lingerie options.

The bustier arrived in a pink tissue paper wrapped plastic bag, pretty standard. What really impressed me is that it actually came with a *really* nice black padded hanger. Excellent touch, Coquette! There are little black straps inside the bustier to hold it on the hanger.

Construction-wise, it is well put together with no crooked seams or loose hanging threads. It obviously isn't the type of lingerie that is going to fall apart after you wear it a few times. You do need to care for this carefully, though- no popping it in the machine with the rest of the laundry. The tag suggests hand washing.

The bustier is constructed from 12% spandex and 82% nylon (made in China), so you get a quite bit of stretch. The inside is silky and smooth to the touch, soft against your skin. About halfway down, an inch-wide band of elastic is sewn inside, helping to pull it in just a bit at the waist.

The outside is a mixture of mesh, lace and velvet- a nice mixture of textures. The bra cups are covered in a soft black velvety material. The bonus of this, of course, is that if you end up not liking this bustier, you can paint glow in the dark Elvis portraits on the cups and sell it at a swap meet.

The ruffles adorning the bust and hem are a thin, soft mesh material except for the top ruffle on bottom, which is thicker black lace. If you look at the photo, everything below the lower pink ribbon is just soft material- no boning. This last couple of inches is the tiniest bit see-through, while the rest of the piece is totally solid.

There is a very subtle bow print across most of the rest of the piece- subtle in that you aren't going to notice it from several feet away, but if you look closely it is there. I do wish Coquette would stop their overuse of bows! As cute as this is, I think I would like it more if it was just solid pink and black, but the bows weren't as noticeable in person as I expected. The large pink bows that decorate this piece are removeble! They're attached by tiny safety pins, offering a lot of extra freedom in customizing your look. You can leave them all on, wear just one, even move them around to a different location. LOVE that!

The back of the bustier has two rows of hook and eye closures (like what your bra hooks with in the back) so you have a choice of making the fit about an inch tighter or looser. Sewn into the bustier are 9 pieces of flexible plastic boning which look like velvety black stripes from the outside.

The bustier features removeable garters, as well as removable black velvety "bra" straps- score!

After some searching online, I found that Coquette does sell those cute ruffled panties in the photo, by the way, they're just not on EF.

Fit:
I ordered the XL, which according to Coquette's size chart fits size 14 - 16, D cup, 42-44" bust, 34-36" waist, 44-46" hips. I'm just shy of 5'11", 38D (on the larger side of D, probably close to DD), size 14, 35" waist, 41" hips, around 165 lbs.

I had some trouble picking between the XL and 1X/2X due to past Coquette experience. I got their Red Satin & Lace bustier in XL and found that it didn't even come close to covering my boobs- it had trouble covering half. However, the Polka Dot Mesh Corset, which I got in 1X/2X fits my chest great, but is way too loose around everything else.

As far as the waist area, I was sad to see that this didn't really give me much shape. I kind of wish this item didn't even have the plastic boning- it doesn't really do anything, at least not for me. I think I would get the same effect without it, and the bustier would be a bit more comfortable to wear.
Experience
Okay, straight to the most important part (for me)- the bust support and fit!! This does have a built-in underwire- hooray! and holds my breasts up quite nicely. I do feel the need to tug it up a bit now and then, but I would feel comfortable wearing it in public without a bra underneath. I was pretty worried about the cup size, but it is only the tiniest bit too small. If the cups were the tiniest bit bigger, they would fit great. Shape-wise, they don't make my boobs look awesome- they actually flatten them a bit, but at least it fits!

Comfort-wise, I was able to sit in this easily, and lounged around for a while in it reading e-mail. I'm not sure it would be comfortable enough for a night out, but I haven't had the chance to put that to the test yet. From what I have experienced, my best educated guess is that I could wear it for maybe an hour or two tops before I really wanted to change.

My main complaint fit-wise is that the upper band is a bit tight in comparison to the rest of the piece. It gives me whatever you would call the underarm equivalent of a muffin top, while the lower edge is loose enough that I can easily pull it several inches away from my body. I pulled out the tape measurer to check, and my waist was the same size with this on as off. Bummer!

When I first went to put this on, I had that horrible couple of minutes that usually comes when I get new lingerie when I am terrified that it isn't going to fit. As I started doing up the hooks (with the bustier spun around a bit so they were sort of on my side instead of my back), it looked like there was NO WAY the upper ones would fasten, but they did, thank goodness!

This piece would be a LOT easier to put on if you have someone to help you! Between the somewhat looser fit on bottom and the amount of stretch in the material, I found it pretty easy to spin back around into place once I had it on, but it is still a little tricky. Removing it means unhooking all of those tiny little hooks, which gave me probably the best idea I'll ever have of what it is like to be a teenage boy. I may be able to unhook my regular bra one-handed in my sleep, but undoing THAT many hooks takes some serious concentration!

So, how does this compare to my other favorite, the Polka Dot Mesh Corset by Coquette? I think this one is a bit prettier visually, but the other fits slightly nicer. Very close call! Overall, I feel super sexy in this, and can totally see wearing it out (with straps, minus giant bows, with friends on pop-out boob-watch duty!)
This product was provided at a discounted price in exchange for an unbiased review. This review is in compliance with the FTC guidelines.

Thank you for viewing
Bow bustier
review page!