It's Sexy Time!
Well lingerie is a very tricky thing for us women, isn't it? I love this piece- it has wonderful colors and can be very flattering on the right shape, but it is a tad tight on me (I ordered the XL). Gives me something to work for though. It gets 4 stars !
Published:
Pros:
Feels sexy, great colors, put together well.
Cons:
Runs a bit smaller, order up a size. Different from picture (missing two bows)
The Bow Bustier is a wonderful piece of lingerie that has the ability to make you feel super sexy in the moment. I can even see the more daring wearing this sexy piece out for a night on the town.
It is made of
spandex
and
nylon
, so it is high maintenance. This cannot be washed in the washer and should be left to air dry. I suggest hand washing it with a mild detergent and hanging it to dry. Do not use abrasive cleaners to remove stains or anything of the like as it can ruin the material.
Being made of the spandex and nylon, this is a bit stretchy but not so much as to accommodate many different shapes. It is a bustier, after all. The corset style hook and eye closures make it tough to get on by yourself, but it can be done with a bit of finagling.
The cups are soft velvet and are adorned with pink ruffles. They have under wire, and lack some support for the larger chested woman. There are three bows on the piece in the picture: one on the chest and two on the waist. Mine only has the one on the chest. The plastic boning isn't exactly my favorite, but it is much less flexible than other pieces I have, making it harder to bend the boning. This is a good thing if you have a belly- it's less likely to bend out of shape and it has a higher chance of lasting longer.
I was impressed with the
Heart Print Bustier
I received from Coquette. It is stretchy and form fitting, but in a way that accents curves. I assume bustier's are made to be tighter, seeing as they have a hook and eye enclosure similar to that of a corset, but I took my chances hoping that this piece would be a great fit as well.
Needless to say it is a bit tight on me, but not so much that it is uncomfortable to wear. My main issue, as usual, is the way it gets along with my breasts. The cups are a tad small and my breasts look funny in them. It is also a bit short vertically, so the taller women might not enjoy it as well either. It does well to smooth curves, but how can it smooth a curve that it doesn't cover?
I took the measurements for this piece by unhooking it and laying it flat on the ground. These measurements are as follows: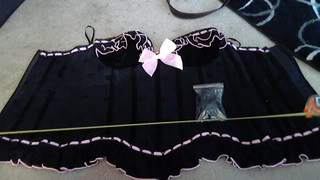 32 inches across from hip to hip, 33 inches long if you count the hooks
30 inches across at the mid section
28 inches across at the chest area
17 inches long from the top of a breast cup to the bottom of the frills (take about an inch off for when you are actually wearing it, as it does slip up a bit and the ruffles aren't exactly solid)
I would assume the cups are that of a C size; I have 42Ds and I fall out of it.
The only other quam I have with this is that it is hard to get on by yourself, unless you are skilled in the practice of fastening hook and eye closure behind your back. In order to get this all together I had to hook it up on the side, and twist it forward. Sounds simple, right? Not when it is super tight! A little bit of ripping was heard, but there is no damage as far as I can tell- just stretched it a little is all.
Adjustable shoulder straps and removable garter straps come with this set. I wish the panties did too, but they do not!
The shoulder straps are a bit tight at their longest adjustment on me, and kind of cut into my shoulders a little. Other than that, the garters are a nice addition to this and are easy to get on and off.
Experience
I love this piece, and I will continue to work towards fitting into it better. The only concern I have is that my breasts still won't fit after I lose more weight, because my breasts have pretty much stayed the same whether I gained or lost anything.

I am steadily thinning out towards my goal and I continue to try and reach my ideal weight by the time a certain special someone in my life returns home for a visit :)
This product was provided at a discounted price in exchange for an unbiased review. This review is in compliance with the FTC guidelines.

Thank you for viewing
Bow bustier
review page!