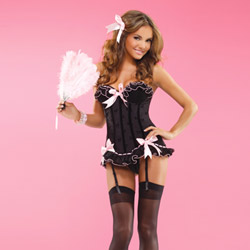 Bow bustier
Bustier by Coquette
Pretty Disappointing
As much as I want to love this bustier, I can't. It's flattering for me everywhere except for my chest. The cups are tight on the top which cuts my breasts in half and just makes me look awful. I do like how this bustier has a good amount of length and is built very well. I also like that it is available in two colors and a good variety of sizes.
Published:
Pros:
cute, good quality, good length
Cons:
not flattering for me, high price
Recently, I finally got some spare cash to order a few things I have been wanting for a while. One thing that had been on my wish list for probably 3 years at least was the Bow Bustier. The price of the bustier is what was keeping it on my wish list rather than actually in my hands. Finally, I decided I'd order it. I chose size medium, though the bustier is available in sizes small up to 1X/2X.
The bustier comes packaged in a cellophane wrapper. While other reviews on the bustier state it arrived on a hanger, mine did not. The removable garters and straps are attached to the bustier by a small safety pin. The tag inside the bustier lists the material content as 82% nylon and 18% spandex, exclusive of trim. The bustier should be hand washed and hung up to dry. It should not be wrung dry or bleached. It is made in China.
The bustier looks exactly as it does in the product photos. The whole thing is black with pale pink detailing. The cups have underwire and light padding. The underwire feels like it is a larger B cup or smaller C cup wire. Along the top of the cups is a row of lace with pink elastic through it. Beneath that are two layers of black mesh with pink edges. Each cup is covered with a velvety material on the outside. Between the cups is a removable pink ribbon bow. The midsection of the corset has velvet strips over the boning and little black velvet bows over the rest of the fabric. The bows aren't very easy to see against the black fabric. There are 11 plastic strips of boning in total, which go all the way around the bustier. Each strip feels flexible however it does not feel flimsy. These will not offer as much support as metal bones in a corset, but they are fine for just casual lingerie wear. At the bottom of the bustier is another row of black lace with pink elastic through it. There are two more removable pink bows at the hips. The very bottom of the bustier is a layer of black lace over a layer of black mesh trimmed with pink.
The closure for the bustier is on the back. It's a hook and eye closure system, which runs all the way down the back of the bustier. There are two rows of eyes and 16 black metal hooks.
Inside, the bustier is not lined. The material inside does not feel rough, though.
The removable straps and garters are black and adjustable. They are attached to the bustier by some little elastic loops hidden within it. The loops are easy to spot, however they don't stick out so far that they show. The end of each garter has a black ribbon over the piece that connects to your stockings.
The bustier's quality is pretty good. I did spot a few threads that were hanging off of it and needed to be trimmed. All of the sections appeared to have been sewn together very well other than that.
Measurements:
Length of bustier: 16 inches
Length of boning: Between 9 and 12 inches
This portion is measured on the tightest setting. The bustier is stretchy enough to add at least 4 inches to this measurement.
Bust: 28 inches
Waist: 27 inches
Hip: 31 inches
As I said before, I ordered this in size medium. According to Coquette's size chart, I should be between sizes 8 and 10 for dresses, have a B cup, a bust of 36 to 38 inches, waist of 26 to 30 inches, and hips of 38 to 40 inches. I wear a size 5 to 8 in dresses. My bra size is 34B. My waist measures 27 inches and my hips measure 35 inches. Looking at the size chart again, I probably should have gone with size small. When I order Coquette's laced up corsets, I always go with medium.
When I put this bustier on, I feel somewhat pretty in it. I love the length of the bustier. It's long enough to wear out. The ruffles along the cups and the bottom are flattering to my figure. The boning works well to shape me. Unfortunately, I hate the cups with a passion.
Continued..
Experience
The tops of the cups are very tight, so they seem to cut what little boob I have in half. It would have worked better to make the bottom of the cups tight, since that would give breasts a bit of a boost. As it is, the lightly padded cups do absolutely nothing for me. For me, it's an everyday struggle with body image because I do not have anything for breasts. When clothing works to enhance that fact, it upsets me a great deal.

To care for the bustier, I suggest spot cleaning it or gently hand washing it in the sink. It should be hung up to dry and should not be wrung. Wringing it will cause the boning to lose shape. I would hang it up to store it, since that will help the boning keep its shape.

I'm somewhat pleased with this bustier. I like the quality of it and how much detail it has. Unfortunately, the tightness at the top of the cups just does nothing for me. I think it would probably be unflattering to most women since breasts are soft and conform to whatever is currently holding them. Judging by the photos of the model, Coquette expected every woman's breasts to be fake and hold their own shape while the bustier just kind of fits around them.

I decided I'd exchange the size medium bustier I received with a size small to see if that works better for me. I'll submit my follow up review once I receive that. For now, the bustier gets a rating of 3 out of 5 stars.
This product was provided at a discounted price in exchange for an unbiased review. This review is in compliance with the FTC guidelines.

Thank you for viewing
Bow bustier
review page!