Bustier with Super Powers!
If you are looking for a corset looking top that will flatter your waist and figure, can be worn out on the town, and is well made, this powernet bustier has got you covered. It runs a bit big in the bust, but if you are too small for the size you choose, it can be easily fixed. This is so well made that I imagine I'll have it for a VERY long time.
Published:
Pros:
Power netting with slim you in all the right places, Sexy lines, Very well made, Can be worn out
Cons:
Bust is big, Runs 1-2 dress sizes small, Thong is different material/quality, Small breasts drown
Of the new Coquette pieces on Eden, this was in my top three must get ASAP. It's unique in that it isn't the all too popular brocade design. Don't get me wrong, I love those too, but I like unique pieces more. This really accents my waist and makes me feel even more confident about my womanly curves. The material is high quality and excellent. There's one thing to note about power netting. It can make you feel like you are in a corset that has been tightened to the fullest extent. It will be very tight if you size it right. So, if you are in between sizes, go up. I did, and it was perfect except for the bust which needed a little tweaking. If you love your figure and want to play it up with a sexy design that can even be worn out to a club, you have to add this to your collection.

*Contents/overview: Three pieces: Bustier, thong, garters

This Powernet Bustier and G-string is a boned bustier made of very durable power netting. It has padded cups with no underwire, removable garters, and an adjustable back and halter neck. It is currently offered in black and comes in sizes S, M, L, and XL.

*Material: Awesome!

This is made of 82% spandex and 12% nylon which is exclusive of the trim. It's hard to believe there isn't rayon or polyester in the material. It feels like the material a trampoline is made out of (That's the best comparison I could come up with!). It feels a little abrasive, like a heavy duty nylon, but the inside is lined and makes this very comfortable. The lining feels like a smooth, satiny polyester. The padded cups have a fine fleece feel on the inside. The padding is only about 1/4", if that. The boning is plastic, and there are metal eye and hook closures. The material does stretch, but it goes back to its original state. It is see-through in places, but doesn't show scars or tattoos easily. It'll hide stretchmarks and other "imperfections".

*Design/craftsmanship: Excellent

The bustier is shaped like most corsets. It has five pieces of boning. Three are front center, and the remaining two are in the back, one on each side of the closure. Between the outer most pieces of boning in the front is a double layered panel. This is the fleece lining I talking about. It cannot be seen through. The other parts, that go around the sides to the back, have horizontal ribbing that cinch in the waist. It is very effective due to the nature of the material.

The bust has molded cups that are not separate from each other. It has more of a bandeau style. There is a seam in the middle of the cups that help them mold to larger breasts. Smaller breasts might find that they don't fill these cups. They are also wide which I found odd. There is plenty of room to add molding pads if you need or want to fill excess space. At the sides of the cups are the three straps that connect at the top with a short band of eye and hook clasps. There are three choices about 1/2" apart.

The back has a center panel like the front. The back's top and bottom go straight across. There are two rows of eye and hooks that are about 1/2" apart. It's easiest to put this on by doing them first and pulling over your head if you got a size that is a little big, or doing them on the side and then twisting around. I don't recommend doing it in front since the material's tightness makes it difficult to turn around in one or two,... or three pulls. They hook from right into left, so it is easier for a right handed person to do it behind their back.

The garters attach above the butt cheeks and thighs. It's easy to do this and you don't have to use the ones provided. They are well made and recommended however. They adjust and have standard closures.

The panties are really interesting in design. Mostly shaped like regular g-string in that it has a "normal" sized crotch area, actually it's larger than most Coquette thongs. the difference is that it has a cool two square cut out in the front. There is no pantie liner and the back has poor craftsmanship in the way that the sides straps attach.
Experience
Continued:
*Cleaning/care/storage:
Hand wash, plastic bag with hanger
The tag says to hand wash only, and to hang dry, but this can be put through the washer on a cool cycle. It's easy enough to just simply spot clean, though. It came on a hanger inside a plastic bag with the garters in a small plastic baggie pinned to the side. It has hang ties for storage on a hanger.
*Sizing/fit:
Runs a little small, Bust runs a little big
Knowing that this material is very tight, I chose the large. I am glad I did because even though I am wearing it on the smallest of the hook options, I don't think it would be as comfortable to bend in, or possible at all. I wish I had the bust from the medium though. It's a little big, but I made it work. Looking at both Eden and Coquette's
newer size chart
, the charts are the same, and the bustier runs a little small, but you want it to fit snugly. A large should fit a 12-14 dress, C cup, 38-40" bust, 30-32" waist, 40-42" hips, and 150-180 pounds. I weigh ~142 pounds (size 7/8); curvy but fit, with size 34/36 D breasts.
I have found that the torso fits me like a glove. I feel amazing in it! I wish it came in a cincher only style without the bust which gave me the biggest issue. I found the straps to be too long, but if they were tied behind the neck, they gave the support needed. Without tying, the front fell away from the body at times. According to the sizing chart, this shouldn't of happened. Small chests will totally drown in the bust if they are not a size up from what the chart says. I think the bust of this large is best for DD breasts without making adjustments like I did. I do love that the straps lift from the sides. This gives great cleavage.
The thong isn't too bad. It also runs a little bit small, but isn't unwearable, nor does it make me feel self conscious. The front is incredibly sexy!
You can sort of see that my breasts don't go all the way into the bottom of the cups even with it tied behind my neck bringing the bust closer to my body.
With a shawl that I plan to wear it with.
My Re-done Chart:
My Re-done Chart:
For the large - Order up if you're on the high end]
Dress: 8-10
Cup: D, DD
Band: 34-37"
Waist: 28-31"
Hips: 37-40"
Weight: 135-165
*Possible accessories: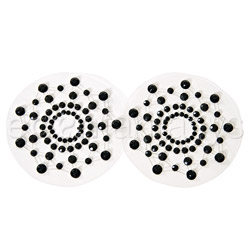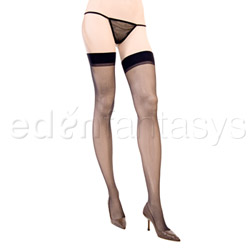 Mimi Rhinestone Pasties,
Sheer Black Thigh Highs,
*Conclusion: 4.5 stars ****
I'm giving this 4 stars because it is easy to fix the bust if it is too big for you, however, it still might not work like it did for me. It really cinches, flatters my new fitter figure, and looks incredibly sexy. Most people will probably be shocked by the material.
Follow-up commentary
2 months after original review
As I have worn this with a few different things now, I'm liking it more. It is comfortable to wear for me and looks sex no matter what. You really do need to heed the size warnings that I and now other reviewers have made. The margin for error is large with this one.

It has held up well to wear and spot cleaning.
This content is the opinion of the submitting contributor and is not endorsed by EdenFantasys.com

Thank you for viewing
Powernet bustier and g-string
review page!