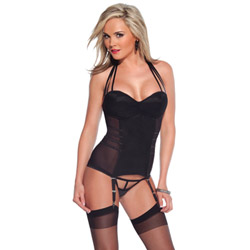 Powernet bustier and g-string
Bustier
by Coquette
Not What I Expected
Remember that let down on Christmas morning when you finally opened the big, shiny box you'd been daydreaming about for weeks, only to find it contained something totally lame? That's kind of how I felt when I unwrapped this set and saw that it was not at all what I expected.
Published:
Pros
Really cute g-string
Cons
Seriously un-sexy material, no bust support, odd fit.
Every now and then, I get a piece of lingerie I was really excited about that ends up being a major disappointment. This review is a tale of woe.
The Powernet Bustier & G-String set is available in 4 sizes, from small to XL. I have the very similar-looking
Chemise
in Large and it fits great, but I decided to try this in XL for comparison. Coquette's size chart says that the XL should fit sizes 14-16, D cup, 42-44" bust, 34-36" waist, 44-46" hips. I'm size 11/12, 36-38 D, 33" waist, 39" hips, so technically I fit into the Large category much better than the XL. I was hoping to be able to wear this under other shirts, though, and XL sounded like it might fit my bust better and be more comfortable.
The set is made up of two pieces, the bustier and a g-string. It also comes with removable garters that attach to small hidden loops at the bottom of the bustier. Everything came wrapped in the bright pink tissue paper EdenFantasys uses, but there was no other packaging except for the tags on the garment.
The bustier is solid black, but not at all boring since it features sexy see-through mesh sides, and cute halter-style straps. I mentioned that this reminded me a lot of the
Chemise
by the same company, since it basically looks like a shorter version of the exact same thing (with different straps), but they could not be more different. Where the chemise is soft, stretchy, lightweight fabric, this is rough, thick, and almost canvas-like. It reminds me of the material that a backpack or duffel bag would be made of- not sexy at ALL. The bust area is what ruined this for me- there is NO support at all, it was totally droopy on me. There are no built-in underwires or padding; the inside of the bust area is lined in softer material, but there's just a seam separating it from the rest of the piece, nothing structural. The top is held up halter-style, and the neck strap features three hook and eye settings, like what the back of a bra closes with. Being busty, having to rely on a thin strap around my neck to hold up my breasts is really uncomfortable, as the weight of my chest puts too much pressure on the back of my neck. It's a shame, because the strappy halter design really is cute.
The bustier closes via 18 hook-and-eye closures up the back. There are two vertical rows of eyes, so you have about an inch of difference to make this tighter/looser. The fabric is also quite stretchy, so you have a little wiggle room on size if you gain or lose a few pounds.
I'm not really sure who this would best fit, because it is giant in the bust area on me, and quite tight everywhere else- the exact opposite of everything else I own. I was really surprised it was so fitted through the torso, since I just returned a different Coquette bustier in the same size for being way too large, to the point it was falling off. My full D-cup breasts were practically lost in the roomy cups, even when I tried adding a strapless bra underneath. A DD would probably fill the cups better, but since there is no support, that probably wouldn't work well either unless they are implants.
From the photos, I thought the stripes on the sides might have boning in them, but they are just for decoration. There are 3 pieces of plastic boning sewn into the front and 2 in the back, though.
The matching G-string is also black, and way more fun than the standard boring black thong that comes in most sets! I really wish this was sold separately- I'd buy one! The g-string actually IS made of the soft, stretchy material that I expected the whole set to be. This one was much too large for me (I never tried it on since I instantly knew I'd be returning this set, but it was easy to tell it was too big at a glance), but I expected that since I ordered XL and I'm much larger on top than on bottom. It is made of just one layer of fabric, no liner.
Experience
Handy Dandy Measurements:
The bustier measures 14.5" down the back where it castens, and 14" down the front from the center of the bust down. Laid flat, it is about 32.5" across the center of the waist (I measured along the second stripe from the bottom on the sides, for reference). The neck halter straps on each side are each about 13.5" long.
The g-string measures 17" across the waistband when laid flat, and just under 8" from top to bottom (also laid flat). It is super stretchy, so the waistband will stretch to about 22.5" across, but you may find it digs in uncomfortably if stretched that much.
This is made of 82% nylon, 12% spandex, and the care tag suggests hand washing and hanging to dry. The mesh doesn't feel like it would hold up well under heat, so I'd stick with cold water and never toss it in the dryer.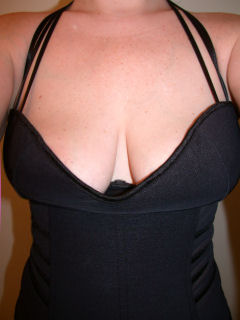 Yikes! Boob disaster! They're escaping! Run for your lives!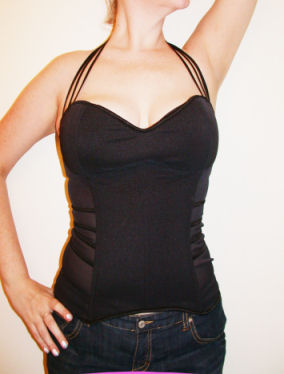 Strapless bra helps a lot. I couldn't resist doing some Coquette model-posing.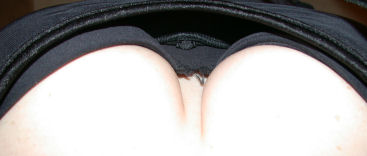 Pardon the blinding white boobs of doom, I had some flash issues here. Or I'm a vampire. Either way, you can kind of see how even with a bra underneath, this gapes awkwardly at the bust.
Oh, bustier set, I wanted to love you, I really did. If this had actually been a shorter version of the amazing chemise like I expected, I might have never taken it off, but instead it is getting packed up to go back to EF. There's just nothing sexy about rough, scratchy material, and I have no use for something that manages to make my awesome boobs look awful. That's unforgivable.
This product was provided at a discounted price in exchange for an unbiased review. This review is in compliance with the FTC guidelines.
Thank you for viewing
Powernet bustier and g-string
review page!