Coquette does it again!
The Wetlook Gathered Skirt by Coquette is one of my absolute favorite items. I love that I can wear it out on date night, and then turn into a lingerie item in the bedroom. It's definitely a fantastic item to have in any lingerie collection.
Published:
Pros:
Sexy, Comfortable, Covering enough to wear in public, Matches other Wetlook items
Cons:
May show pantylines
I purchased this sexy skirt on a whim, and I'm so glad that I did. It has quickly become one of my favorite skirts, and I truly wish that I could wear it daily.

Basics:
As part of Coquette's Darque collection, this gathered skirt matches the rest of the wetlook collection perfectly. The skirt is affordable, being priced at just $25.99. The skirt does not come with any undergarments, and it is currently only available in black.

The skirt is great to wear in private for some fun with your lover, but it's also covering enough to wear in public. I wore it to a party the other night, and I received an endless amount of compliments on this sexy piece!

Material & Care:
The skirt is made out of 80% Nylon and 20% Spandex -- exclusive of the trim. The high spandex percentage makes this skirt very stretchy.

The wetlook material reminds me a lot of a swimsuit, only it's a lot more comfortable to wear than a swimsuit. The fabric feels cool and smooth on the outside. The outside of the fabric also has a shine to it. The inside of the skirt does not have that shine. Instead, the inside is a bit softer, making it comfortable against the skin.

Some people might feel as though the skirt gets too hot, due to the material. Personally, I didn't have that problem. I wore this skirt on a 90 degree day, and the I felt very comfortable. The material just seems to breathe, in my opinion.

To care for this skirt, you should hand wash it and line dry it.

Sizing:
This skirt is only available in two sizes: one size fits most, and XL. I chose to go with the one size fits most.

According to the size chart, one size fits most should fit someone with the following measurements:
Waist: 26 - 32"
Hips: 36 - 42"

My waist does measure 32", but I tend to wear this skirt around my hips. My hips, where the waistband sits on me, measures 40".

When I first pulled the skirt out of the package, I thought... "you've got to be kidding me!" This skirt just looked WAY too small. It looked like something you had to be a size 2 to wear, and I am certainly not a size 2! Rolling my eyes, I decided I'd try and squeeze my body into it. The first time I put it on, it was a real effort. I had to actually wiggle my way in, and there were times that I thought I wasn't going to fit. Once I got it on though, it was super comfortable.

Now that I've pulled the skirt on and off a few times, slipping into it is a lot easier. It seems that the material stretches out a little, but it still fits snugly. For this reason, I feel that the plus size would've been too large for me.

As for length? I'm 5'6", with a little bit of "junk in my trunk", and this skirt comes down to a perfectly acceptable length. It naturally falls to about mid-thigh length on me, but I can pull it down so that it comes to just above my knee. Keep in mind that if you do pull it down, you'll lose a lot of the runching.

Also, as I mentioned the junk that's in my trunk, I should note that the back of the skirt is a little less runched than the front on me. This is likely because my butt just kind of stretches it out. It still looks great, though!
Experience
Design:
The skirt is incredibly simple, but also unbelievably sexy. I'm not usually a fan of short skirts, but I feel sexy in this one!
The skirts waistband matches the wetlook material. The waistband is very stretchy.
The rest of skirt is just the runched material.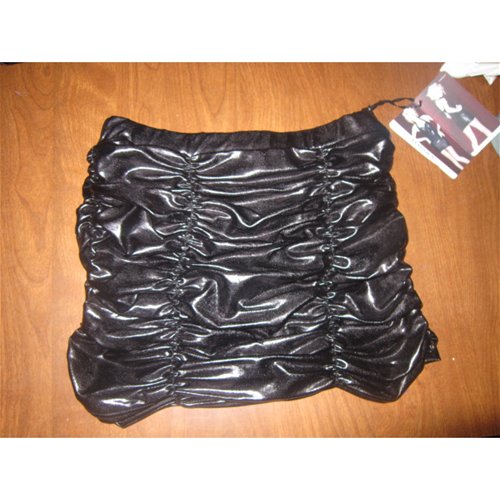 The runching is caused by the skirt being sewn in sections. There are six seams going down the dress. Each seam is evenly spaced apart. The seams are sewn in a way that causes the fabric to sort of "wrinkle", giving it a runched look. It's very sexy, and very flattering. I find that the runching helps to cover up my "problem areas". That said, I do feel like the top of the skirt does display some of my extra weight -- especially at the sides. It's not so bad that I won't wear the skirt, though, and others have told me that they don't notice any issue -- so it could just be all in my head.
The great thing about the runching on this skirt is that, when you pull stretch it to the fullest potential, the runching doesn't seem to get lost. If you do try to pull the skirt so that it's longer on you, however, then the runching will decrease.
The bottom of the skirt has a sort of scalloped look to it. If you're on the smaller side, the scalloped look will be evident when you wear the skirt, but on me? The skirt fits snugly, so everything just kind of looks straight when the skirt is on.
Quality:
The quality is great. I have had no problems with it.
Follow-up commentary
27 days after original review
This is one of my favorite clothing buys from this site. I LOVE this skirt. It's sexy, yet it's not too slutty. I mean, I can wear it out without feeling like I look like a slut. I get tons of compliments on this every time I wear it, and it has held up amazingly.
This product was provided at a discounted price in exchange for an unbiased review. This review is in compliance with the FTC guidelines.

Thank you for viewing
Wetlook gathered skirt
review page!