Gather Around To See My Sexy Ass
The wetlook gathered skirt is a sexy fetish look piece of lingerie. It's easy to pair with many items and even can be worn outside of the bedroom. The size chart is close to accurate, but those who are boarder line can get away with the size smaller! The only flaw I have found is the plus size was a little long for myself, but otherwise I see no reason to not give this skirt 5 stars!
Published:
Pros:
Sexy, fetish look, accurate size, easy to pair with, and affordable price.
Cons:
A little long.
Function
The Wetlook gathered skirt is part of the Darque line from Coquette. And out of the pieces I have ordered; this one is my second favorite! I originally bought this skirt to pair with my
Darque Corset
, but sadly, that corset didn't live up to my expectations! I currently am on the look out for a decent top to match this skirt. It can be paired well with just about anything, because it's black, but I haven't found the right piece for myself yet.
Material and Care
According to the tag this skirt is made of 80% Nylon and 20% Spandex which is exclusive of the trim. However, there are only two things I noticed that weren't the above material. There are two silk ribbons inside to hang the dress. And to give the gathered look; there are 6 elastic bands that runch the skirt. Otherwise this skirt is completely Nylon/Spandex material. This material has the wetlook appearance. It looks glossy and shiny. It feels as if there is a coat of paint on the material, but there is not. There is a great deal of stretch to this material. The material is thick and doesn't breathe well, so it could be hot under. Inside there skirt is lined with a softer material that would be more breathable if the outer material would allow it.
This skirt should be hang washed and lined dry. I combine like colors into the bath tub and fill the tub with enough water to cover the garments. I will then add about 3-4 TBSP of
Dona Lingerie Wash
and allow it to soak for 15-20 minutes. This will make all the garments smell like the scent option you picked and even fill the bathroom with this aroma. My favorite scent out of the 6 is the Acai. After the time has passed, you will want to remove the garments and rinse them thoroughly. Then hang the skirt to dry. You shouldn't bleach, wring, or machine wash or dry this skirt because it could damage your skirt.
Quality
All but one spot on my skirt has excellent stitching. The waistband's stitching where it is brought together at the start and the finish is overlapped, but otherwise everything looks great.
Design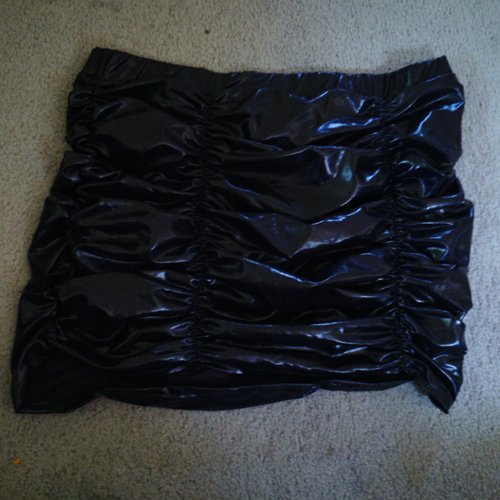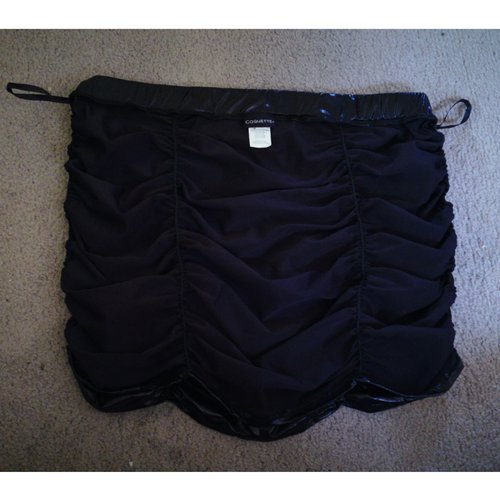 The Skirt is very simple is design. It starts off with a 1.25" tall waistband. This is covered on the inside and outside with the wetlook material. The skirt continues down to the bottom which is a folded layer of material that is stitched completely around. From the bottom of the waistband to the very bottom of the skirt is solid wetlook material. This is broken up with 6 elastic bands that run vertical. There is one of each side of the hips, two in the front, and two in the back. Every one of the 6 bands seem to be evenly spread. There purpose is to give the runched effect. Inside the skirt at the bottom of the waistband on each side of hips are two silk ribbon loops to hang the skirt. And in the middle on the back side of the skirt is the three tags for the skirt (Coquette, size, and washing instructions.)
Measurements Of The Skirt Taken While Laid Flat
Waistband 16.5"- 25"
Length 16.5"
Max Total Stretch of Entire Skirt (Circumference) 52"
Experience
Sizing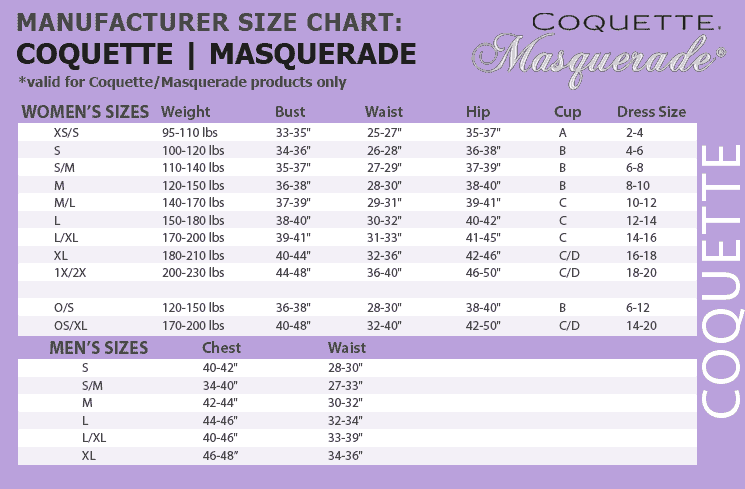 According to the size chart One Size Fits all fits dress sizes 4 - 14, Waist 26 - 32, and Hips 36 - 42. And One Size Fits All Plus Size will fit those dress size 18 - 26, Waist 38 - 46, and Hips 48 - 56.
Size Chart is accurate!
Those who are in between sizes or on the low end of plus size can get away with the One size fits all. Those who are petite should read
True Pleasures
excellent review with sexy pictures. So you can get a better idea of how it will work for you.
My Sizes
Dress 13/14
Waist 35"
Hips 42"
Hip to Knee 20"
Weight 160-170lbs
Photos
Front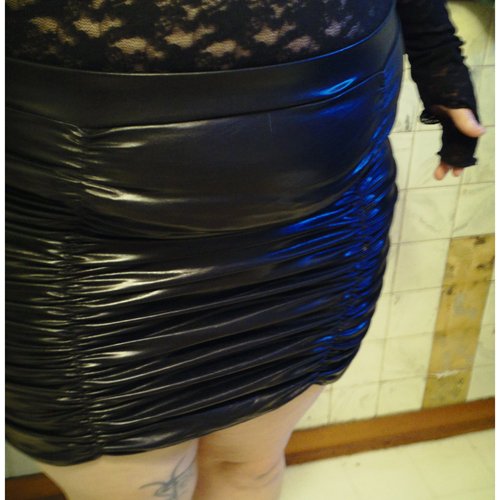 Side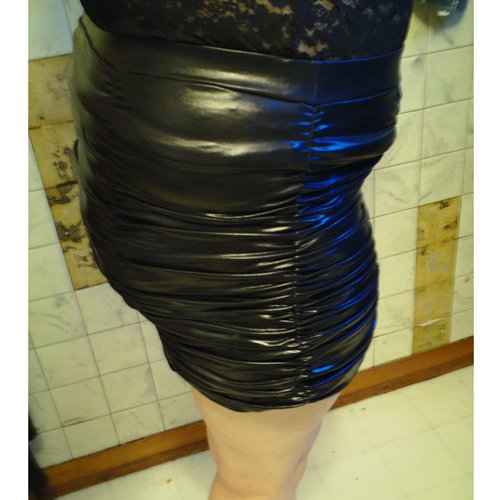 I did order the plus size, but I could have fit into the one size fits all. The plus size is a little long on me, but if I pull it up highwaisted it looks more flattering on my figure. It seems to hide my flaws like muffin topping. You can hike it up with the runching and make it shorter if you wish. I think if I wear this skirt at my hips it's too long for my short legs. I'm only 5ft 3in, so the length of the plus size is too long for my legs. I have yet to find a top that goes with this skirt, but I'm open to some suggestions (I usually wear and XL.)
Pairing Suggestions
Wetlook Corset with padded cups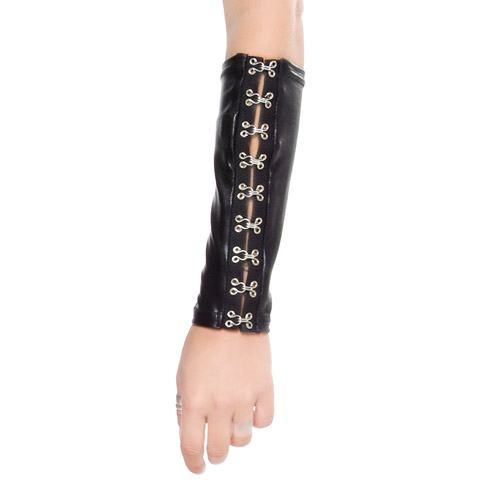 Wetlook Sleeves
Fishnets Stockings with Vinyl Top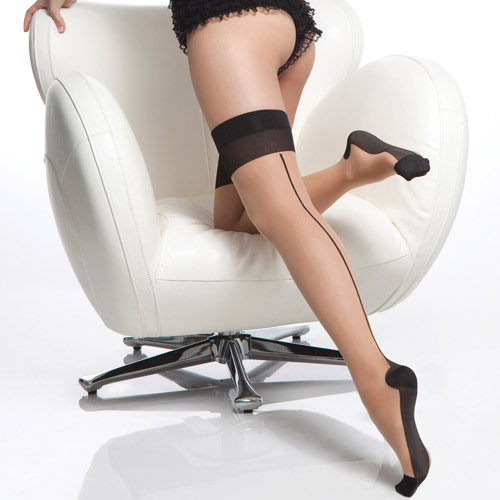 Sheer Cuban Heel Stockings **
** = something I actually paired with and enjoyed.
Overall
Overall, I really like this skirt. I should have ordered the one size fits all, but the plus size works for me just fine. I am giving it 5 stars because I don't have any reason not to.
This content is the opinion of the submitting contributor and is not endorsed by EdenFantasys.com

Thank you for viewing
Wetlook gathered skirt
review page!