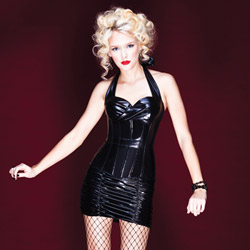 Wetlook gathered skirt
Skirt
by Coquette
Highlights my assets perfectly.
Coquette took my breath away with their wetlook pieces, and this skirt is no exception. I think it is decently priced and will pair wonderfully with other Coquette wetlook items. The runches are a unique effect that hide and accentuate the right spots.
Published:
Pros
Stretchy, breathable, high quality, fits a wide range of sizes/accurate, very sexy
Cons
Gathered material stretches out if you have any ass at all, long on shorter bodies
Overview
This wetlook gathered skirt is a captivating piece that is sure to draw attention to your finest assets. It only comes in black, and is shipped alone without any accessories or extras. I am in love with Coquette's wetlook items and am slowly growing my own collection. I have the bustier that is shown with this in the model's picture and can safely say that it's a perfect match!

Sizing
There are only two sizes that this skirt comes in, and that's "one size fits most" and "plus size." I was very hesitant on ordering the one size fits most, as I'm a large and have had bad luck with some OS pieces in the past. Because this is wetlook and is made of nylon and spandex, it is very forgiving and can stretch a lot to accommodate a wide range of sizes.

Coquette's size chart gives a wide range for the one size fits most size:
Dress size: 4-14
Waist (inches): 26-32
Hips (inches): 36-42

Here are the measurements for the skirt, unstretched:
Length: 13"
Waist: 26"
Hips: 34"

Stretched measurements for me:
Length: 14" (from about waist to mid-thigh)
Waist: 33"
Hips: 40

The unstretched skirt is very intimidating, as it looked like it would be able to fit the girth of one of my legs. Yeah right! I hesitated and examined the material, pulling it and testing it. I remember thinking to myself, "If this works, it'll be a miracle." I thought I had misread what size I ordered at first, but to my surprise, with some smooth moves and adjusting, it fit like a glove.

This skirt can be comfortably worn at the waist or at the hips. I am 5'2" and tend to wear skirts at my waist to accommodate my vertically challenged body. While the skirt is at my waist, it ends at the middle of my thigh. I am a size 8-10, my waist is 33 inches, and my hips are 40 inches. I found that this piece fit me perfectly because it stretches quite a bit, and I did not feel any discomfort or notice any muffin top effect. Hooray for no muffin top!

The skirt covered up everything that it was supposed to, and because of the stretch of the material, I don't feel self conscious bending over for fear of showing the world my naughty bits. It also didn't ride up at all while I walked around in it. If you are a larger size and are debating on whether to get the OS or Plus, take your measurements and see if you would fit within the OS range. You can definitely pull off the one size if so!

One concern that I did have was that because it was so stretchy, a lot of the gathered effect in the back was lost, but I'm not sure I would have had much of a figure in the plus size. The skirt still looks great stretched out and accentuates my butt very nicely.

Material and Care
As stated above, the material of this dress is composed of 20% spandex and 80% nylon (exclusive of the trim) - spandex is your friend with this piece! I have a few PVC pieces to compare with wetlook, and wetlook with the lining is much more breathable and forgiving, but less shiny and reflective. Plus, this is a piece you can wear without worrying about putting a dent in your wallet or a bad smell up your nose.

In looking over the piece carefully, I found a few loose threads on one part of the elastic, but only a little piece on the inside, and it doesn't affect the look or strength of the elastic on the outside.

To care for this skirt, only hand wash it, and hang it to dry. The skirt comes with two ribbons to hang with, though since they are below the lining, the top part folds over when hung, but it makes no difference when worn.
Experience
Photos
Here's a few photos of the skirt with and without the matching
wetlook bustier
. Beware of panty lines with this!
Overall opinion
When Eden released a ton of wetlook items by Coquette not too long ago, I was ecstatic, and requested assignments for just about everything. This was not my first choice, but I ended up liking it a lot more than I thought I would. The quality is very good, the material is relatively breathable and stretchy, and it actually fit me. Plus, the material matches the other Coquette wetlook items I have perfectly, so I have lots of ways to mix and match this skirt. I have no qualms with this skirt!
Since it's such a tight and thin material, panty lines show pretty easily. I think for the right occasion, this can be worn out in public. It isn't too short, like I said, and if paired with other pieces appropriately, could contribute to a killer outfit. It is also a very appropriate bedroom piece and is accessible.
Follow-up commentary
7 months after original review
As little as I've worn this, I still find it super sexy. The gathered look is so interesting and appealing to my eyes. I love how it stretches over my ass and accentuates it. My fear was that I wouldn't be able to walk in this, or walk Barbie style, but that's not really the case. It's still holding up fairly well, though I haven't needed to give it more than the occasional wipe-down.
This product was provided free of charge to the reviewer. This review is in compliance with the FTC guidelines.
Thank you for viewing
Wetlook gathered skirt
review page!