Good thigh highs for anywhere
These are good cheap opaque thigh highs. You can wear it in bedroom or outside of it, just don't forget to fix it with straps. Note that these are quite small, so the size may not fit most.
Published:
Pros:
Cheap
Strong strechy material
Come in several colors
Cons:
One size doesn't fit most
You can wear these opaque thigh highs inside of your bedroom or outside of it. They don't have any decorations on the band, so they will be invisible under your clothes. Also there are no decorations on any other part of thigh highs, so they look just like ordinary thigh highs that are sold in every lingerie boutique. Especially if you have these thigh highs in black, they can be worn anywhere. Other colors are not so practical, but still with today's fashion you can wear them anywhere also.
Opaque thigh highs come in four colors - black, white, baby blue and red. I have the black ones, and they are really opaque. The material is spandex and nylon, which are both synthetic materials, very strong and durable. Spandex streches very good and preserve shape; it is resistant to body oils, perspiration, lotions, and detergents; has no static or pilling problems. Nylon is resilient to polymers, oils, greases and solvents. So these materials are very good for thigh highs and easy to maintain, but they don't stand high temperature, so you shouldn't boil or bleach it or use a scouring powder. Just wash your thigh highs in sudsy water and they are ready to go again.
The material is very soft and pleasant to touch. But the color is uneven. I am not sure if you can see it on the photo below, but it has some stripes. It is not because of the colour itself, but it is rather due to the material structure. The material is quite dense, also it is opaque and matte, so I quess such unevennes is inevitable. But still it isn't that noticeable. You will see it only if you look very carefully, otherwise you won't even notice it, as well as everybody else won't. The band structure is even more dense and it is completely opaque. Is doesn't widen at the top as most band do - it is the same along whole lengh and width of the band. Take a closer look at thigh highs and band structure at the pictures below.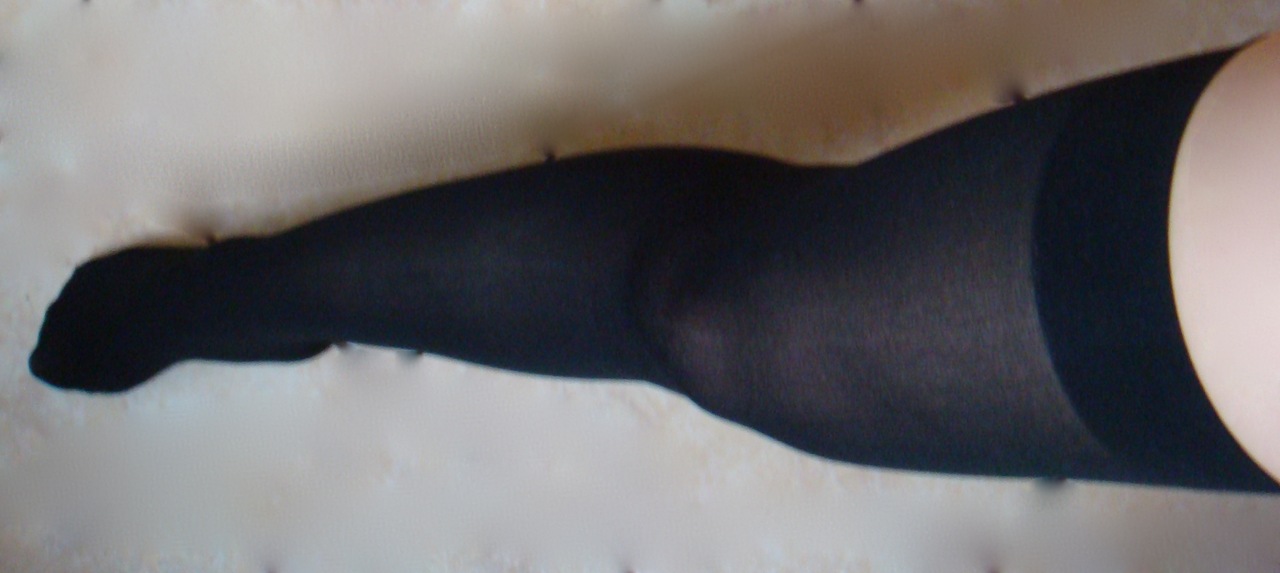 The thigh highs come in only one size that should fit most, which I really doubt. My legs are not extremely skinny, but the are thin - 17 inches at circumference where the band should be and my inseam measurement is about 29 inches (to count from the heel). And these thigh highs are just right for me. By just right I mean that I can pull them quite high, as I wear all other thigh highs and they stay really opaque.
To compare, the normal tights that I wear with lace and sillicone stripes are 16 inches at circumference at the widest part of the band and 10 inches at circumference at the tightest part of the band; and 26.5 inches long, including the band. These are 4.5 inches at circumference along the whole band and 25 inches long, including the band. So you can see that these thigh highs are just right for my measurments, moreover the thigh highs I ordinarly wear are little bigger than these.
Although these thigh highs strech well, the material's structure is quite dense, especially at the band. I felt quite comfortable wearing these, but if your measurments are even 3 inches bigger than mine, I think that you will feel too tight and uncomfortable. Also you wan't be able to pull it high enough - they will be more like knee-high socks than thigh highs.
I thought that these thigh highs won't stay up on the legs without holding with garter straps, because they don't have silicone strips as most stay up thigh highs do. So I was very surprised that they did stay up - due to the tight band. Still, they will get down in some time. It is ok in the bedroom where you can fix it anytime, but if you're somewhere outside it wouldn't be as easy to adjust the height of the stockings. So I wouldn't risk wearing it somewhere outside of bedroom without a garter belt; but with it you can wear it just anywhere you wish.
Experience
I already have a belt and a corset with garter straps, so I was looking for a pair of thigh highs to use with it. What I was looking for was thigh highs without silicone strips on the top, because they are too thick for the strap's clasp. I also like how it looks when the part of the thigh highs that is connected to a garter strap is a bit higher on the leg than other parts of the thigh highs. And I wanted no lace on these thigh highs. Opaque thigh highs met all these criteria, so I stopped my choice on them. Still I was looking for something like thigh highs you see on a corset with straps pictures. These are not exactly like that, so I'll just keep searching.
This content is the opinion of the submitting contributor and is not endorsed by EdenFantasys.com

Thank you for viewing
Opaque thigh highs
review page!