Not Perfect, but not Bad Either
For the price, these are some great thigh highs. They hold up to multiple wears and are resistant to rough nails. They may roll down on some people, and milage may vary based on body type. Overall, a good buy.
Published:
Pros:
Good Value
Hardy
Versatile
Cons:
Can Roll Down
Not Uniformly Opaque (for all)
Tell me about the Opaque thigh highs, Mwar.
I'd be happy to! The Opaque thigh highs are, well, thigh highs. They are intended to be worn free from a garter belt. They are also a thicker nylon, making them more durable and less likely to get runs. They are also less sheer than many other thigh highs on the market. They are advertise as opaque, and they are, but it might not be opaque from the knee up depending on your body shape.
The Opaque thigh highs come in a standard stocking packaging. It comes in "one size fits most." Before trying them on (or any new stockings for that matter) I recommend stretching them a bit with your hands, similar to how you stretch a balloon before blowing it up. This makes them easier to go on. Also, be sure that your nails are clipped and/or filed! Chipped and rough nails are the number one cause of ruining stockings. Still, these may hold up a mistake or two with little wear, which is nice.
So, how do they fit? Do they hold up?
Fit is going to range depending on your body type. The size range is 90-160 pounds. I'm in the middle at that range, with a weight of 137 pounds, so I figured they would fit with no problem. They go on easily enough and below my knee the thigh highs are opaque, but they are quite sheer on my thigh. Also, without a garter belt, they tend to roll down at the top. I won't be using these for anything but bedroom adventures, so this small inconvenience is not a big deal.
If you're looking to wear these throughout the day and have thick thighs (like my hispanic thighs), these will probably roll down on you. On top of that, you may also get a "thigh mushroom effect." It's not noticeable if you're wearing clothes to cover your upper/mid thighs, but if the areas exposed or you are wearing tight clothing, you may see an unpleasant bulge (especially when you decide to sit down).
The only other issue I see with these thigh highs are that they don't have a defined toe section and a very noticeable seam at the end. The toe end is also a bit sheer. You can see my pedicure through it.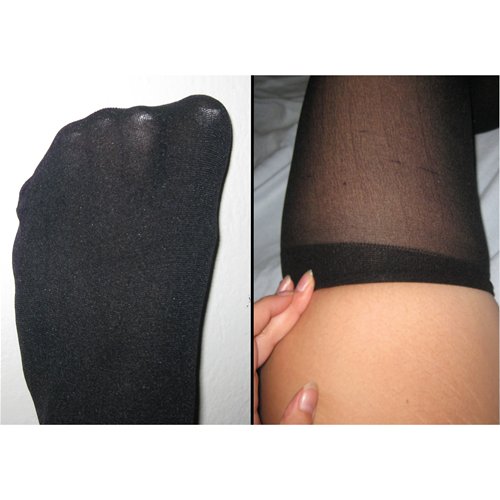 Still, they're pretty good thigh highs, even with these faults. If you have thinner thighs or longer legs, these will probably look perfect. From a couple of feet away I was please with how the opaque thigh highs fit on me. I'll still probably use a garter belt with them, but it is a worthy purchase.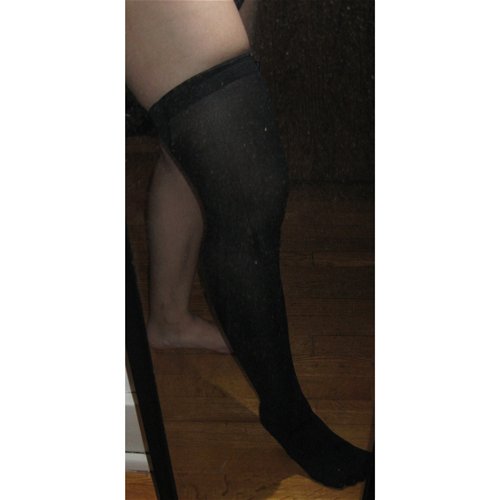 Alright, how do I take care of these?
Care is pretty much the same as other stockings. The care instructions state to wash the thigh highs in warm water and only hang them to dry. I would also be mindful of what you put in the washer when washing them. I wouldn't put bras (that have hooks) in the same wash, for example. These thigh highs are quite hardy and have survived multiple washes.
Experience
Cool! Any final thoughts?

Overall, I'm happy with these thigh highs. Since I use them with my lingerie, it's okay if they roll a bit on me. And when I don't want them to roll down or if I want a perfect look, I will wear a garter belt. I generally don't wear stockings in public, (I either bare my legs or wear business pants if I need office wear) but I would wear these in a pinch if I didn't have anything on hand. My partner prefers feeling my actual skin as opposed to the thigh highs, but he still finds them pleasing on occasion.
This content is the opinion of the submitting contributor and is not endorsed by EdenFantasys.com

Thank you for viewing
Opaque thigh highs
review page!