Nice Legs!
I absolutely love these knee highs! They're so comfortable and stretchy. They don't lose their shape or fall down, even after 8+ hours of wear! I can wear them with a variety of shoes and clothing. These also breathe well and feel great against skin. I only wish EF carried some of the prints available on the Music Legs web site!
Published:
Pros:
comfortable, stretchy, don't lose their shape, inexpensive
Cons:
EF isn't currently carrying any of the cool patterned ones on the manufacturer's site
One thing I know I can never have enough of is knee highs. I like to wear them when I wear boots, especially one pair I have that rubs on my leg roughly unless there's something between my skin and the boot. Unfortunately, the only kind of knee highs I usually come across are made of cotton, which ends up stretching out after so many wears and not staying up on their own. So, when I saw EdenFantasys carries some nylon ones, I decided I'd give them a try.
The nylon knee highs by Music Legs come packaged as pantyhose, thigh highs, or dress socks typically do. They're on a piece of cardboard and held together by a paperboard band. The packaging states these are 100% nylon. The size information states these will fit women 5 feet to 5 feet 10 inches tall, weighing between 100 and 175 pounds. The knee highs should be hand washed in cold water and line dried.
I ordered the black knee highs first, as I felt black would work with most of my clothing. I will probably order the white ones soon as well. The pictures on EdenFantasys are dead on with the color. However, since these are nylon, the more they have to stretch, the less opaque they become.
For the price, these are very well made and are high quality. The nylon is soft and smooth, breathes well, and keeps its shape. They stretch easily when put on and return to their original size and shape once they're taken off. These don't have an actual band of elastic or anything around the top, it's just the nylon folded over to make about a 1 1/2 inch band. It works well, since these don't fall down or roll down when I am wearing them. I like that the material is nice and thin. It's just a little bit thicker than pantyhose or thigh highs, making them much sturdier and also allowing them to fit very well in tighter shoes. I have a few pairs of boots and shoes that are kind of tight and adding in a layer of sock sometimes doesn't work very well. These are perfect for keeping shoes feeling comfortable. These also do not have any specific area for the ankle or foot, so both sides of the knee highs can be worn to kind of even out the wear on these.
Laying flat, these measure 18 inches long and 7 inches around the top band. As I stated before, the packaging says these will fit women 5 feet to 5 feet 10 inches tall, weighing between 100 and 175 pounds. I'm 5 feet 8 inches tall and weigh about 145. My shoe size is 10 in women's. From my big toe all the way up to where the top band sits, I measure about 26 inches. These very easily can stretch to that length with some room to keep going upwards. They sit just below my kneecap, where my leg measures 13 inches around. I have pretty big, muscular calves that measure 15 1/2 inches at their widest and do not feel any tightness on my calves from these anywhere. I also do not notice any bagging at my ankles. Since these stretch so well, they will conform to perfectly fit a good variety of legs. I feel the size chart is accurate for these.
How you wear these really depends on your style. They can be worn with high heels, flats, or boots. I personally plan on wearing mine once it wears up with my favorite knee high boots, a short lace skirt, and my new faux leather jacket. These would work well with any kind of school girl outfit. I think these would also be a good choice to wear to work as dress socks.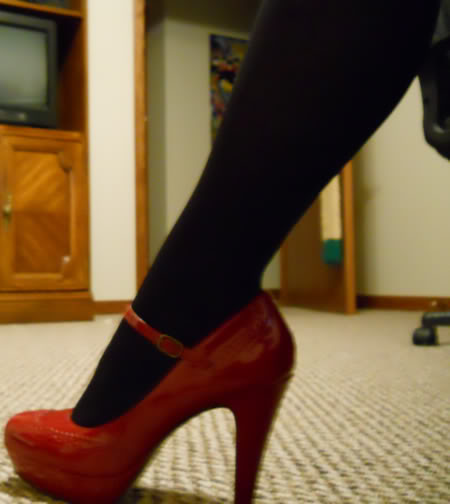 I only have two pairs of pumps, a red pair and a black pair. I think they look better with the red pair.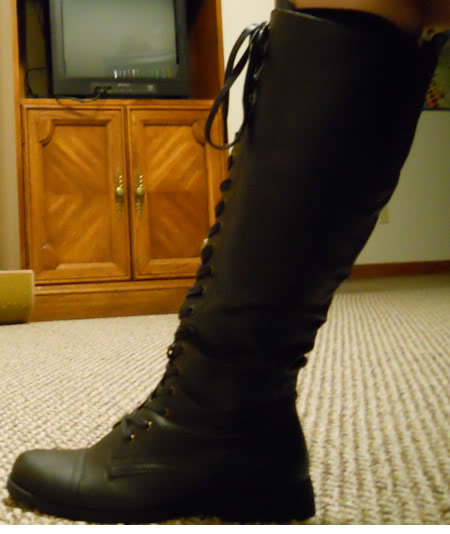 My favorite knee high boots. These go as high as my boots, so they don't show over the top of my boots at all.
When you put these on, I suggest you kind of bunch them together and start slowly at your toes. I wouldn't get them on your toes and start pulling the band upward, as your toenails may rip holes in them.
*Continued in Experience*
Experience
The packaging states these should be hand washed in cold water, but I feel it would be just fine to wash these in a mesh lingerie bag in the washing machine, as long as they aren't in the bag with any bras, since the hooks could tear holes in them. They're supposed to be line dried, too, but mine have made their way into the dryer a few times on accident when I forgot to tell my fiancé they were in the laundry basket. They've come out of both the washer and dryer perfectly fine. The dryer didn't cause them to shrink at all. I don't know if it makes any difference, but we have a high efficiency washer and dryer set. Our washer doesn't have an agitator in it, and an agitator may affect how these look after a run through the washer.
To store these, I just roll them together and throw them in my sock drawer. The packaging is not useful for storage and really doesn't have any useful information on it to keep it around. I try to make sure these get into our laundry basket immediately after I take them off, as my cats both like to play with them. Their claws haven't torn any holes in them, but there are a couple of spots where the nylon is a bit messed up from them.
I really can't think of any cons for these. I've gotten a couple of other pieces from Music Legs that I wasn't all terribly too impressed with, so I was kind of expecting a mediocre knee high with these. These are excellent! They're comfortable, fit a good range of sizes, and can be worn with a good variety of clothing and shoes. These are high quality with a pretty affordable price tag. My fiancé loves the super soft feel of these, too. I'd absolutely love it if EdenFantasys carried some more colors or patterns. If you look on the manufacturer's
web site
, you'll see a variety of colors and designs.
Follow-up commentary
2 months after original review
I still love these knee highs. The retail store I work at started carrying some nylon knee highs that are similar to these, however they cost $2 more than EdenFantasys has these for and the material feels much thinner and easier to rip. I purchased a white pair as well and plan on purchasing the other colors eventually too.
This content is the opinion of the submitting contributor and is not endorsed by EdenFantasys.com

Thank you for viewing
Opaque knee high
– knee highs review page!