Blue bra garter and g-string
Bra and panty set
by Coquette
Nothin' Coquettish About Poor Quality...
Coquette...we need to talk. It's about your Electric Blue Line. You see, it's not off to a great start for me. This bra and panty set? Can't hold a candle to the dozen other Coquette lingerie pieces I keep on hand for knocking unsuspecting lovers out. I'm not saying I want to break up; we've had some incredible times together and I'm not ready to give up on that. I just think I need some space right now. Space from this infuriating set.
Published:
Pros:
Garter belt is sturdy and very cute, thong is adorable if you can fit!
Cons:
Poor construction, fraying ribbon, lace coming apart, ill fitting bra, cheap padding...etc
I hate, more than anything, to be disappointed by a company that I love. When order french fries through the drive-through, I'm expecting them to kind of suck; I'm just hoping they'll do the trick. When I go to my favorite restaurant and order something new off their menu and it sucks? I'm sad. Very, very sad.
Getting something I'm not in love with from Coquette isn't entirely unheard of, but it's a bummer whenever it happens because I have great expectations for them. This bra & panty ensemble was a massive let-down. Though I did find the garter belt and the thong to be cute, they couldn't save this set from the travesty that is the "bra". Yes, I put scare quotes around it. This is a "bra" only in name, verily not in function or form.
I'll start with the two pieces of this set that aren't awful. I'd like to give accolades where they are due, and some are due here. The garter belt is really very cute. It's a traditional four strap garter belt with two straps to each side, each fitted with an hour-glass stocking clip. The top of each strap is ornamented with a sweet, thin blue ribbon, and the middle of the waist also has a ribbon with a faux-rhinestone in its heart. Cutesy without being saccharine, this is a great balance for me. The inner seams of the front panels are edged with black lace and blue ribbon. Unlike the blue ribbon the bra (which I'll get to later), the ribbon the garter belt's edging seems quite secure.
The waist band has a sort of faux-velvet finish, which is rather delicate. It's liable to be worn down and rubbed off if it experiences too much friction. Coquette recommends you gently hand wash all of these items, preferably in cold water. Often you can flout those sorts of caveats, but due to the delicacy of some of these materials, I'd follow the care directions pretty strictly. At the rear of the belt, the waist band features an adjustable sliding ring, like that of a bra strap. This allows you to adjust the garter belt to precisely your waist or hip measurements, depending on where you wear the belt. Not bad, right? It's a beautiful, comfortable, stretchy and soft piece, and I'll be keeping it and wearing it as long as it lasts.
The panties are also adorable, though not the most practical. They're comfortable and decently stretchy, although I will confess I just barely fit into them. These do run a bit small, so be advised if you run along the upper end of the medium range measurements. Particularly, they're a problem in the booty region. I don't even have a particularly luscious rump, and I still had difficulty getting these to cover the full height of my derriere. The triangular panel seems to ride a bit low. These panties are identical to the panties that come with a few other Coquette sets, including
the Lace Over Satin Set
, so if you like those then you'll like these. These are also made from satin, with a floral lace stitched over the blue satin. It creates a gorgeous effect, that is, if you can squeeze in.
So, all told? If I stopped the review right here and rated just the garter belt and the thong? It would be about a 3.5 and I'd round up to 4 stars because of how adorable the garters are. Sadly, I cannot stop here because there is one final item to address: the "bra".
I tried this set on right out of the box when I first got it. I was very,
very
excited about it. I wanted to wear this for my partner, and the blue really is gorgeous and eye-catching. I did not stop to examine it closely before I shed my clothing and slipped in. With garter straps dangling over my bare thighs, I stepped in front of the mirror to inspect more closely. Immediately, I felt my eyebrows furrow. I asked myself: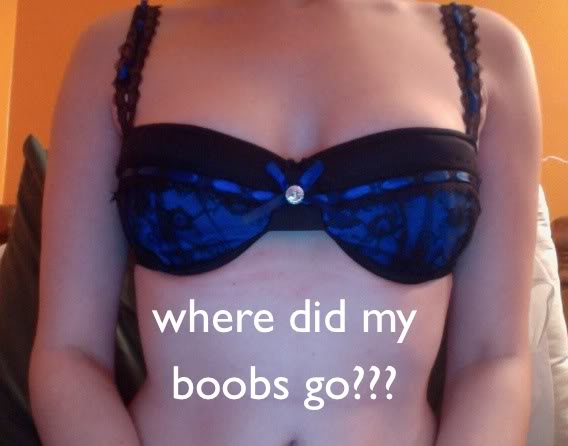 They were there a second ago, and in a
sports bra, no less!
If I could see them in a sports bra, how could they vanish in a bra with underwire and (light) padding? People, I have no idea, but the picture speaks for itself. I'm no dummy when it comes to color theory and lines and all that, but I really can't put my finger on any specific design flaw that results in completely obfuscating my tits. Any yet, there they are. Or rather, there they aren't.
Experience
Furthermore, the bra was oddly loose and ill fitting, and yet somehow managed to squish my breasts into a pancake type of situation. "Paradox upon paradox, this 'bra' is turning out to be," I thought. I usually fit like a glove in most mediums, particularly Coquette. I've had some issues with Coquette sizing before, but never anything like this. The straps were inching precariously toward the edges of my shoulders every time I blinked, slipping down to my elbows every time I actually moved, and I had them on their tightest adjustment. The top of the cups showed small gaps. I may not be the fullest 36C in town, but I've never had trouble filling out my cups before. But, on top of that, the fullest part of my breasts were being mashed down into flatness? This piece was starting to defy the laws of the physical world at this point, and that just doesn't sit right with me. I have a great respect for that sort of thing, you see.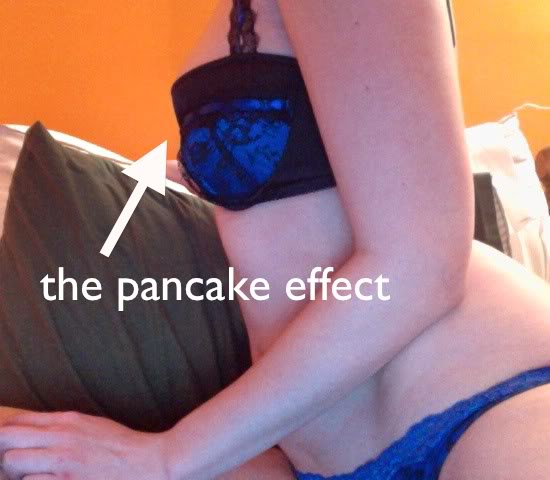 Finally, upon taking the garment off, I started to see rather glaring oversights in craftsmanship. Like
another reviewer noted
, the blue ribbon in the straps was coming loose for me. Additionally, the lace was beginning to tear and come apart at the point that it meets the cup. With nothing more than some cheap lace and a bit of string to hold up breasts, it makes sense why this bra provides very little lift. Large breasts beware, indeed! The padding is also very cheap and scratchy, and it crinkles quite audibly in the bra when you move at times. My boobs deserve better than the lingerie equivalent of packing peanuts stuffed in my cups, thank you very much.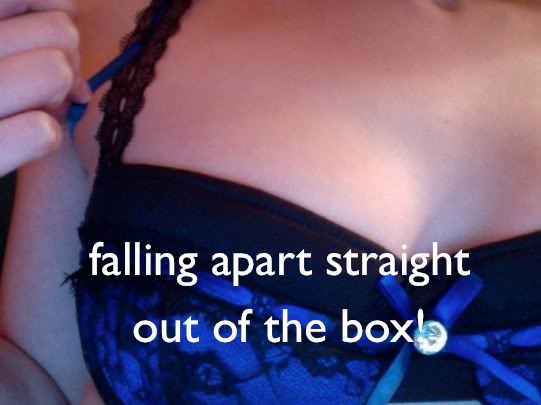 Overall, I want to chuck this thing out the damn window. Because the two other pieces are decently strong, I'm docking just one star, which brings my rating down to 3 stars. It's not that I give up on Coquette or anything, but this
is
from one of their brandy-dandy new lines. I might hold off for a while before I try anything else from the newer collections. That's right; I'm calling for a trial separation from Coquette.
This product was provided free of charge to the reviewer. This review is in compliance with the FTC guidelines.

Thank you for viewing
Blue bra garter and g-string
– bra and panty set review page!