(Plus Size) I Almost Feel Like Audrey Hepburn...in my dreams!
I love the feel of this chemise and it "feels" slimming and like a second skin. It may not hide my flaws like outfits with pinstripes or plaid and I really need to lose at least another 20 pounds to really enjoy this. It doesn't give nearly enough breast support either.

But I love the way it feels on me and that is what counts in this case. If your bra size is C cup or smaller, this would work well for you!
Published:
Pros
Very comfortable to wear
Classy & elegant look
Cons
Needs more breast support - not recommended for larger than C cups
As many of you may know, I had Sam (aka Julia) mentor me for doing lingerie reviews because I wanted to add this to my list of items I felt I could do good reviews on. When I graduated, I celebrated by buying five new outfits (hey - Eden was the one offering 30% off a $150 order and I had a lot of gift cards I'd been saving). This is one of them.
When I ordered this, I did not realize that the ribbon straps were pink. I'm not sure if I would have ordered this outfit had I realized that. HOWEVER, I love this outfit.
First of all, I wanted something that would be a bit "classy" or "elegant". At $19.99 before the sale, this looked like it would be a great bargain - and it almost was.
According to Coquette's size chart, for a plus size (one size) outfit, I should wear size 18-26, with a bra size of 46-54D, a waist of 38"-46" and hips of 48-56". My size could be called "close but no cigar" as I wear sizes 22/24 with a 44D bra size, a waist of 49" (oh Lord, please help that go down and SOON) and hips of 57". I figured it was close enough to work with.
The chemise arrived in a box much like you get bras in at the store. I am guessing it is from their "Kissable" line as it had that across the top of the box and actually had the plus size model wearing the outfit on the front and back of the box - kudos to Coquette for showing us how it should look. On the box the lace still almost looks white but the sticker on the back says "black/pink" so as long as you read it, you won't be surprised.
I was very excited to try this on and very disappointed to see that my husband (and daughter) were "ho-hum" about it. I mean - other than the boobs hanging out from lack of support - didn't they see the "Audrey Hepburn" look? Had they been blinded by the
"Naughty Catholic Schoolgirl"
outfit and the
"manga"
outfit that made my husband's eyes pop out and have him almost go quiet? Certainly the lack of breast support wasn't that bad - was it?
Well, before I show the pictures, let me describe this a bit better. Other than the lace, the material is 82% nylon and 18% spandex. It states it should be hand washed and hung to dry. I suspect you could put it in the washer with cold water on the delicate cycle if you used a lingerie bag. My only concern is having the black color go onto the pink lace and I haven't yet been able to bring myself to wash it.
When I put it on, it feels like a second skin but it isn't itchy or scratchy. To me, the style feels Audrey Hepburn-ish as far as being classic and understated and elegant in its understatement. I actually wore this around the house the other day and forgot I was wearing it until I was about to answer the door and looked down to see what I was wearing. That one look made me decide to let UPS leave the package and I'd pick it up in a bit because while I don't mind my husband seeing me this way, I'm not sure the UPS guy appreciates being flashed by a 51 year old woman.
Experience
Once again, while I sometimes use my daughter as a model, I'm not risking letting her get near this piece even if her bra size is a bit smaller and it might look better on her. You're stuck with me. As you look at this, please remember that I am 5'4" and 1" wider in the waist than their largest recommended size.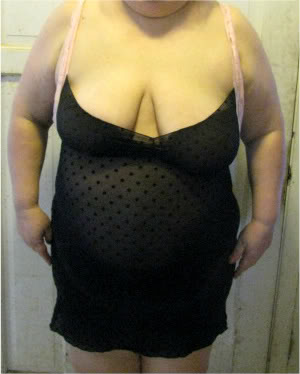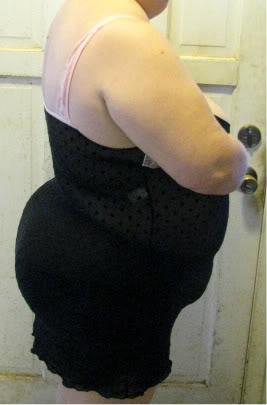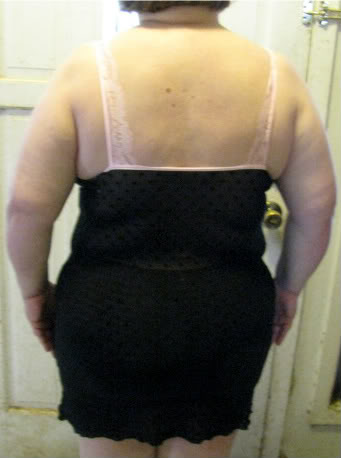 Here is a close-up of the dots which are almost like a velvety flocked design on the mesh.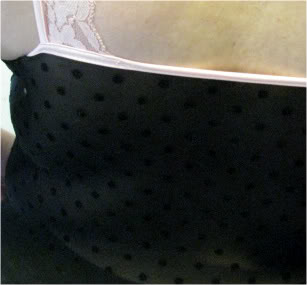 You know what? The more I wear this, the more I realize that I don't care what my husband thinks. I love the way it feels and I love the way it makes me feel. I'll never be the size or shape of Audrey Hepburn but I can feel classy like she was.
But I think I've figured out a way to win him over. I'm gonna put on the video of one of our old-time favorites,
How to Steal A Million
with Audrey Hepburn while I'm wearing this. Whenever she makes out with Peter O'Toole, I'll sorta copy her actions. By the time the movie is done - he'll like the chemise too - or at least have fond memories of it!
This content is the opinion of the submitting contributor and is not endorsed by EdenFantasys.com
Thank you for viewing
Polka dot chemise
review page!