Round 2 with the wwet legs look
I had high hopes for the second pair of wet look thigh highs. I though a different pair and different style would fit better, and I am so sad to say that this was not true at all.
Published:
Pros:
love the way they look on the model
Cons:
not for short legs
Round 2 with the wet look thigh highs and I lost again. Hubby loves the whole wet looks out fit I am trying to pull off over here by adding pieces here and there. I just cannot catch a break with the thigh highs they bunch at the foot and ankle and are inches too long for me, even with them pulled up to my crotch they are still to long.

The thigh highs are from Coquette and they are made of 80% nylon and 20% spandex. They were made in China. There is nothing to tell me how to care for these thigh highs so the only thing I did was wipe them with a damp cloth when I accidentally spilled some lube on them, I would not put them in the washing machine even on delicate cycle, nor would I bake them in the dryer.

The thigh highs are 36 inches long without stretching, with a 3 inch band of lace at the top of them. There is a seam going up the back of them all the way to the top starting from the toe. They are 9.25 inches across the band of lace with out stretching them. When they are stretched they are 12 inches wide.

Since my second attempt was a failure I am just gonna either wear them with their flaws and deal with it (which is what I have been doing) Or keep watching the reviews and hope someone comes up with an ingenious way to wear them and minimize all the extra room in them.

My measurements are: 35 inch long legs, width around my ankle is 8.5 inches (when not swollen from the days activities), My calf just under the knee is 16 inches around, My thigh is 20 inches around. I am going to hang onto this pair of thigh highs with the hope that they fit differently when I have lost more weight. I will wait til then to do a follow up review also so we can see if this works out for me.
Experience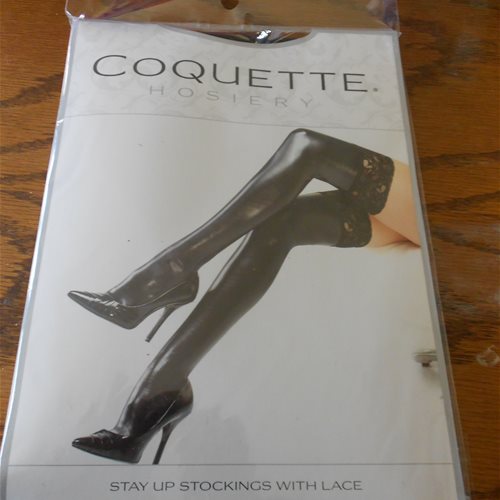 FRONT OF PACKAGE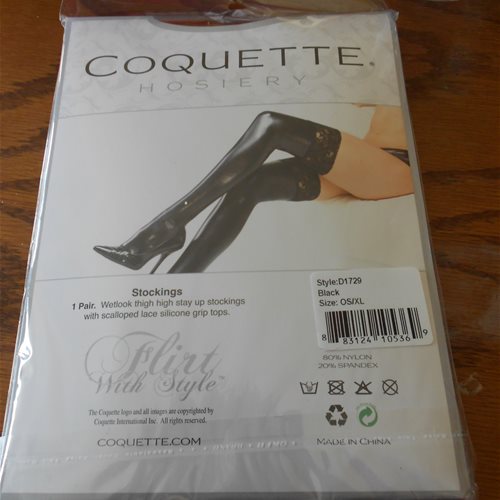 BACK OF PACKAGE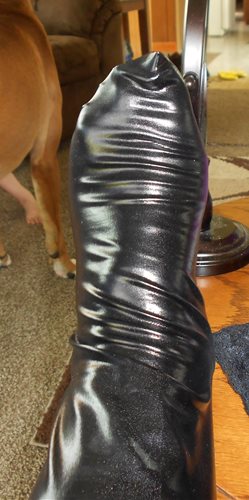 BUNCHING ON THE TOP OF MY FOOT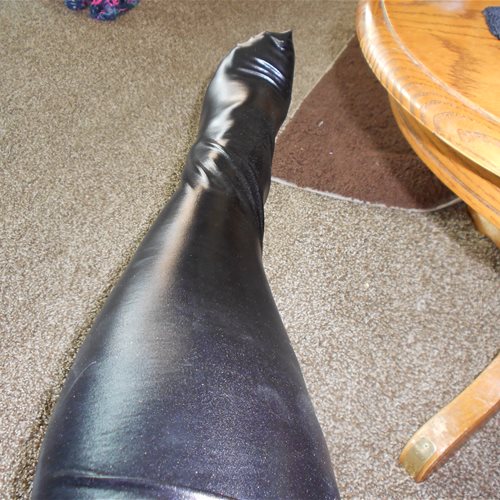 STRETCHED AS MUCH AS POSSIBLE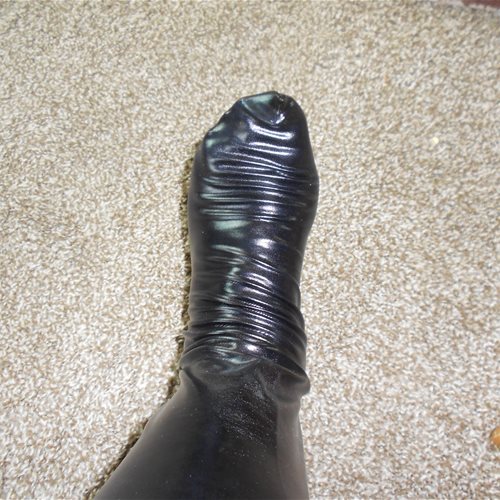 WHAT HAPPENS WHEN I PUT MY FOOT OUT FLAT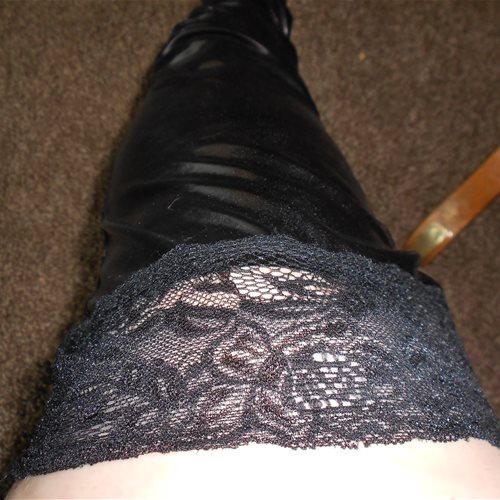 I HAD TO PUSH THE THIGH HIGH DOWN TO MY KNEE TO GET THE TOP TO UNROLL
This content is the opinion of the submitting contributor and is not endorsed by EdenFantasys.com

Thank you for viewing
Wetlook thigh high stockings
review page!