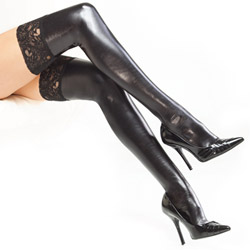 Wetlook thigh high stockings
Stockings by Coquette
Shiny legs!
Ultimately, these were only so-so for me. They looked great at first, and were comfortable, but I'd rather save my money and get a latex pair.
Published:
Pros:
Look good on, inexpensive
Cons:
Sizing might not fit a lot of people, don't stay up as well as I'd like
I picked these out because I like the look of this material. Once I got them I wasn't so sure they'd work for my long legs, but they have just enough stretch to be pulled up. I liked the way they looked when they were on, but the lace kind of seems to clash with the sleek and modern feel of the rest of the stocking. I may end up cutting the lace tops off and wearing them with a garter belt. Once on, they look like this on me: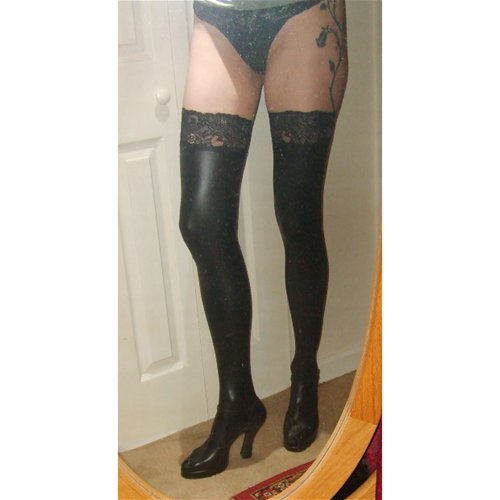 (For reference, I have a 35" inseam, size 11 foot, 19" thigh and 13" calf.)
Unstretched, these measure 32" from the toe to the top of the lace. I have them stretched all the way up in my picture, which made them 38" from toe to top.
I tested the horizontal stretch by putting two hands into a stocking and pressing outward. They have some give, but not a lot more than what I needed to get them up. Anyone with bigger thighs may find these stockings impossible to get up, which makes me think Coquette should really add more sizes to their range.
Overall, I think these would work best for petite women.
The lace tops have silicone grips, but by the end of the day (it was a very active day, to be fair) one of them had entirely lost its grip and I couldn't keep it in place at all.
The material is 80% nylon and 20% spandex. They are made in China. The tag, which is sewn into the backseam that runs the length of the stocking, says hand wash only but I tossed them in the machine with my other lingerie on a cold water delicate cycle. They came out just fine, except that the one that had lost its grip still just won't stay up as well as its mate. Since I didn't like the lace to start with, I'll probably modify them as I'd mentioned.
Experience
As I mentioned, I wore these for a date. He approves of them too. Or, He did until I got so annoyed with the one that kept slipping down that I asked to take them off. To do so, I first had to have my ankle cuffs taken off. Not that it was a major annoyance, but in the future I may have my instructions changed from "wear stockings" to "wear stockings that won't fall down after a couple of hours of physical contortions."
This product was provided free of charge to the reviewer. This review is in compliance with the FTC guidelines.

Thank you for viewing
Wetlook thigh high stockings
review page!