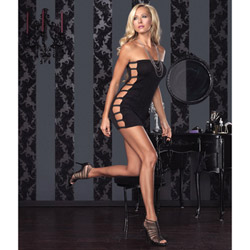 Slinky tube dress with open side
Mini dress
by Leg Avenue
Short, Slinky, Sexy
Sure this dress isn't the most amazing piece of lingerie out there, but for what it is I have absolutely no complaints. It'll fit everybody it claims to, it's comfortable, easy to have sex in, and the open side is pretty darn sexy. The tag might bother some people, but it's easily removable.
Published:
Pros:
Comfortable, Will fit sizing guidelines and a little higher, Sexy
Cons:
Tag might get itchy
This tube dress from Leg Avenue is really similar to the
lace up tube dress
they also feature. The big difference here is that this one doesn't lace, and should actually fit a good variety of sizes.
It came in the newer pink striped box from Leg Avenue with a picture of the model on the front and various information on the back. It's listed as a one size item and should be hand washed in cold water and is made of 80% Nylon and 20% Spandex. You could probably also get away with washing it in a lingerie bag or pillow case in cold water on gentle in the washing machine, but I'd still let it air dry. After it's all clean you can hang it in your closet with a pants hanger, or fold it and keep it in a drawer since it's pretty wrinkle resistant.
This is another one size piece which from Leg Avenue normally means a size 6-11, A-C cup, 32-38" bust, 23-29" waist, and 34-40" hips. Personally I'm about 5'2, size 4/6, I weigh about 120, I wear a solid B cup, around my bust measures about 32" and underneath measures about 28 1/2". I've got about a 29" waist and around the top of my hips measures about 34" and around my butt measures about 37". While this didn't do anything for my breasts, it didn't make them disappear either. It also fit me well, but should actually fit everybody it says it will. On me, it landed mid to upper thigh. Far enough down that I could bend without exposing myself, but high enough up that it was still an attention getter.
You're getting just a dress here, in a style similar to an extra long tube top. One might even call it a mini dress. There are no straps, but there is an elastic band to help keep it up on top of your breasts rather than falling down. It easily stretched to about 47" around the bust, and while I'm not sure how comfortable it would be at that measurement, I am confident that it will fit the bust size it claims to. The whole dress stretches pretty nicely, and is the same measurement across the whole way down its 25 1/2" length. Down each side of the dress there are 10 strips of elastic that give you the open side view. If you're wearing a thong you might be able to line it up with one of the straps to give the illusion of wearing nothing underneath, but for the most part anything you wear underneath will be completely visible. There's a pretty large tag on the top of the back of the dress. It lets you know which way is the front (even though you could really wear it either way you wanted), but it can also be easily removed if you want. I didn't find it to be irritating at all
It's hard for me to describe what exactly the material feels like. It's on the thicker side and slides against itself very nicely. It's a little rougher than silky, but far from being rough. It's a comfortable weight and lets you know that you're definitely wearing something, but isn't cumbersome either. Nothing about it screams "extremely well made" but I also haven't been able to locate anything that makes it look cheap either. It could have been constructed in a manner that looked more high quality, however it all seems like it's going to survive a decent amount of abuse.
Experience
I was surprised at how much I liked this dress, I really was. After closer inspection of the picture online I figured out that it was going to basically be a shorter version of their lace up tube dress which while I liked, I didn't love and probably won't wear often. Remembering the way the band across the top of that one cut into me I hesitated a bit when I first put this on. But I was in for a pleasant surprise when while wearing it, I felt nothing digging in. Nothing uncomfortable, nothing irritating, and while it didn't play up my boobs at all it didn't make them disappear and it looks really sexy from the side. It was easy to wear this for a few hours or more, and just as easy to have sex in.

For having no obvious flaws, it gets 5 stars even if it isn't the nicest piece out there. I really can't find any legitimate complaints other than the easily removable tag might get itchy while wearing it.
This product was provided free of charge to the reviewer. This review is in compliance with the FTC guidelines.

Thank you for viewing
Slinky tube dress with open side
– mini dress review page!