Simple and Sexy
Anyone who wants a simple, inexpensive piece that they can feel and look sexy in, should own this. This was one of my very first lingerie pieces way back in the day, and I still keep it in high-rotation. It's lasted me all these years, and hopefully many more to come!
Published:
Pros:
durable, stretchy, inexpensive, sexy, versatile
Cons:
none
The Slinky Tube Dress with Open Sides by Leg Avenue is an inexpensive piece that makes for great lingerie wear, or for those who are more daring, a mini dress to party in! The dress is only available in black here at EF, and it is a one-size-fits-most.
I've had this lingerie piece for many years now. It was actually one of my very first pieces. I believe I have had this piece for over 5 years now; it's been so long though that I can't remember exactly when I had purchased it (I had purchased it at another place before I had known about EdenFantasys). I did not keep the packaging when I had purchased it, so I am unable to provide photos of the packaging the piece came in. Most of the Leg Avenue packagings just state the product name, company name, has a photo of a model on it, states the size, etc. I usually only keep packaging if it's completely necessary.
The dress is made of 80% nylon and 20% spandex. I typically wear a size XL, and the piece still fits me fine. The dress is ridiculously stretchy, and the bands that run down the sides of the dress are made of elastic. This one-size-fits-most item will actually fit most. I've taken measurements of the dress lying flat, unstretched. If you need additional measurements, please send me a message and I can get those for you.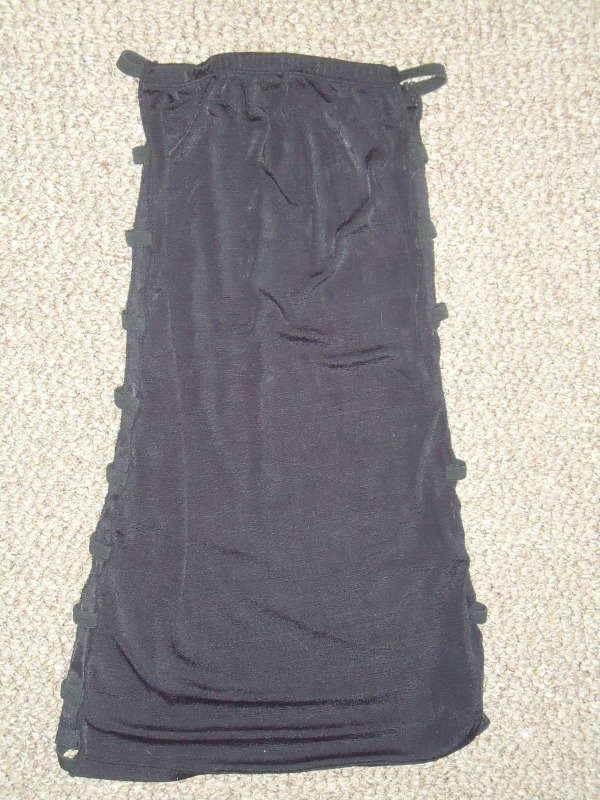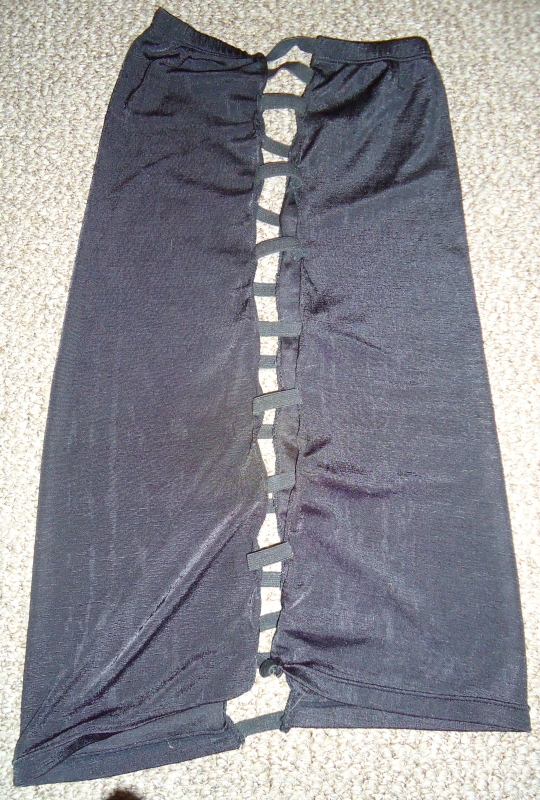 Band at top of dress: 10 ½ inches
Band at top of dress (stretched as much as I possibly could): 25 inches
Bottom of dress: 14 inches
Length of dress: 20 inches
Elastic bands on side of the dress: 2 ½ inches each (10 on each side)
Distance between each band down the sides of the dress: 2 inches
Like I had said, the dress is really stretchy, so even though the length of the dress is at 20 inches, when you wear the dress, it can be stretched a bit longer, etc. Also, I'd like to mention that the dress has not faded at all in colour. The photos in this review were taken with my mediocre camera, and it had the flash on. The dress is still black as night.
The dress is meant to be worn with the cut outs running down the sides of your body. This is how I typically wear it, but sometimes I wear it with the cut outs running down the front and back of my body. You don't have to do this, but it does look good both ways so I thought I would suggest it.
This piece is very comfortable. I've worn this dress so many times in the bedroom and I've never had any issues with the material bothering my skin, or the elastic bands being too tight. This is probably one of the most comfortable pieces I own.
I only wear this piece in the bedroom because it is not something I'd feel comfortable wearing out in public. Since I am an XL in a one-size-fits-most outfit, the dress is quite stretched. The more the material stretches, the more see-through it becomes. When I wear this dress, the chest area is so stretched that I can see my entire nipples through the material. My chest/cup size is C38. For those of you who have a smaller frame, the material would not be see-through like it is on me.
One other thing to note is that the larger you are, the more of a "muffin top" you'll get at the top of the dress. The elastic band at the top of the dress is very stretchy, but when it is unstretched, it is not that wide. You can see the elastic band at the top of the dress in the photo below. When I wear this piece, I have a bit of chub that the elastic band so lovely turns into a "muffin top". It really isn't a huge deal for me because the rest of the dress looks so sexy that it's barely noticeable, but it is worth mentioning.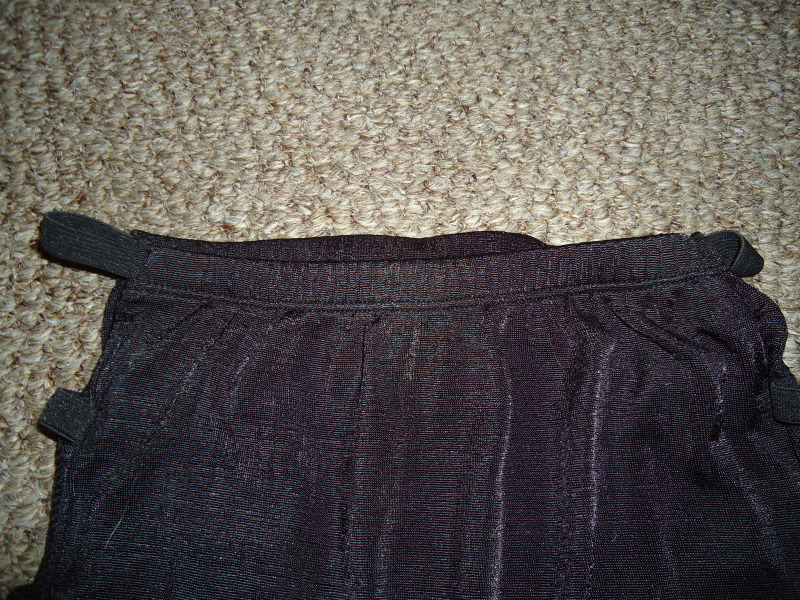 Experience
...continued

The care tag mentions in symbols that the piece should be hand washed in warm water and drip-dried. I'll be honest with you; I've never looked at the tag until now. I've owned this piece for so long and it has always gone in the washer and dryer with my regular clothes. I'm not suggesting that you do not follow the instructions, but I am saying that I have never hand washed or drip dried the dress and I don't plan on starting.

This piece easily gets a 5 out of 5 rating from me. This is the oldest piece of lingerie I have and it's still going strong. The dress is ridiculously durable, it's sexy, and it's inexpensive. I think it would be a fantastic investment by anyone who is looking for a simple, sexy outfit to wear, and have it last for ages!
Follow-up commentary
6 months after original review
I still love this piece! It's the piece of lingerie that I've owned the longest and it still looks great. As mentioned in the original review, I always just toss this in the washer and dryer and have never had any problems with it. It's such a simple piece but absolutely sexy!
This content is the opinion of the submitting contributor and is not endorsed by EdenFantasys.com

Thank you for viewing
Slinky tube dress with open side
– mini dress review page!