Another Hitachi review
The Hitachi is a classic and gets the job done. Though rather obnoxious in looks and sound, both can easily be looked passed because of its power. The perfect toy for the lazy day, just grab and plug it in and you are one step away from a fast easy orgasm.
Published:
Pros:
Powerful, simple, down to the point
Cons:
Loud, ugly
I got the Hitachi when Eden had the super low sale and basically paid me to take it off their hands. I was really eager and nervous because I had always heard how it was the be all, end all and how nothing compares. The day it came in I plugged it into the wall and it was just too powerful. I always thought I didn't have too much sensitivity but this was just way too much. Eventually I got used to it, and use it now whenever I need to grab something without thought, something that will be quick and effortless. And that's what it is, the perfect vibrator for when you are lazy or for when you just don't care and want to orgasm quick and dirty, done.
The Hitachi is a whole lot of plastic, probably more than needed to be honest. This beast comes in at 12" in length with a cord of about 6 feet trailing at the end to plug into the wall. Sometimes the plastic makes cracking noises when I push against the bulbed end too hard, this worries me. But I haven't heard of too many Hitachi accidents or breakages so I haven't traded it in yet. It's not the most attractive vibrator or "personal massager" out there but I don't think you will spend most of your time gazing over it; your head will be too busy tossed back in bliss to notice. It might be heavier than your other toys, and at first you might need to figure out what angle holding it at doesn't hurt you arm. You might fight with the cord till you find the closest power outlet near the bed, but you will figure out all the logistics quick enough.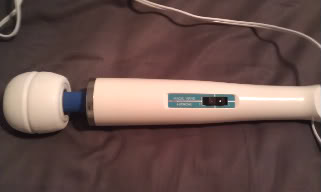 This is as basic as it gets, there are two settings; high and low period. Low is pretty high and high is really high. I'm not usually a big fan of fluctuation in patterns or pulsations or all that glitz and glam, so I enjoy these limited but providing options. The Hitachi is loud, no let me correct myself, the Hitachi makes loud sound like lullabies. I hope my neighbors believe I really like using power tools because there is no doubt in my mind they can hear the steady rumbly vibrations of Hitachi through the carpeted floor to the apartment below mine.
Seeing as how it is plugged into the wall, common sense is going to tell you this is not waterproof. Considering this toy really isn't made for insertion due to said large bulbed end it actually isn't that hard to clean. I just take a toy wipe and give it a good rub and done. A lot of people have noted theirs have changed a yellowy color over time, I am not quite there yet but we shall see. To store it, I just wrap the cord around it and throw it in my toy box.
You can buy accessories for you Hitachi kind of like you would buy things for your pet dog. Since the bulbed end has a rough but simple texture some people like buying silicone end caps with a different variety in texture. The attachments are easy to use, so I've read---you just pop them on the bulb and presto time to use. I think they are pretty expensive so I haven't tried one out yet, most are in the 30 to 40 dollar price range.
Experience
Though marketed as a massager I really haven't tried using it for anything nonsexual I must admit. I kind of think it might be too rough and hardy of a vibration for my back, which sounds kind of dumb since I put it on a much more sensitive part of my body. I just can't wrap my head around it funny enough. I do love my Hitachi but I also wish the lovely folks who made it would reinvent the wheel already and give us a smaller just as powerful version.
This content is the opinion of the submitting contributor and is not endorsed by EdenFantasys.com

Thank you for viewing
Magic Wand Original
– sex toy review page!